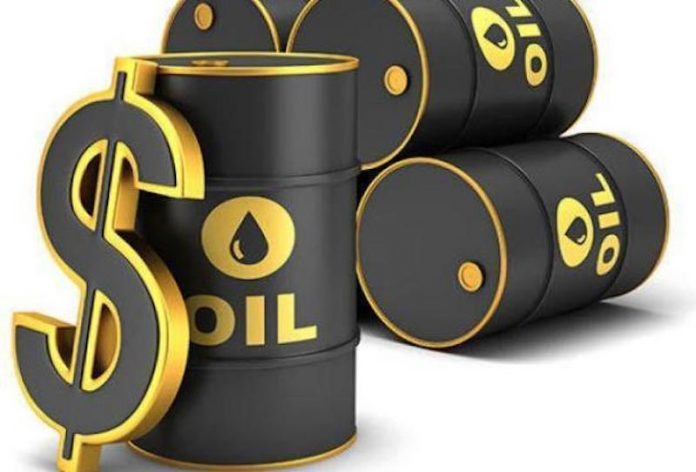 By Chika Amanze-Nwachuku with agency report
Nigeria's economy may be heading for yet another trouble, as oil price plunged to a one-year low of $58.41 a barrel yesterday, down more than 22 percent, following global oversupply. West Texas Intermediate, the U.S. benchmark, fell close to $50 a barrel.
Oil prices reached an astonishing near all-time low of $28 a barrel in 2016, but hit $80 in September this year, raising the hopes of Nigeria and other producing nations that still rely on oil exports, that they will generate adequate revenue from oil exports in 2018 and beyond.
However, the reverse is now the case as Global benchmark, Brent crude settled down $3.80 per barrel, or 6.1 per cent at $58.80, after the benchmark dropped to $58.41, the lowest since October 2017.
The 2018 Appropriation Bill of N9.12 trillion expenditure was premised on oil price benchmark of $51 per barrel as against $45 proposed by the president.
Crude oil production was benchmarked at 2.3 million barrels per day and exchange rate of N305 to one dollar.
The upward review in oil benchmark, increased allocations to the following critical sectors of the economy; security N46.72 billion; health N57.15 billion; power, works and housing N106.50 billion. Budget deficit was also reduced by N50.88 billion.
But with an oil price benchmark of $51, crude oil production of 2.3 million barrels per day and exchange rate of N305/$1 approved for the budget, and rising tension in parts of the north and the Niger Delta region, and uncertainties as the 2019 elections draw closer, falling oil price, will put the entire budget in disarray.
Oil prices dropped by nearly eight per cent to the lowest in more than a year yesterday, posting the seventh consecutive weekly loss, amid intensifying fears of a glut even as major producers consider cutting output to remove the excess inventory in the global market.
Although the Organisation of the Petroleum Exporting Countries is expected to curb output, rising U.S. oil supply has fueled persistent concerns about a global surplus.
Meanwhile Bloomberg reported that the real OPEC meeting will come a week ahead of December 6, schedule meeting, as key decision makers are set to gather on the sidelines of the G20 summit in Buenos Aires in a meeting that may well decide the direction of oil prices in 2019.
Saudi Crown Prince Mohammed bin Salman and Russian President Vladimir Putin, who lead the world's two largest oil exporters and have been working together to manage the oil market for the past two years, both plan to be in the Argentinian capital at the end of next week. Just as important will be U.S. President Donald Trump, who's made his opposition to OPEC a regular theme in his Twitter diplomacy.
Trump had already celebrated the plunge on Wednesday, tweeting: "Oil prices getting lower. Great!" Yet, he wants more: "Thank you to Saudi Arabia, but let's go lower!"
Oil prices reached an all-time low in 1998 at just over $17 before reaching an all-time high of $140 in June 2008, only to fall once again below $40 by the end of the year.
Also, oil price rose from $112 a barrel in 2014 but prices plummeted, eventually bottoming at about $28 in February 2016.
The 2014-16 collapse in oil prices, one of the largest in modern history, had painful effects on economies of countries that rely on oil exports.
Nigeria, Venezuela, Russia and Azerbaijan were among the oil producing countries hard hit. Azerbaijan economy, like that of The 2014-2016 oil prices collapse also took a huge toll on Nigeria's economy as the country eventually slipped into recession, after its economy contracted 2.06% between April and June 2016.
A recent report by the Financial Times revealed that most of Nigeria's commercial banks have their fortunes tied to fluctuations in global oil prices considering that about a third of all credits they extend to the economy are directed to operations in the country's oil and gas industry.
The report, titled 'Investing in Nigeria,' chronicled developments in Nigeria's economy and politics ahead of the 2019 general elections.
It explained, among other observations, that analysts estimate that about half of the loans of commercial banks in Nigeria were given for upstream, midstream, and downstream oil and gas operations and the supply chain, adding that rising levels of Non-Performing Loans (NPLs) of the banks were traced to the oil sector.