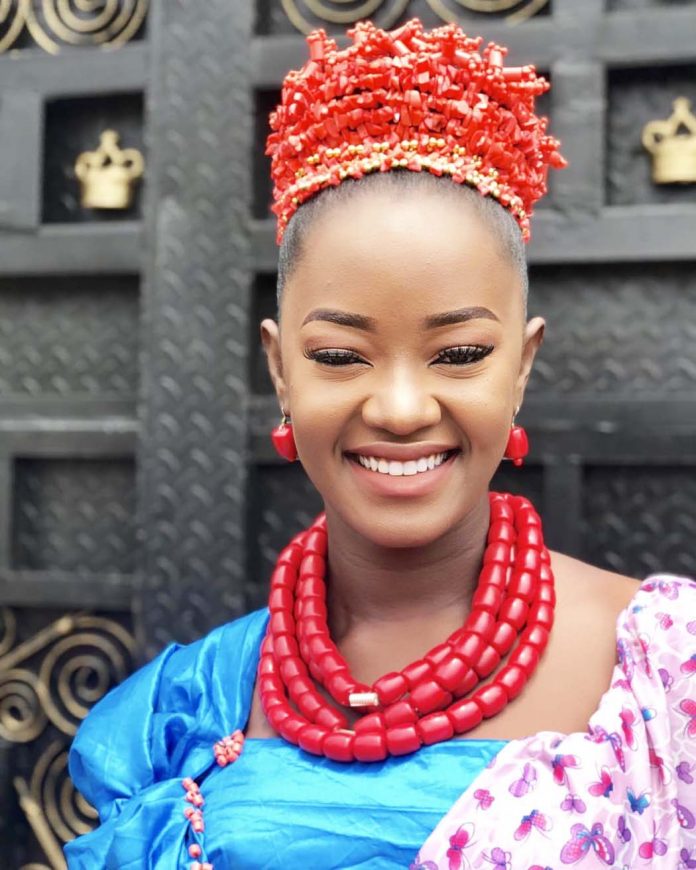 Pretty and stylish, Luchy Donalds is one of the new faces of Nollywood. She has a touch of excellence and the potential of becoming one of the most sought-after talents in the industry. Luchy tells Tosin Clegg about the ugliness of sexual harassment in Nollywood, says her biggest asset is her beautiful face, ass, and boobs 
Luchy Donalds is a fast-rising actress
Well, honestly, I will say it's grace because all my life I have never been to an audition. I happen to have a Facebook friend, who is an executive producer, we got chatting without me knowing he's a producer until when he asked if I was interested in acting and I said yes. He sent me a script and told me I will be playing sub-lead for him and, like a dream, it came to reality. 
Taking on roles 
I won't say any role is convenient because I'm good with whatever role that comes before me except anything that has to do with nudity. But I have a new movie I took part in, 'My Husband's Wife', which is yet to be released. 
The industry has refused to grow 
And that's growing higher as it's meant to. So many producers are no longer willing to put in enough money to make good movies, because piracy is just too much. 
I also feel African Magic channels are affecting movies because most people no longer buy CDs, they wait till when a particular movie they have been anticipating to watch is being aired on African Magic.
 I feel if producers bring out good money and make quality movies, if piracy can be flushed out and possibly YouTube movies made to be viewed by only people outside Nigeria, then the industry will have more value. 
What makes me different 
I'm versatile, I add extra spice; I say crazy and funny things that are not in the script. For me, challenge is being hated by people I refused to let in between my legs, and success is unexplainable because I give it all to God. 
I grew up in Owerri 
I wasn't allowed to mingle with friends because my dad is strict. So, I was not allowed out easily, and today I don't have regrets because it made me learn how to stay on my own. I am from the family of Mr. and Mrs. Donald Nkwocha of Emii in Owerri North Local Government Area, Imo State. 
I'm the first daughter in a family of two girls and a boy. I attended nursery and primary school in Mount Carmel Premier Secondary School. I spent a year at Madonna University but graduated from Tansian University. I'm a Christian who believes so much in God. 
Honestly, I have always dreamt of being an actress 
And that's right from childhood to the extent that I used to see myself acting with big stars in my dreams, no jokes, that's true. I'm so happy it came to pass, I love my job but I would have and still want to do business. 
I have acted in a couple of movies 
That's from my first films, The Investigator, Eno my Calabar Love, Osinachi My Wife, The Missing Princess, Bianca My Wife etc. Definitely, I will go into producing and directing in future. Well, I don't even know how it would happen but all I can say is that it's going to be God's doing. 
A few things stand me out 
My biggest asset is obviously my ass, then my boobs that are still standing and my tiny waist, not forgetting the beautiful face I am blessed with. For my role models, there are many of them and I can't even begin to mention them all. 
Dealing with fame 
Fame is beautiful, accompanied with great feeling. Well, as for men, I would say most of them feel actresses are crayfish and can be bought with money, which gets me highly pissed. My fans are my all, I love them so much. Most times the best way to handle annoying comments on social media is simply to ignore them but if not, then give the person a dose of his/her medicine because they fail to realise we are equally humans. 
Excesses in the industry 
Honestly, the level of sexual harassment in the industry is way beyond my expectation, and I doubt if there's any means to curb it.  But for me, I am very simple, I love to stay indoors because that's how I grew up, I love watching movies and sleeping. My everyday life is just normal.