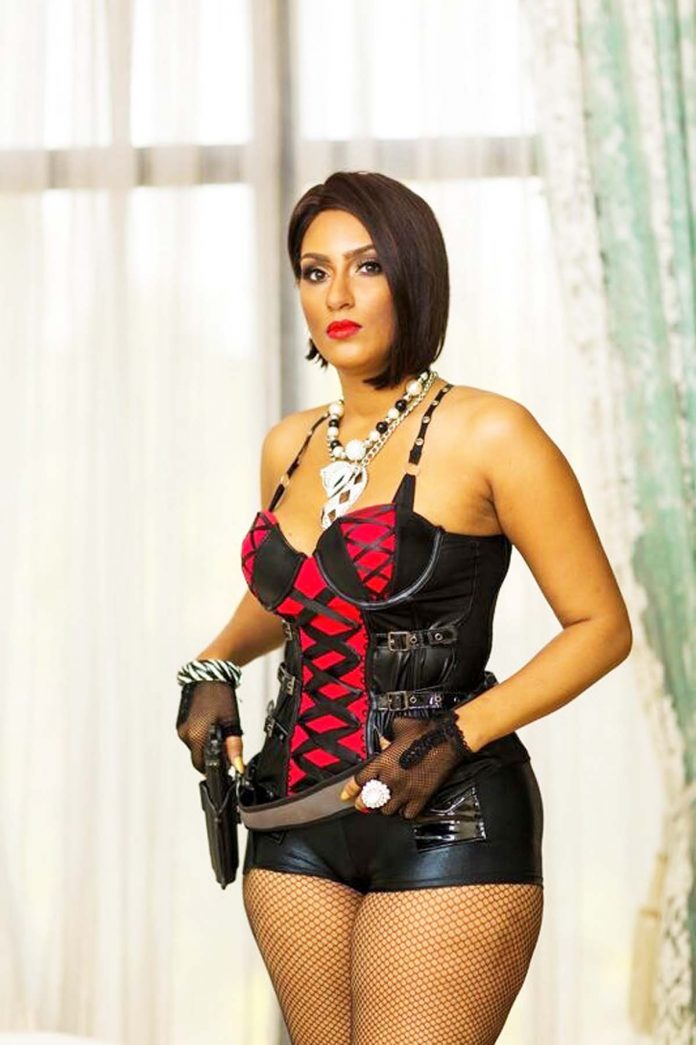 Nollywood cum Gallywood diva, Juliet Ibrahim is encouraging many to take controversial shots in the dark following her crashed relationship with Iceberg. The actress, who has found joy in dishing out relationship tips, is promoting infidelity in relationship, writes Omolabake Fasogbon 
When last month, movie star, Juliet Ibrahim boldly came out to confirm her breakup with ex-boyfriend, Iceberg, after denying it several times, not many had an inkling of the actual cause of the crash, a situation that has left many speculating. In an interview she granted Accra-based Joy Fm, she opened up, "When you are in love, you do crazy things but when things happen, you need to move on. People say and I hear all sorts of things, but people close to me know what happened. We broke up on mutual terms."
For reasons best known to her, the single mother of one failed to say why the erstwhile admired relationship went sour, but she may have unconsciously disclosed the cause in her recent posts on Instagram that made many to lash out at her.
The multilingual actress may not have envisaged the extreme reactions that would follow her position when she wrote: "Don't lose a good side nigga over your boyfriend. If your boyfriend was a good dude, you wouldn't need a side nigga."
It is no longer news that Juliet is finding a new joy in dishing out relationship tips as justified by her associated posts in recent time. Her newly found role, which  is somehow circumstantial, is no doubt attracting more fans to her social media handles as they anxiously look forward to her next post.
But this time around, her piece of advice didn't go down well with a lot of her fans, who beyond the ordinary have ascribed cultural interpretations to her expression.
In her submission, the light skinned beauty queen could have meant that there is nothing bad in keeping a secret relationship, especially if one's partner is not promising.
This was greeted with condemnation from especially the male fans that obviously cannot stand it if another man shares their woman with them.
Her post, coming barely a month after she confirmed her breakup with her lover of two years, gave many people reasons to believe that the romantic affair went sour on account of infidelity on both sides.
Despite the loads of attack that followed the post, the 32 year -old singer refused to be penitent. Her follow up post barely 24 hours after, further proved that she meant every bit of what she said.
She wrote "Isn't it funny how it's okay for them to have #sidechicks but not okay for us to have #sideniggas? Application forms loading. 
However, be prepared to sign a #sideniggacontract; #Goodmorning; #Unicorns; #justsaying,"
Some of the comments that followed the post read: "Aunty, solve your personal problem yourself, talk to a specialist if needed, stop posting it all… now you making us think your wayward life cost you your relationship. Did he get mad when he found out your side nigga? Why are you with him if he had side chicks? Stop disturbing our peace with your wahala. You both enjoyed it while it lasted."
Another follower wrote:"Is she indirectly telling us that her ex called it quits because he caught her with side nigga? Juliet, what is wrong is wrong and your recent post only shows reason why ice left you. You need to work on your moral standard and stop going around trying to defend being a whore…and please you are a celeb, try and be responsible for your followers and not expose them to your level of low moral standard. 
I wonder how your daughter will look at this years from now (mum was advertising to be a whore) you can as well go to the street and stand and wait for a pick up."
 A female fan added: "The more you claim to maintain your stance, the more you sound miserable…So this is the same advice you will give your female child abi? Your comments speak volumes of who you truly are."
From records, Juliet has not really had swell romantic dealings with the opposite sex. Not too long ago, she dropped a comment that suggested she was in a new relationship. But she has remained quiet on this after fans dared her to reveal the identity of the lucky man.
Juliet has not performed below expectation in the pursuit of her career ever since she took a shot at acting in 2005. With several awards to show for this, the mother of one, early this month, again, clinched the 'Celebrity Humanitarian Award of The Year ' and 'Fans Favorite Celebrity of The Year', both in a day, a feat that further justifies her exceptionality.