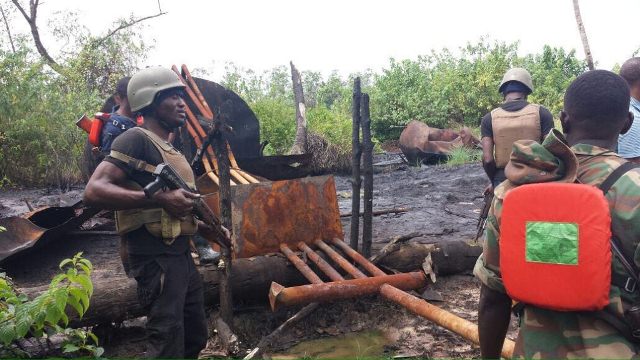 By Sylvester Idowu in Warri
One of the most wanted militant leaders in the Niger Delta, identified as Gift Apollo, has been arrested by the Joint Task Force (JTF) code-named Operation  Delta Safe under "Operation 777" activated by Defence headquarters to rid the region of criminals.
Commander of JTF (OPDS) Rear Admiral Apochi Suleiman said at a press briefing at the Nigerian Navy Ship NNS Delta in Warri yesterday, that the suspect, a member of 'Kill and Bury' gang also known as 'Thousand', was picked up during the exercise.
He disclosed that the gang, headed by Apollo, was responsible for the attack and death of soldiers deployed in Abua/Odua sometime in August this year adding "with the arrest of the criminal, effort is ongoing to arrest other members of the notorious gang." Admiral Suleiman, who was accompanied by Commander, Sector One of JTF, Colonel Alhassan Grema; Maritime Components Commander, Commodore Z S Mohammed and Commander of NNS Delta, Warri, Commodore Ibrahim Dewu, maintained that Operation 777 had been successful since its activation on October 18 following a Defence headquarters directive.
He said the activation of Operation 777 was aimed at further reinvigorating the operations of JTF with a view to disrupting the activities of criminal elements ahead of 2019 general elections and Christmas and New Year seasons.
"Accordingly, the operation focuses on curbing crude oil theft, illegal refining of petroleum products, illegal oil bunkering, communal clashes, kidnapping, piracy/sea robbery and cultism as well as to eliminate militancy within the Joint Operational Area," he said.
Recounting the achievements of the exercise, Admiral Suleiman disclosed that over 300 illegal refineries, 156 locally manufactured boats known as Cotonou boats and 1,085 surface tanks had been destroyed adding that JTF conducted anti-illegal bunkering/anti-illegal refining operations at Okaki community in Bayelsa State "which has become notorious for crude oil theft and illegal bunkering activities along AGIP pipeline.
He also said seven AGIP maintenance workers, kidnapped while carrying out an assessment of a blasted well head at Azuzuama council in Bayelsa State on October 5, were rescued while several militants/kidnappers camps were also destroyed.