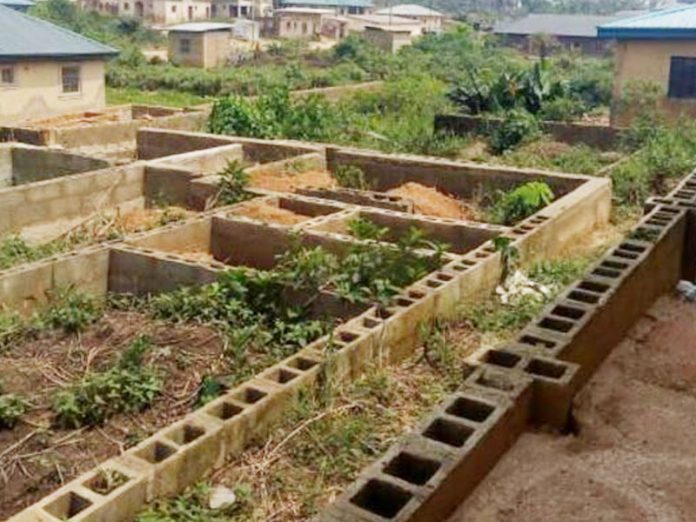 Kemi Olaitan in Ibadan
Gun-wielding land grabbers Thursday sacked residents of Ekerin layout, behind Abe Technical College, New Garage/Akala expressway in Oluyole Local Government Area of Oyo State from their houses.
THISDAY learnt that the land grabbers were also armed with padlocks, chains, red paint with which they mark 'x' on the affected buildings.
Eyewitnesses said many people fled for their dear lives and others who were unaware of the development scaled fence to safety on discovering that their houses had been locked up.
A notice from the Oyo State High Court and dated October 31, 2018 with suit number 1/567/84 allegedly took possession of the property in the area.
Copies of the said order in a suit instituted by Alhaji Emiola Amusa Adeleke against Bayo Asani and others were pasted on the affected buildings.
The unsuspecting residents, school owner, filling stations and churches, said they were surprised to behold hoodlums and gun-wielding miscreants with machetes and other dangerous weapons as they forcefully gained entry into various houses and business outlets and ordered their gates locked at both ends.
Mostly affected were the school pupils of a private school, George and Duke located on the expressway, BJ food, ADETS OIL filling station, JAYPEE Lounge, RHEMA Church, Fit Price Restaurant, Mahendra Drilling, DSTV office, JFK inn & over 100 residential buildings in the area.
The Chairman of the community, Alhaji Lamina Adedoyin Ajimotokan, while speaking with journalists, said the residents were not aware of any litigation on their property.
Ajimotokan, who said between 66 and 67 inhabitants were under him, queried the legality of such court order which was never brought to their notice.
The septuagenarian who was equally locked in with his family members decried in strong terms the unfortunate development and called on the Oyo State Government to wade in.
He said it had never been done anywhere all over the world where such a barbaric act would take place in broad day light without any notice, arguing that such development must not go uninvestigated.
According to him, the lands were mostly sold to them in Ekerin layout by the Ekerin family, who had initially bought same from Olugbesan, adding that he purchased his own land way back in 1974 and they have been living there for 36 years.