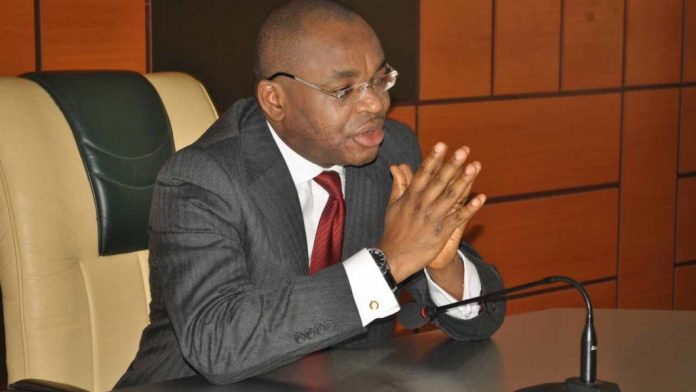 The exodus from the Governor Udom Emmanuel-led Akwa Ibom State Government has continued with the resignation of the Governor's Special Assistant on Projects, Mr. Godswill Ekpenyong.
Ekpenyong, who has also defected from the Peoples Democratic Party (PDP) to the All Progressives Congress (APC), is the ninth aide of Emmanuel to quit in recent months.
In a chat with newsmen in Uyo on Thursday, Ekpenyong said he resigned because of the discriminatory attitude of the governor to most of his aides, accusing him of favouring those he called 'the Lagos cabal.'
He said that former Governor Godswill Akpabio, unlike Governor Emmanuel, treated all his aides fairly, providing them with the requisite working tools and perks of office.
He advised Governor Emmanuel to withdraw from the governorship race to save himself from disgrace because Akwa Ibom people are determined to vote him out and bring in the more popular APC governorship candidate, Obong Nsima Ekere.
Ekpenyong said he was joining the APC because the PDP structure in Mbo, his local government area has collapsed with the resignation of Mr Victor Antai, the erstwhile Commissioner for Culture and Tourism who is now the APC House of Representatives candidate for Oron Federal Constituency.
He said that the electoral chances of Emmanuel and the PDP in Mbo were further ruined by the Secretary to the State Government, Dr. Emmanuel Ekuwem, who altered the zoning arrangement in place to deny the House of Assembly Member for Mbo, Mr Samuel Ufuo a second term ticket.
Ekpenyong, a frontline youth leader in Mbo, said the zoning alteration has led to a situation where both the House of Representatives and House of Assembly candidates are from Ebughu, his community, in a local government area that has five communities.
He expressed confidence that all APC candidates, especially Obong Ekere and Mr Antai, will win in Mbo.
Ekpenyong's resignation brings to nine the number of Governor Emmanuel's aides that have quit his government recently, mostly citing poor working conditions and the governor's lack of electoral value.