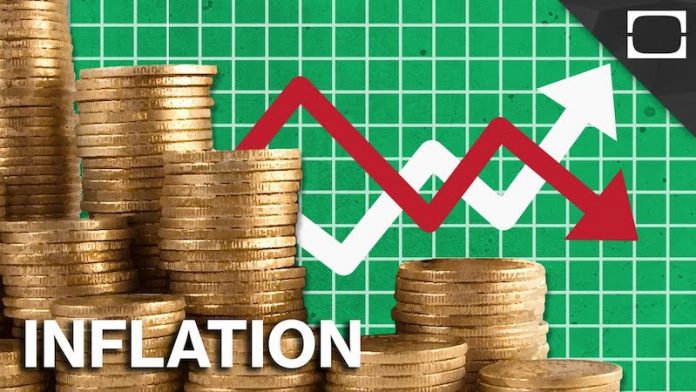 Nume Ekeghe
The Consumer Price Index (CPI) which is used to gauge inflation rate in the country declined slightly year-on-year to 11.26 per cent in October, compared with the 11.28 per cent recorded in September, the National Bureau of Statistics (NBS) revealed yesterday.
It showed that food prices in four states in the country experienced negative inflation between September and October 2018. The states were Akwa Ibom, Benue, Kwara and Ondo.
According to NBS, "On month-on-month basis, the headline index increased by 0.74 percent in October 2018, down by 0.09 percent points from the rate recorded in September 2018 (0.83) percent.
"The percentage change in the average composite CPI for the 12 months period ending in October 2018 over the average of the CPI for the previous 12 months period was 12.78 percent from 13.16 percent recorded in September 2018.
"The composite food index rose by 13.28percent in October 2018 compared to 13.31 percent in September 2018.
"In October 2018, food inflation on a year-on-year basis was highest in Bayelsa (16.36 percent), Abuja (15.85 percent) and Taraba (15.27percent), while Bauchi (12.17 percent), Oyo (11.76 percent) and Plateau (11.36 percent) recorded the slowest rise in food inflation.
"On month-on-month basis however, October 2018 food inflation was highest in Kogi (2.28 percent), Plateau (2.42percent) and Nasarawa (2.17percent), while Akwa Ibom, Benue, Kwara and Ondo States all recorded food price deflation or negative inflation (general decrease in the general price level of goods and services or a negative inflation rate) in October 2018."
Urban inflation rate was at 11.64 per cent, compared to 11.70 per cent recorded in September, while rural inflation increased to 10.93 per cent in October from 10.92 per cent in September 2018.
Commenting on the latest inflation numbers, the Head of Research at Agusto and Co, Mr. Jimi, Ogbobine, said the Central Bank of Nigeria (CBN) would still be vigilant especially as electioneering begins.
The two-day Monetary Policy Committee (MPC) would end today and latest inflation numbers would be one of the factors to be considered by the MPC members.
Therefore, Ogbobine said: "Even though the inflation rate is fluctuating, it is still high, and the outlook for it remains high because we are going into the crunch period for the election over the next four to five months. So electioneering spending should spike higher. What that means is that the MPC would have a hawkish stand because of the high inflationary outlook.
"The outlook for this MPC would not be towards lowering interest rate and what we would tend to see is that there could be extra tightening without the use of MPR and there could be a higher outlook for tightening other monetary policy tools outside MPR."
Also, United Capital Limited, in a report, stated that it expected the "food inflation sub-index to rise marginally as the anticipated increase in the supply of food product is expected to be offset by increased demand.