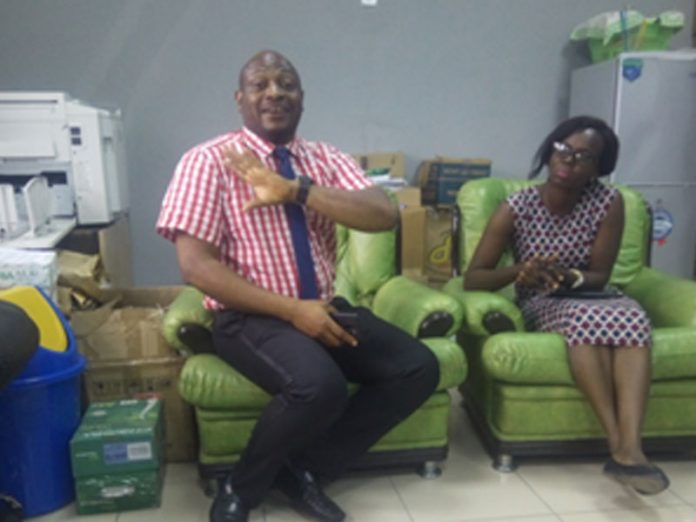 Healthcare personnel are sometimes seen by average Nigerians as unkind and uncaring. But behind the stereotype lies a crop of workers who go above and beyond the call of duty to save the lives of their patients. Martins Ifijeh examines and celebrates such unsung heroes in Lagos University Teaching Hospital
In a country where healthcare personnel are often seen as the most unkind set of workforce in Nigeria, hardly is the humanity served by this crop of workers noticed because of the stereotype already existing in the minds of patients.
To many, these healthcare personnel are seen as those responsible for several complications occurring in hospitals; they give injections 'without minding' how painful the piercing discomforts the patients; they do diagnosis and then declare the patient only has three months to live; they do a test and tell you cancer cells are growing in your system and that you may need at least N5million to treat it even if you are poor. To others, they are the bringers of the ultimate bad news. They tell you your loved ones are dead, turn their back, and then face the next patient; others wonder why healthcare workers don't cry with them when their loved ones are gone. In their minds, these set of people are heartless, lacking in empathy.
But away from the stereotype healthcare personnel have been labeled, lies a people who are giving their best to save others, even with the uphill condition they face in the health sector. Many work all night so patients do not die during the day; others have their own health, financial and family challenges to contend with but mask themselves so patients do not see that side of them and lose hope. Some do not see their loved ones often, because the hospital has become their first home.
In all of the sacrifices they make, the profession does not give them the leverage to talk about the good they do or how much work they put into saving lives and bringing new ones on board through childbirth. Like teachers, our society believes their reward is in heaven, hence not meant to receive accolades in the course of their jobs here on earth.
Beyond the Call of Duty
As THISDAY looks at the flipside of the stereotype healthcare personnel have been subjected to, a focus on these crops of workers from the Lagos University Teaching Hospital (LUTH), Idi Araba, shows that many even go beyond the call of duty so patients can live. They slowly leave out their youthful and social lives so patients do not die from pre-eclampsia, childbirth, cancer, pneumonia, Lassa fever and malaria, amongst other ailments.
For instance, in LUTH, many doctors have had to donate their own blood so women having internal bleeding during childbearing could live. They have shared bills of patients within themselves so that patients can buy drugs, get treated and enjoy healthy lives. Others have had to spend their hard earned little monthly pay to buy walking sticks and wheelchairs so patients are not immobile when discharged.
Unsung Heroes
One of such unsung heroes is the Senior Registrar, Obstetrics and Gynaecology, LUTH, Dr. Osunwusi Benedetto, who at one point pleaded with his team members to volunteer in saving the life of an otherwise dying woman by donating their own blood. The woman had lost over four litres of blood due to internal bleeding, and LUTH blood bank was exhausted due to high demand of blood by other patients.
A physiologic person has only about 6.5 litres of blood, which means even if what was remaining in the woman amounts to 2.5 litres of blood, there was no way she might have lived beyond a certain amount of time pending when blood is sourced for within Lagos for her, coupled with the fact that the family had no single money on them for treatment or even to purchase blood outside LUTH.
Benedetto could have simply insisted on doing his official job, and refer the woman to other hospitals where she would get blood, but his conscience and that of his team members wouldn't consider those options.
"This is coupled with the fact that the hospital has insisted no health worker must turn his or her back on patients no matter how bad the situation is, or even if they are unable to pay for treatment in cases of emergency,' says the gynaecologist, who spoke to THISDAY as one of those randomly picked to share their thought.
He said in many of such cases, especially when he knew the person may die if nothing extra was done, he often went beyond the call of duty to save lives.
"In the case of this particular patient, my team members and I rallied among ourselves for blood. Eventually, some of us were eligible to donate, so we went straight into the process and gave her some pints of blood. That line of action was what her body needed first before any form of treatment instituted would work. The woman within days was hale and hearty, and I had this fulfillment that we were able to save her.
"A week after, the woman brought baskets of gift for us, but we simply told her we were only doing our jobs, hence there was no need for them," said Benedetto.
In another instance, a woman with a deranged body system with septic arthritis and several other issues was brought in for emergency, but with the Intensive Care Unit (ICU) already full, Benedetto and his team members could not let her go because she had no dime for treatment. "We approached the hospital management and we were graciously allowed to do the work of ICU for 48 hours. We abandoned our homes, sleep and other schedules so we could do the work of the machine."
He said despite the fact that they became human ICUs, the hospital gave the patient five pints of blood without replacement; a gesture he believes if rendered to every patient, the hospital blood bank will dry up.
"Two of my team members thereafter donated two pints of blood as replacement, while we contributed money among ourselves for her drugs. She left the hospital in health,'' he added.
Benedetto believes these were just few among the sacrifices rendered daily by his team and other healthcare personnel to patients, especially the indigent ones.
For Consultant Obstetrics and Gynaecologists, LUTH, Dr. Babah Ochuwa, many doctors, nurses and other healthcare personnel make similar sacrifices at their expense just so patients can get the best.
Sharing one of his experiences, he recalled how a woman who had had three previous caesarian sessions was rushed to the Accident and Emergency (A&E) unit of LUTH due to complications from her present pregnancy.
In the course of carrying this fourth pregnancy, the said lady did not register for antenatal anywhere and did not put precautions in place considering that anyone who has had three caesarian sessions was at risk of endangering her life and that of her baby if she eventually becomes pregnant again.
He said while she was brought in at week 34 of pregnancy, her placenta was already severed prematurely and she was bleeding profusely. "We realised her blood type was rare, which made it much more difficult to replace the lost blood. At that point, we were at a fix, whether to allow her bleed to death or device something outside the box", the consultant said.
While the patient was due for urgent surgery to rectify the severed placenta, she had no blood left in her to sustain the surgery. But the humanity in the health workers didn't allow them fold their hands. They did all they could until she got enough blood needed for the surgery. "We went into the surgery without her family depositing a kobo for her treatment."
Ochuwa said in many cases he has had to pay for drugs for patients out of his pocket so they do not die. "I can't count how many times I have donated my blood for patients. I have had to stay in the hospital for days without seeing my family because I feel I am responsible to my patients. This is one thing LUTH leadership has taught us, and every doctor you see here has made unimaginable sacrifices," he added.
For Consultant Obstetrician and Gynaecologist, LUTH, Dr. Ohazurike Ephraim, the narrative is not any different. She said in addition to physically providing funds, blood or extra time, health workers have also, at some point, been infected with communicable diseases in the course of their jobs.
She said: "In many cases, we write to the hospital management through social works, so we can foot the bills of indigent patients, who after receiving treatments are unable to pay for the cost. In another instance, the Chief Medical Director (CMD), LUTH, Prof. Chris Bode has had to pay for treatment of patients during his routine checks on patients across different wards."
The senior staff of the hospital also spoke glowingly of the Chairman of the Medical Advisory Committee, Prof. Olufemi Fasanmade, who she said has become a father to indigent patients in the hospital.
Taking Advantage of the Gesture
However, she said many patients are now taking advantage of the gesture to say they won't release money for treatment, adding that this on the long run would affect the hospital because it needs every fund in its purse to effectively run the hospital.
She said: "Few weeks ago, an incidence in the ICU accumulated a bill of N1.4 million despite other private donations from doctors and other health workers. The pregnant patient came in moribund, which means she was just minutes away from dying. She was brought in by someone who claimed to be a Good Samaritan and had met her by the road side gasping for breath, not knowing the man was her relative. He brought her in with the intention of not paying for her treatment.
"The case was an emergency, and there was no history to work with. With no 'relative' to work with, we took her to emergency and operated on her. By morning, the person who claimed to be a Good Samaritan disappeared, and then her husband, a spiritualist came in. But having accumulated a bill of N1.4 million, we asked him how he intended to pay, he in turn told us he was interested in knowing what the doctors will do to clear the bill. I was surprised. After then the man ran away. Before we knew it, the patient also absconded.
"Even if she didn't abscond, there was no way we would have held her against her will. So many patients take advantage of this gesture from hospital management and staff because we have continued to err on the side of compassion. No day passes in this hospital without having an indigent patient in my ward alone in LUTH," she said.
She also narrated how recently, the CMD donated his personal funds to a patient whose rhesus factor was negative, but her relative pocketed the money. "After the CMD left, a relative of the woman still pocketed the money and denied that anyone gave him money. It took the intervention of health personnel there before he brought out the same money given to him by the CMD for treatment to save his own family member's life."
She said patient know they have to pay their bills, but they just believe once you are in LUTH you are not supposed to pay for bills.
"There is also another case of a man who held on to N30, 000 in his pocket while his wife was dying. As at the time the wife was suffering brain death, the man had that money in his pocket, but refused to bring it out. It was when he saw that the woman had lost it that he brought out the money, and at that point it was too late," she added.
Holding Patients against their Will
The consultant said as painful as it seems, some patients do not like paying for services rendered, given that it was against hospital policy for patients to be held against their will. "We do not have wards where we detain patients. If we want to prosecute those who owe us, they will run into several hundreds," she said.
Health Insurance as Way Forward
On the way forward, the CMD said while it is encouraged in the hospital for doctors and other health personnel to go beyond the call of duty to save lives, and for the hospital to support indigent patients, the practices were not sustainable, adding that if it continues, the hospital might end up packing up one day because the fund for maintaining the hospital is now channeled into paying hospital bills.
He said the way forward was health insurance, adding that all over the world healthcare is being paid for, whether by the patient or by pool from insurance. He said there was nowhere in the world where good healthcare and free healthcare work together.
"Somebody must fund it in a way. That is why we are advocating for all Nigerians to be under health insurance scheme, so that even if the patient is poor and unable to pay for healthcare, there will be someone else somewhere paying for the bills.
"This morning I have waved N350, 000 for some patients. Monthly, we wave millions of naira, and some will tell us they will pay over a year, and we let them, but often than not, you won't see them again. This practice is not sustainable because if we continue to use our running cost to pay for treatment, soon there may no longer be LUTH.
"It is somehow frustrating that after rendering services, we will now be the ones to pay for patients' treatment. We are not in the business of making profit, but we must recover cost.
"So the cheapest way is health insurance. All our cars have insurance, but less than five per cent of Nigerians have health insurance. Within six months, at least one person in a family must have had something with the hospital. This makes health insurance very important for every family," he said.