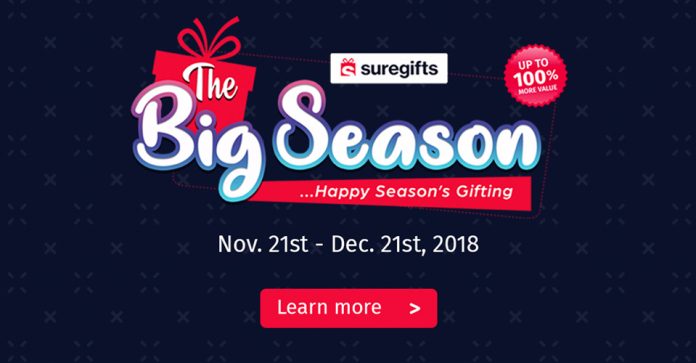 Africa's leading gift card company, SureGifts just announced the launch of its consumer promotion called The Big Season which will run from Wednesday, November 21 to Monday, December 21. The Big Season is a combination of all holiday deals including Black Friday, Giving Tuesday and Christmas, all rolled into one.
Within this Big Season, Nigerians can buy gift cards from specific categories and get up to 100% extra value through flash sales and extra value coupons. What this means is that you can get as much as double of the original amount used to buy gift cards this season. For instance, when you buy a N10,000 gift card, you may get up to 100% and you may get to spend as much as N20,000, depending on the deals available on the chosen day.
SureGifts also recently teamed up with Jumia in November 2018 to reward Nigerians with N3 million worth of gift vouchers for Black Friday, with the intention of giving Nigerians maximum holiday shopping experience all through this holiday season.
Speaking on the concept behind The Big Season, the Managing Director of SureGroup, Omolara Awoyemi, noted how this campaign was a means of giving Nigerians more to look forward to other than only Black Friday.
"The November – December period is the biggest season of the year. People want to say thank you to those they love with gifts and also get value more than ever this season; so why restrict discounts and valued shopping to just Black Friday? We want all Nigerians to have a memorable gifting and shopping experience in the last 2 months of the year which is why we've merged the biggest holidays and shopping days into one campaign," she said
Gift cards
are fast becoming a trend and the coolest way of gifting and giving in Nigeria. With the customizable feature, ease of delivery (instant or physical) and humans consistent appetite change for material things, gift cards provide the perfect flexibility and freedom you need in selecting your own gifts.