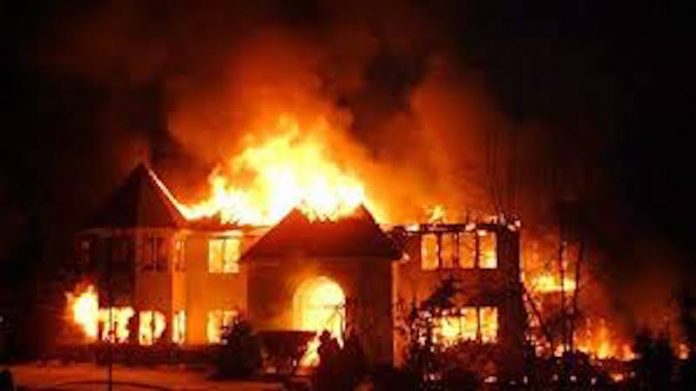 David-Chyddy Eleke in Awka
An early morning fire, which mysteriously started at about 1 a.m. yesterday morning has burnt down a part of the Federal Polytechnic, Oko in Anambra State.
The area affected was said to be the Examinations and Records building of the institution, where vital documents of the institution were destroyed.
A source said the fire which was noticed by students around 1a.m. yesterday was believed to have been a deliberate act by some students over the recent decision of the school management to abolish the Computer Based Test (CBT) and revert to Pen on Paper Test (PPT) for the examinations which just started.
The institution had in 2014 switched to the CBT mode for all examinations in the school, and this was hailed by the students who believed that the PPT afforded the lecturers the opportunity to fleece them.
Some students were even said to have warned the school management to shelve the move to revert to PPT or face dire consequence
A student, who spoke to our correspondent on the condition of anonymity, said the lecturers were not happy with the CBT mode as it stopped them from making financial and sexual demands on the students before passing them.
"That is why they pushed for PPT in our examinations which started yesterday which they think would favour them," he said.
No official of the institution accepted to comment on the incident.
But the state Police Public Relations Officer, Haruna Mohammed, confirmed the incident.
He said the police have mobilised their officers to the school to restore calm and ensure the situation does not escalate.
According to him, "We have commenced investigation, and the fire is believed to have been intentionally set by unknown persons. So far, no arrests have been made but we are on top of the situation."