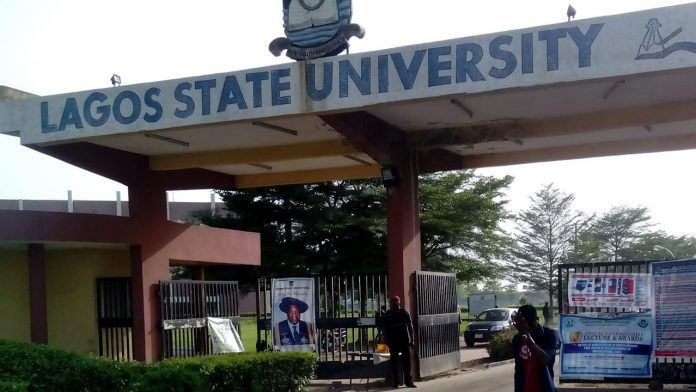 Oluchi Chibuzor
The Lagos State University (LASU) Alumni Association has honoured the institution's Vice-Chancellor, Professor Olanrewaju Fagbohun on his recent elevation to the status of Senior Advocate of Nigeria (SAN), making him the first serving vice-chancellor to be admitted into the inner bar of the judicial office in recognition of his contributions to environmental law and the citadel of learning.
Speaking at the programme in Lagos recently, the President of the association, Cecil Esekhiagbe advised the VC not to be discouraged by challenges and those who may want to antagonize him, adding that peace in LASU is not negotiable.
He also expressed delight about the giant strides the VC is making to bring about conducive learning environment in the institution.
In her remarks, the Deputy Governor of Lagos State, Dr. Idiat Adebule, who applauded Fagbohun's contribution to the university, justified his selection to handle the affairs of the institution towards turning it to a world-class learning centre and his recent appointment as SAN.
She allayed the fears of staff over who becomes the next VC after Fagbohun, saying that they have to be hopeful as God will help to get the best candidate for the position whenever it is time to replace the current administrator.
"People get carried away in office whenever they get promoted or elected into office because they allow so many things to distract them from achieving the goal they have set for themselves. Fagbohun has remained steadfast in his set goal for the university. Whenever the time comes for him to be succeeded, you should put it into prayers as you cannot on your own chose a successor.
"I know you are one of the few focused academia who remained committed to his goals as a result of your determination and I urge you not to be distracted as you will surely achieve all you have set for yourself and the establishment of LASU."
Responding, Fagbohun thanked the deputy governor, who has consistently shown support to the institution since his appointment, as well as the alumni who were at the fore front of his strategy.
The new SAN, who has over 200 publications, authored nine books covering environmental laws said: "We have gotten to a stage where we compete with the very best around because we want to be the best. It is in competing with each other that earned us African Centre of Excellence which does not permit for strikes or crises. We will be attracting foreign students, so we must be strategic. Alumni must be strategic now, they must not allow anyone to use LASU as a bedlam of crisis."