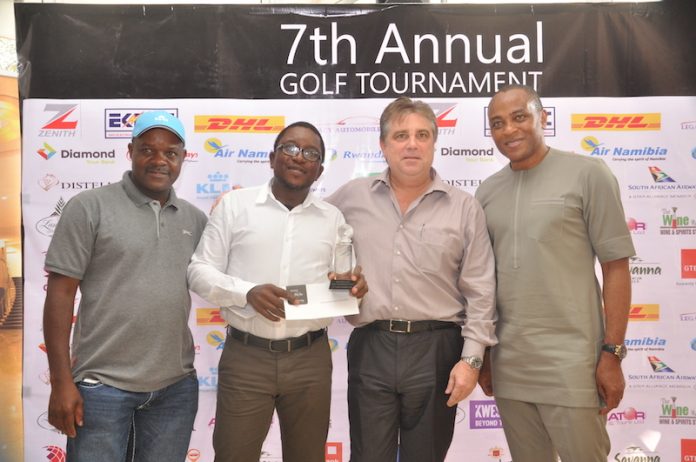 Akindele Akinsanya at the weekend emerged the winner of this year's Southern Sun Ikoyi Golf Tournament that held at the Lakowe Lakes and Golf Resorts in Lagos.
Udom Udoh and Remi Olukoya were the first and second runner-up
in the men's category of the tournament which attracted over 100 golfers to the beautiful course with breathtaking scenes.
In the ladies category, Idowu Babalakin, Buday Chantal and Rita Okafor were the top three finishers to smile away with exciting gift items.
The 18-hole event, which employed four-some format of play with the best three scores per hole counting, was the seventh edition of the annual tournament and was graced by business associates and friends of the hotel.
It presented the participants the opportunity to network with pleasure as they enjoyed the tournament with a gamut of other activities.
Speaking at the prize giving ceremony, the General Manager, Southern Sun Ikoyi, Mark Loxley, commended athletes, sponsors, guests and the media for taking out time to participate at the tournament despite the long drive and their busy schedules. He said it showed their commitment and consistent support to the hotel during the course of the year.
"We have had tremendous support from our tournament sponsors again this year as more partners came on board to identify with our laudable cause. Southern Sun Ikoyi's business partners are second to none and are always very generous in supporting this event." Mr. Loxley noted
He further stated, "This event is in line with our annual Corporate Social Responsibility philosophy of giving back generously to the society that has supported our business and helped us grow.
"It aims at bringing our corporate clients and guest together to end the year in grandeur through the game of golf which is renowned for its style, class and social wellbeing."
Also speaking at the prize giving ceremony, the Deputy General Manager of Southern Sun Ikoyi and athlete, Cliff Shiridzinodya, commended the level of sportsmanship showcased at this year's edition of the annual golf tournament.
"I have notice great improvement in the quality of participation and level of play, it is a great honour to compete with colleagues and friends within the industry through the gentleman's game of golf as it is also my hope to join the podium in future tournaments" he concluded.
Participants were gifted with various items including cable TVs, business and economy class tickets to various international travel destinations courtesy of the various tournament's corporate sponsors.
Sponsors for this year's tournament include, EKEDC, DHL, Zenith Bank, Legacy Automobiles, Soulcomms, SO&U Ltd, GTBank, RwandAir, Air Namibia, KLM, Kenya Airways, Diamond Bank, Distell, South African Airways, DISTELL and Diageo.
Others include; PZ Cussons, Heineken, Kwese' TV, Aviators travel and Tours, IBEDC, The Wine Rack, GDN, African Sports tourism Week, The Lansdown Ibru Heights and Far East Mercantile Co Ltd.