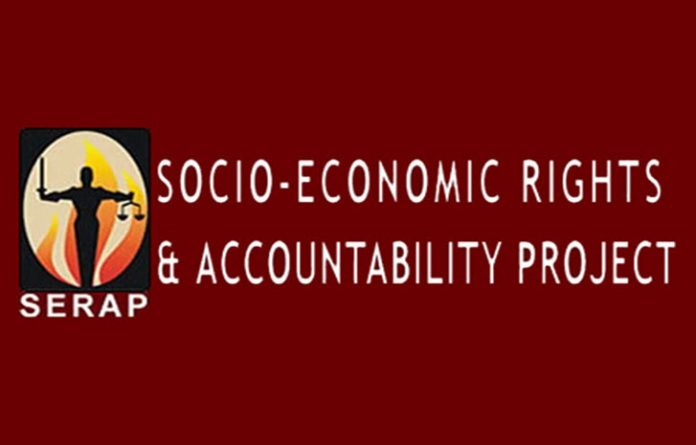 By Udora Orizu in Abuja
 Socio-Economic Rights and Accountability Project, (SERAP) has sent an open letter to the Chairman of the Independent National Electoral Commission (INEC), Prof. Mahmood Yakubu, requesting him to thoroughly investigate the allegation that Senate President Bukola Saraki spent between N200 million and N400 million in every state, except the six South-west states, to influence the outcome of the 2015 elections for the All Progressives Congress (APC).
The group threatened to institute legal processes to compel INEC  to discharge its constitutional and statutory responsibilities in the public interest.
SERAP, in a statement signed by its senior legal adviser, Ms. Bamisope Adeyanju, urged INEC to investigate the sources and other cases of inexplicable campaign financing and contributions for the 2015 elections by politicians and supporters of the two main political parties- APC and PDP.
 "We urge you to collaborate with the Independent Corrupt Practices and Other Related Offences Commission (ICPC) and the Economic and Financial Crimes Commission (EFCC) in any such investigation.
 In the letter dated November 17,  2018 , the civil society group insisted that the allegation of one politician spending billions of naira on elections in several states of the country to support a political party, if not transparently investigated, would undermine the public faith in the country's democracy.
The organisation added that such spending if allowed to continue, can shape policy-making after elections, and improperly influence the decisions taken by the country's elected representatives, who will most likely consider their contributions to political parties campaign as 'investment' and thus seek returns on their purported investment to achieve electoral success for their party.
 It averred that probing the sources of such spending would improve transparency and accountability in campaign spending and contributions, foster the integrity of officeholders  and ensure that electoral processes and elected officials are not compromised by uncontrolled and unaccountable campaign funding.
The statement said: "Unexplained and unregulated spending on election campaign would encourage politicians to divert public resources for political purposes rather than ensuring and directing critical spending for socio-economic development of the country, including on improving access to public services such as electricity, health, water, and education."
"Campaign financing such as the spending allegedly disclosed by the Senate president undermines public trust and confidence in politicians and poses serious corruption risks, as it can blur the line between state and party politics, encourage the use of national resources to fund and influence elections. Such huge spending by an individual can even be converted into a conduit for money laundering."
SERAP further insisted that investigation should be made to determine the sources of campaign financing and contributions by Saraki and by other politicians and other individuals to APC and PDP, if INEC is ever to rein in the role of money and level the playing field for candidates and political parties in the 2019 general elections.
"The Section 91(2) and 91(3) of the Electoral Act, the maximum election expenses to be incurred by a candidate at a presidential and governorship election shall be one billion naira only and N200m only respectively. Also, Section 91(4) of the Electoral Act states that the maximum election expenses to be incurred by a candidate for a senatorial and House of Representatives election shall be N40m only and N20m only respectively," SERAP reasoned.