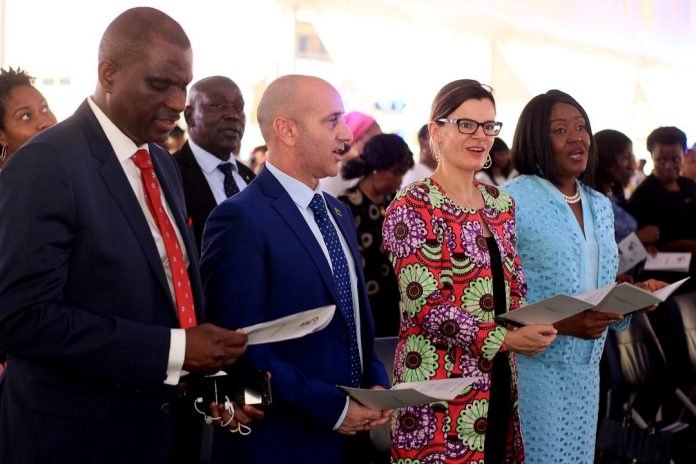 The best gift in terms of investment any government can give to its citizens is investing in education, especially, girls' education, Deputy British High Commissioner to Nigeria, Mrs. Laure Beaufils has said.
The Deputy British High Commissioner stated this at the 60th Founder's Day ceremony of Grange School Lagos, held at the school premises in GRA, Ikeja, Lagos, recently.
She said, "I started my career as a civil servant, specifically as an education adviser; so to an extent, I know a thing or two about education. Investing in education is the best investment any government or anyone can make and invest in girls' education is the most effective investment that can be made.
"Sadly, not all children have access to education; 20 per cent of the world's out-of-school children are Nigerians, which is bad for the country with such a large population.
"While education is a right, it is also a privilege; it is a right so that we can be heroes but it doesn't happen systematically.
"This is why I will implore you to always think of those without access to education," Beaufils said.
The British envoy charged the government to also focus on other developmental goals since it was not certain that there would be jobs for graduating students.
She added that education was not just about knowledge but creativity; confidence and not being afraid to voice out one's belief.
In her congratulatory message to the school, Mrs. Beaufils said 60 years of consistency in excellence and capacity building was a remarkable feat for any Institution.
The Deputy British High Commissioner further enjoined the students to be kind, compassionate and always show respect.
Adding colour and zest to the ceremony were performances from the School choir, renditions from the primary and secondary school orchestra, as well as elegant displays of artwork by the students.
Mrs. Awuneba Ajumogobia, Chairperson, Grange School Governing Council, applauded both staff and parents for their dedication, partnership and support that had sustained the school since its founding 60 years ago.
Mrs. Ajumogobia added that the school would continue to contribute its quota towards reducing the number of out of school children.
"This will be done through scholarships and other projects which the school just kicked off," Mrs Ajumogobia said.
The Headmaster of the School, Mr. Guy Cassarchis said: "it is a privilege to be part of an Institution with such impeccable educational track record". He also talked about some of the activities planned by the school to improve learning and teaching not only at Grange but across Nigeria.
To mark six decades of Excellence in Tradition and Global Innovation, the School played host to a number of dignitaries, representatives of educational agencies, parents, staff, alumni and students of the school.
The Founder's Day ceremony is the second in the School's schedule of grand events to mark its 60th Anniversary and remarkable accomplishments over the decades. The institution seeks to promote quality education that grooms young children for positive influence and leadership responsibilities.