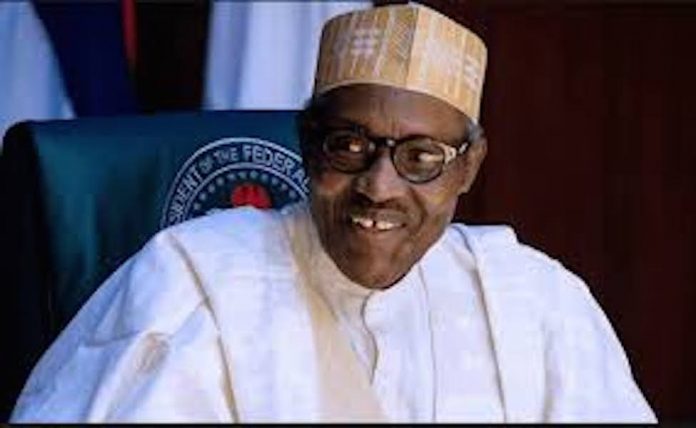 By Shola Oyeyipo in Abuja
President Muhammadu Buhari yesterday launched his 2019 electioneering campaign yesterday in a grand style, presenting a document called the 'Next level," of where he wants to take Nigerians.
Coming symbolically on the eve of his main challenger, Alhaji Atiku Abubakar of the Peoples Democratic Party's (PDP), manifesto launch, the president effectively set the ball rolling for the presidential contest.
Notable All Progressives Congress (APC) members, including state governors, ministers, National Assembly members, captains of industries converged on the Aso Rock Presidential Villa Conference  Center for the official presentation of the 'Next Level,' which is a presentation of the achievements and projection of the president's  administration.
The 17-page document, which the leadership presented as "some of the ideas and priorities that will shape how we govern," presented a blow-by-blow account of what the administration is set out to achieve if elected for a second term.
Job Creation
For instance, in the aspect of job creation, what will be the next level is to engage 1, 000, 000 N-Power graduates, skill up 10 million Nigerians under a voucher system in partnering with private sector, anchor borrowers scheme to support input and jobs to 1 million farmers, livestock transformation plan to create 1.5 million jobs along dairy, beef, hide and skin, blood meal, crops, agricultural mechanisation policy with tractors and processors to create five million jobs.
The president also promised to provide $500m innovation fund to tech and creative sector to create 500, 000 jobs, train 200, 000 youths for outsource market in technology services and entertainment.
In the area of industrialisation targeted at creating jobs, the agenda is to create six regional industrial parks and special economic zones, while the next level will be 109 Special Production and Processing Centres (SPPCs) to spur production and value additive processing, the provision of tractors and processors plants in each senatorial district to create extra jobs and there is also the plan to continue to create more jobs through the school feeding programme.
By increasing children fed from 9.3 million to next level of 15 million, the government hopes that 300, 000 extra jobs will be created for vendors and farmers alike.
Infrastructure
In the area of road and rail infrastructure, Buhari promised to complete the Ibadan-Kano phase of the Lagos-Ibadan-Kano rail, complete Eastern rail (Port Harcourt-Maiduguri) taking the network through Abia, all South-east states capitals, Makurdi, Jos, Bauchi and Gombe, complete the coastal rail project (Lagos-Calabar) and complete the link on Itakpe-Warri rail to Abuja through Lokoja and make it operational.
Others listed is the completion of the Abuja-Kaduna-Zaria to Kano; completion of the works on federal roads using Sukuk Bonds in each states of the federation; complete the Second Niger Bridge connecting Anambra and Delta States and to complete the East-West road connecting Warri, Delta to Oron, Akwa-Ibom, through Kaiama and Port Harcourt in Bayelsa and Rivers States.
Still on infrastructure, the president, who stated that he will treat broadband facility as critical infrastructure added, "We have addressed uniform right of way charges. Next level is to move broadband coverage to 120, 000km on fibre network across Nigeria.
"After partnering with Google for free Internet access to key locations, next level will prioritise access to Internet to education, primary health care centres, market, business clusters."
Part of the plan for the next four years is also to create a vibrant gig economy around business process outsourcing, technology, creative sector etc with flexibility, e-lancing and freelancing as key features, to drive procurement to start up service by promoting quota for tech startups and to support private sector led technology hubs – support technology startups by providing grants, equity and loans
Power
In the aspect of power generation, government vowed to add a minimum of 1,000  MW new generation incremental power capacity per annum on the grid to bring to a total of a minimum of 11, 000 MW and distribution is to get to 7, 000 under distribution expansion programme.
Using off grid power to energise education, he said,  "nine universities will have uninterrupted power next when we complete the first phase of 37, in energising economies, next level moves from 16 markets such as Sura, Ariaria to lighting up 300 markets and clusters with clean, uninterrupted off-grid power." In rural electrification, the next phase is to execute the Nigeria Electrification Project (NEP), a $550m Rural Electrification Programme, supported by the World Bank/AfDB to create a pipeline to private local investments and financial incentives to catalyse the Nigerian off grid market for standalone solar solutions.
Poverty Eradication
On Peoples Moni, the agenda is to expand the scope of the soft loan from its current 2.3 beneficiaries to 10 million, to provide financial support of up to N1m to small traders, artisans (carpenters, tailors, mechanics, hairdressers, barbers, plumbers, vulcanisers, commercial drivers, taxi, keke and motorcycles operators).
Government will also help beneficiaries to remove restraints such as skills, government bureaucracy and others. The government also plans to launch an Entrepreneurs Bank to support  young entrepreneur with loans to support business ideas across different business value chains.
The bank, which will be technologically driven, will among others carry out profiling and tailored advisory services for entrepreneurs and help with capacity building where needed.
Ease of Doing Business
Concerning policy direction for ease of doing business, the president, who noted that "In spite of the crash in oil prices, diminished oil production, and reduced revenues, we kept most of our promises," said, "We are set for the next level."
According to the document by the Nigerian leader, what will be done is to legislate and enforce deadlines for issuance of government licenses and permits and simplify investment, customs, immigration, trade and production procedures.
For MSME, 109 one stop shops of all regulatory agencies (CAC, NAFDAC, SON (MSME Clinic) etc under one roof will be located in each senatorial district.
He said, "To achieve our aspiration of a knowledge economy, 'Every child counts,' is our roadmap to make our primary and secondary schools students digitally literate with an emphasis on science, technology, engineering, arts and mathematics (STEAM). "We will reinterpret the curriculum by imparting functional skills such as coding, robotics, animation, design thinking, collaboration, critical thinking and project management. We will emphasise civil education
"All teachers in public primary schools will be retrained in their primary areas of teaching and 10, 000 schools per year will be remodeled and equipped transforming classrooms to labs, workshops and collaboration centres.
To guarantee health for all, using co-payments to share the cost between individuals, the private sector and government, the poorest 40 percent will be exempted from such co-payment, the president said.
According to him, "In compliance with National Health Act, we achieved this in 2018 building the backbone for primary healthcare centres," they noted, projecting that N5,000 monthly contribution leads to 45 percent increase in the population covered by primary health care by 2023 up from the present 12.6 percent and that a concept of N-Power Medic will pay young doctors to stay in rural areas."
To secure the country and make the anti-corruption war more effective, Buhari said his next administration will decentralise funding of police operations and foster true community policing by implementing direct transfer of funding to police division all across.
He also vowed to execute the second phase of the farmer-herder and National Livestock Policy to end the decade-long conflict between farmers-herders.
"To eliminate the scope of systemic corruption, we will emphasise technology enabled e-governance," it was noted.
Conclusively, Buhari promises more inclusive government by actualizing 35 percent female appointments, more youth appointment for boards and implementation of special mentoring programme in governance with young graduates working with ministers and other senior government appointees.  
Noting that Buhari is keen about meeting the yearnings and aspirations of Nigerians for rapid development, the Minister of Power, Works and Housing, Mr. Babatunde Fashola, who told the gathering that apart from former president, Alhaji Shehu Shagari, and Buhari, no government has embarked on massive scale of development, said, "A vote for President Buhari is a vote to take Nigeria to the next level."
Noting that "The key to economic prosperity lies in investing scarce resources on infrastructure and not sharing it," Fashola said 365 road projects are currently going on across the states and that out of that number, 244 were awarded in 2001.
Reaffirming that government will continue to add 1000 MW to national grid annually, he said housing projects are also ongoing in 34 states where land has been provided, creating thousands of jobs.
He said power plant projects in states will be completed and that work will start on the Mambila Power Plant.
According to him, when started the Mambila Power plants will require 18, 014, 000 bags of cements, 18, 981, 000 tonnes of sand, granite and 42, 000 tonnes of steel and thereby create an ecosystem of job.
The Minister of Transportation and the Director-General, Buhari Campaign Organisation, Mr. Rotimi Amaechi, who reiterated the achievements of the President-Buhari-led APC government in the transport sector, particularly in the area of railway development, said Nigerians are compelled to make a choice between good and bad in the next election but that the PDP has nothing tangible to show for having been in government for 16 years.
"One good thing about this election is that there is no opposition. PDP has been in power for 16 years, they will show their scorecard. We have been in power we will show what we have achieved with less," he said reassuringly.