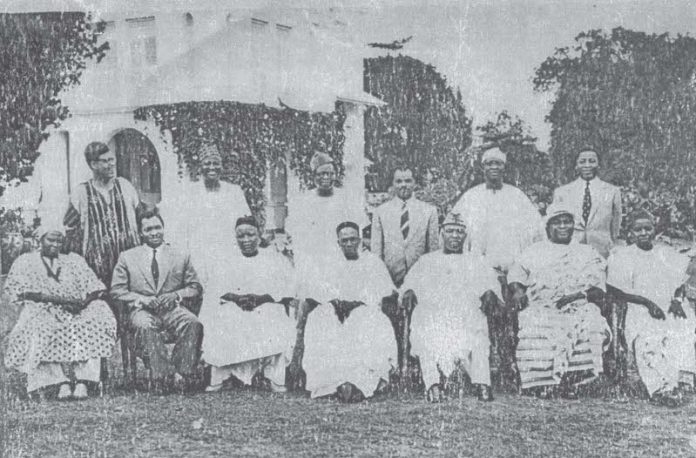 Senator (Chief) Victor Esemingsongo Mukete, the Cameroonian elder Statesman and paramount Chief of the Bafaw tribe, is the last surviving member of Nigeria's first Executive Cabinet (in the form of the Council of Ministers during the Pre-Independence era in the 1950s led by the late Alhaji Sir Abubakar Tafawa Balewa who was the Prime Minister). Victor Mukete was born on the 15th day of November 1918 and turned 100 years old last Thursday. Not surprisingly, very few Nigerians know about Victor Mukete or that he sat as a member of the late Prime Minister's first Cabinet. This is because before the reunification of Cameroon in 1961, the Country was divided into two zones. (1) The Western Zone (comprising of two separate areas and later known as Northern and Southern Cameroon). This area was administered by the British as a Mandated Territory of the League of Nations and afterwards as a Trust Territory of the United Nations. (2) The other area which formed the rest of the country (comprising four-fifths of its total land mass) was administered by the French under its policy of assimilation.
In the British area, there was local participation in Government in that both Northern and Southern Cameroon were joined as part of Nigeria for administrative purposes. This was how a young Victor Mukete eventually emerged as a Nigerian Federal Minister in the 1950's. Cameroon proceeded to partial Self Government in 1957 and full independence on the 1st of January 1960. After a UN plebiscite in 1961, Northern Cameroon chose to join Nigeria as part of the Northern Region. Southern Cameroon on the other hand (where Victor Mukete hailed from) joined the rest of Cameroon administered by the French in October 1961. This in effect brought to an end Victor Mukete's long standing and influential ties with Nigeria. This perhaps best explains why very few Nigerians know about our Federal Minister of that period.
At the age of eight (8), Victor Mukete began his Primary School Education at Government School Kumba in 1926 before entering the prestigious Government College Umuahia (then known as the "Eton of Eastern Nigeria") in 1933 for his Secondary School Education. Government College Umuahia was and remains a leading Nigerian Secondary School known for having produced the largest number of celebrated writers in one generation such as Chinua Achebe, Elechi Amadi, Ken Saro-Wiwa and Christopher Okigbo but to mention a few. He was Senior Prefect there in form 5 and again in form 6. From Government College Umuahia, he passed the entrance examination into the Yaba Higher College Lagos and afterwards attended its Professional School of Agriculture in Ibadan.
In 1943 he secured his Diploma in Agriculture and was posted to Bamenda in the Agricultural Department. He worked there for four years before securing a Colonial Development and Welfare Scholarship to study Botany at Manchester University in England. Upon obtaining his B.Sc. Degree he secured yet another award to study Agriculture at Christ's College University of Cambridge. On his return home from his educational sojourn in the United Kingdom in 1952, his political career began almost immediately. He first married his late wife and mother of his children Hannah Makia in 1953.
Subsequently, dutiful service began. He became a member of the Kumba Native Authority and was called upon to serve on the Cocoa Marketing Advisory Committee as well as the Southern Cameroon Marketing Board in 1954. Around the same time he became the Secretary General of the Kamerun United National Congress. Victor Mukete was however a staunch believer in the reunification of Cameroon and he along with five others eventually won election into the Nigerian Federal House of Representatives on the platform of the Kamerun National Congress as re-unificationists in 1955. Perhaps due to his impressive educational background, he was appointed by the British as a Federal Minister almost immediately. He was first of all Federal Minister without Portfolio in 1955 and subsequently became Federal Minister of Research and Information from 1958 -1959. This was the last political appointment he held here in Nigeria before Southern Cameroon joined what became the Republic of Cameroon in October 1961.
His political stature continued to grow in a unified Cameroon. First he became Chairman of the Cameroon Development Corporation (CDC) from 1960 – 1982; and was sworn into the Cameroon National Assembly as a Judge of the Court of Impeachment. He later became a Member of the Economic and Social Council; Vice President of the Cameroon Chamber of Commerce, Mines, Industry and Crafts and is now its Honorary President. He is presently Chairman of Cameroon Telecommunications (CAMTEL) and Chairman of Mukete Estates Ltd.
Senator Mukete is an Honorary Member of the Central Committee of the Cameroon People's Democratic Movement Party (CPDM). He is also the holder of several foreign and national decorations, including the Knight Official, Humane Order of African Redemption (Liberia); Officer of the Cross Order of Merit of the Federal Republic of Germany; Officer of the Cameroon Order of Agricultural Merit; Commander of the Cameroon Order of Valour and Grand Officer of the Cameroon Order of Valour; Chief Mukete is the doyen d'age of the Cameroon Senate (oldest member of the Cameroonian Senate) and he remains just as influential in Cameroon at the age of 100 years just as he was in Nigeria in the Pre-Independence Era.
––Stephen Kola-Balogun, is a Legal Practitioner and a former Commissioner for Youth Development in Osun State