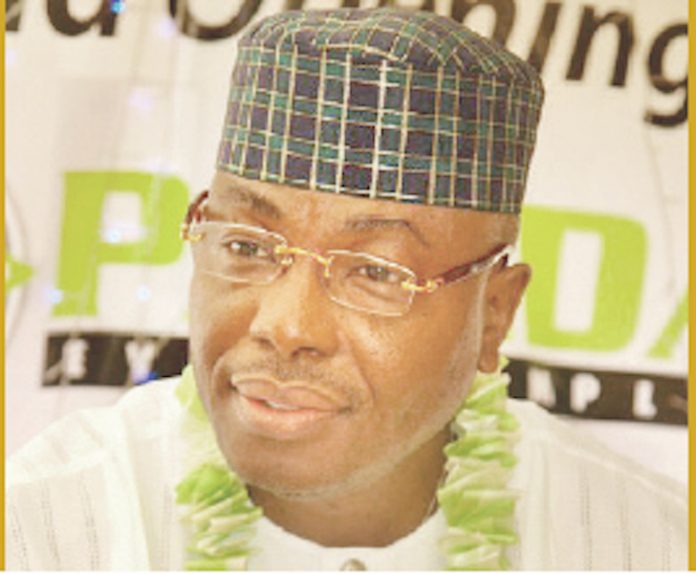 If, indeed, money-making is an art, then, Orange Drugs' boss, Sir Tony Ezenna, is a maestro in the game.
The stylish billionaire businessman, who has all the comforts of life at his beck and call, knows how to make and spend money wisely.
In fact, he never blinks an eye whenever he feels like spending money, obviously because he works hard for it.
His lives in a mansion and drives some of the most expensive automobiles.
In addition, the billionaire businessman has a commanding sense of fashion; he is a showstopper any time, any day. Those who have known him for years would attest to this.
Interestingly, he recently took his love for the good things of life a notch higher with his gold-plated mansion located in Ikoyi, Lagos State.
During the house warming, which held last Monday , guests were left in shock at the wonders that is the house. From wall to roof, it is a tale of wealth extraordinary.
The architectural masterpiece, it was gathered, is fast becoming a tourist attraction and no one has visited the exquisite castle without using it as a prayer point to the Almighty God.
The mansion, according to a source, is worth over N2bn.
"This is not his first, he has an exquisite mansion known as 'Elenma Castle' in his country home in Owerri-Akokwa local government, Imo State," a source disclosed.
The source also disclosed that the Imo State- born businessman also took delivery of 2019 model Rolls Royce Phantom model worth over N200m in celebration of the newly completed building.
Guests at the event included Labour Minister, Dr. Chris Ngige, Senator Dino Melaye and Chris Uba, among several top personalities.