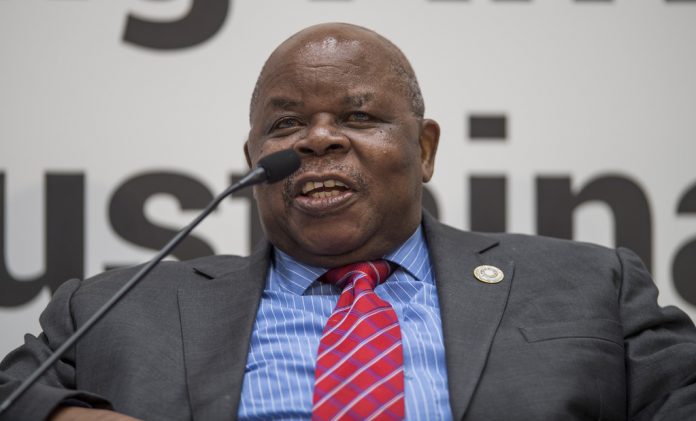 •   Saraki seeks commitment to anti-graft war
By Charles Ajunwa  in Lagos and David-Chyddy Eleke in Awka
Former President of Tanzania, Benjamin Mkapa has said that Nigeria was not as corrupt as being projected by the Western media and other foreign anti-corruption bodies.
This is as Senate President Dr. Bukola Saraki called for a greater commitment to the fight against corruption in the country.
The duo spoke yesterday at the 7th Zik Annual Lecture held at the Nnamdi Azikiwe University, Awka, Anambra State.
Mkapa in his keynote address themed: "Taming the Monster of Corruption in Africa", however identified corruption as the bane of Nigeria's development.
While commending the efforts Nigeria had made in fighting corruption, the ex-President of Tanzania maintained that most Western countries were more corrupt than African countries.
Mkapa, who went down memory lane on how he fought corruption in his country when he was president noted that corruption was caused by greed and inordinate ambition.
He said: "The fight against corruption must start from the federal government because it has all the capacity to do."
On his part, Saraki, who chaired the lecture, said it was time for all Nigerians to recommit to the efforts aimed at eradicating corruption from Nigeria as envisioned by the nation's founding fathers, one of whom was the Great Zik of Africa.
The President of the Senate also stated that the late Zik believed and worked for transparency and accountability, "virtues that would help to banish the cankerworm of corruption from the country if they are imbibed and practiced by all Nigerians."
Saraki said: "Without wishing to pre-empt the subject of today's lecture by His Excellency Benjamin Mkapa, we should ask ourselves what Dr. Azikiwe would have made of the political landscape of today, particularly with regard to the problem of corruption.
Let us think upon the example he laid down, the ideals he stood for, and from which he never wavered.
"As we listen to this 7th Zik Lecture, let us meditate upon the legacy of Azikiwe, one of the greatest Africans of the 20th Century. As founder of the historic West African Pilot Newspaper, Azikiwe was for freedom of the press. He was for accountability and transparency…He believed in and fought for Nigeria's unity.
"When I think about his legacy, I am indeed humbled; and it is a thing of pride to be chairing this event today. As we listen to the 7th Zik Lecture delivered by the eminent keynote speaker, let us recommit ourselves to defeating the monster of corruption in our country; and by so doing, set a standard for the whole of Africa.
"It is by ridding our system of governance of the cankerworm of corruption that this country can grow to achieve its true destiny as envisioned by the founding fathers, one of whom was the great Zik of Africa," he stated.
He noted that the Great Zik of Africa was not only an astute politician and statesman but a man who thought deeply about his country in particular and the African continent in general.
"He thought deeply about the direction Nigeria was going, and he did his very best to steer her on the right path. We need more thinkers in our national life, and it is my expectation that today's lecture will go some way towards nudging those of us in this audience in that direction."
Saraki described the Annual Zik Lecture series, held at the Nnamdi Azikiwe University, as a veritable platform to propagate Zik's ideals, formulate new ideas and devise solutions to current national challenges.
He said: "It is fitting that this Annual Lecture Series has as its setting an institution of learning in his name. I say this because Zik of Africa was a renowned intellectual, and the power of his mind connected Nigeria to the entire Black World.
"It is fitting, therefore, that we remember the great man of learning in this place of learning. It is fitting that we walk in his footsteps in our quest to formulate ideas and devise solutions to current challenges. It is fitting that erudite lectures are delivered to advance his cause and propagate his ideals.
"We often lament these days that our politics is bereft of ideas. The more reason one welcomes and wholeheartedly supports this lecture in memory of a man of ideas whose example inspires us still, and can give rise to new idealists in our national life."
Speaking in the same vein, the Vice Presidential candidate of the Peoples Democratic Party (PDP), Mr. Peter Obi, concurred with Mkapa, describing corruption as a hydra-headed monster that "kills professionalism, entrepreneurship and hard work", thus rendering societies and countries incapable of any meaningful development.
"Hard work is behind the development of many countries of the world. In these countries, where citizens have equal access to opportunities each citizen is challenged to work hard, you see their entrepreneurial spirits being challenged. In such a situation, each professional strives to achieve his full potentialities. But in a corrupt country, the contrary is the case for one can even find a councillor living larger than university professors because they have access to the treasury," Obi said.
As a panacea to the menace of corruption, Obi said that the Atiku Presidency would build institutions and entrench processes that will naturally check corruption.
Recalling his days as the Governor of Anambra State, Obi said that it was because of his ability to strangle corruption that he was able to pay all contractors, settle  arrears of pension of over N35 billion, developed all sectors without borrowing a dime from any financial institution and above all left over 75 billion Naira in the treasury.
The Secretary to the Federal Government, Boss Mustapha in his speech, said President Muhammadu Buhari, had made remarkable progress in the fight against corruption because he was sincere in the cause.
In his remarks, Governor Willie Obiano, who was represented by the Secretary to the State Government, Prof. Solo Chukwulobe, said that Anambra State Government had done a lot on the fight against corruption by building on the template inherited from Mr. Peter Obi.
The Dean of the Faculty of Social Sciences, Prof.  Chinyere Stella Okunna, said the choice of the topic was apt, because, as most speakers said, without fighting corruption, Nigeria and other African countries would continue to lag behind in development.
Others who were in attendance at the lecture were Senator Ben Obi, Dr. Okey Ikechukwu, the Vice Chancellor of the Nnamdi Azikiwe University, Prof. Joseph Ahaneku,  Zik's wife,  Prof. Uche Azikiwe, Obi of Onitsha, Nnaemeka Achebe, former Health Minister, Prof. Alphonsus Nwosu, among others.