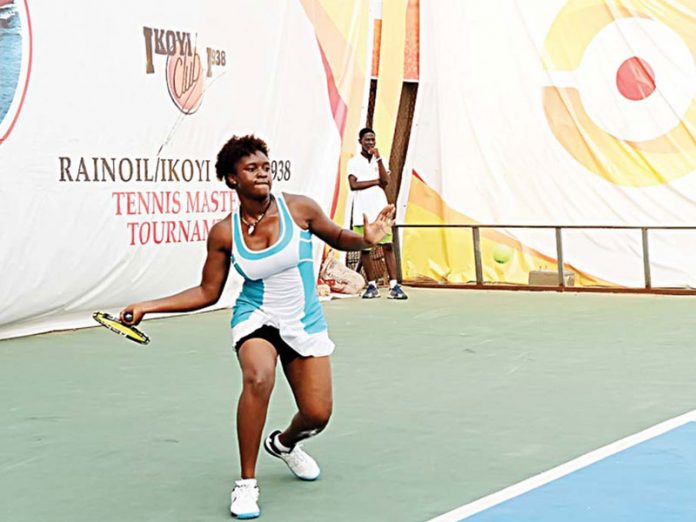 Agugbom ends Oiza Yakubu's fairy-tale run in women's singles
The semifinal matches of the ongoing 2nd Rainoil Open Tennis Championship in Lagos are scheduled to hold this morning with
defending champion Henry Atseye facing Joseph Imeh while Sylvester Emmanuel and Uche Oparaoji will face off in the men's singles other semi final.
In the women's singles semi final, defending champion Sarah Adegoke will battle Christy Agugbom while Blessing Samuel confronts Aanu Aiyegbusi for a place in Saturday's final.
To reach the final, Atseye yesterday was stretched by Abdulmumin Babalola in a 6-7 (1), 7-6 (6), 6-3 game that lasted over three hours on Court 5 of the Tennis Section of Ikoyi Club.
The vastly experienced Babalola took the opening set on a tie break but Atseye, who also dumped Babalola out of the tournament last year canceled out the advantage by also winning the second set in an identical fashion to set up a tense deciding third set. But Atseye who is determined to retain his crown won 6-3 to move into the semis.
Both Imeh and Emmanuel who are top two seeds got the better of their duels with Emmanuel Idoko 7-6 (7, 4-6, 6-3 and Ikechukwu Iloputa 6-1, 6-2 respectively.
Oparaoji completed the final four as he triumphed 6-3, 6-1 over Albert Bikom.
In the women's singles, youngster Oiza Yakubu's fairy-tale run came to an end as she was defeated by Agugbom 6-1, 6-2.
The 13-year-old left-handed player justified her wild-card by defeating veteran Omotayo Ibrahim Osewa in the first round before adding eighth seed Oluchi Ozurumba to her casualty list.
Top seed and defending champion, Adegoke advanced with a commanding 6-1, 6-1 win over Bunmi Are.
The last four semifinal stage for the women's singles was completed by second seed and 2017 finalist, Blessing Samuel who bested Ronke Akingbade in a fierce match with a 7-5, 7-5 score. Aanu Aiyegbusi came out tops of her duel with Patience Onebamhoin 6-4, 6-1.
In the men's doubles, Babalola and Bikom put behind their singles defeat to seal a semifinal place at the expense of defending champions Atseye and Nonso Madueke.