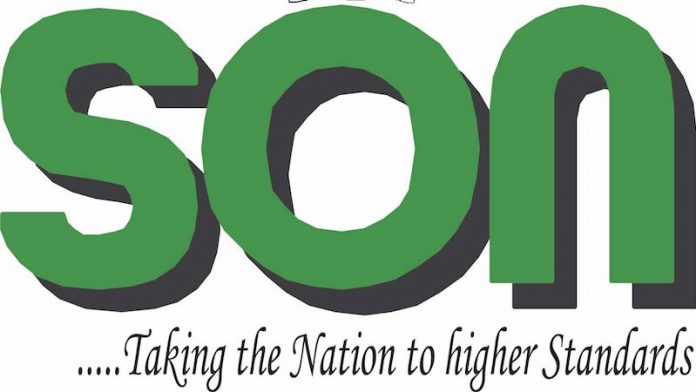 Jonathan Eze
The Standards Organisation of Nigeria (SON) has charged the business community to adhere strictly to global best practices, saying that this is the only way to be competitive globally.
The Director General, SON, Osita Aboloma, explained that complying to standards would also make business operators smile to the bank while also boosting consumer confidence on locally produced goods.
Aboloma, who made the call at the just concluded Lagos International Trade Fair, however assured local and foreign investors of the agency's unrelenting support to protect their brands from fakers and counterfeiters.
He also urged small and medium scale enterprises (SMEs) to adhere to standards, pointing out that the agency would continue to create the enabling environment for SMEs to thrive.
The SON boss enumerated transparent service delivery through placement of information on website for easy access; electronic services for key activities such as the Mandatory Conformity Assessment Programme (MANCAP) for locally manufactured products; the off-shore Conformity Assessment Programme (SONCAP) for imported products and Management Systems' Certification as some of the key achievements of SON in the ease of doing business programme.
He added that others include reduction of service charges for purchase of standards, testing and training for MSMEs, reduction in the processing time for products certification to 60 days and electronic laboratory results.
Represented by a Director in DG's office (Lagos), Kabir Yusuf, stated that the agency's activities are aimed at the protection of lives and property, promoting access to local and foreign markets for made-in-Nigeria products through improved consumer confidence as well as value addition to business in general.
The standards body recently restated its commitment to assisting prospective investors in Nigeria through standards and quality assurance services.
According to him, the organisation was fully committed to the Ease of Doing Business initiative in Nigeria which promotes transparency, openness, information dissemination and fast turnaround time in service delivery.
The SON helmsman said the agency has in place, requisite standards, processes and procedures, including human and institutional capacity development, product and management systems certification, testing and metrology services as well as fast tracking of import procedures among others to assist prospective Investors in Nigeria.
He assured the business community of the organisation's continued fight against the circulation of substandard and life endangering products in Nigeria to protect genuine investments, compliant businesses as well as consumers in the country.
Aboloma stated that SON had provided attractive exemptions for the importation of raw materials and machinery for production under the offshore certification scheme for imports into Nigeria (SONCAP).
Conversely, the organisation undertakes a mandatory certification of all locally manufactured products for local consumption as well as export, to provide a level playing field for all.