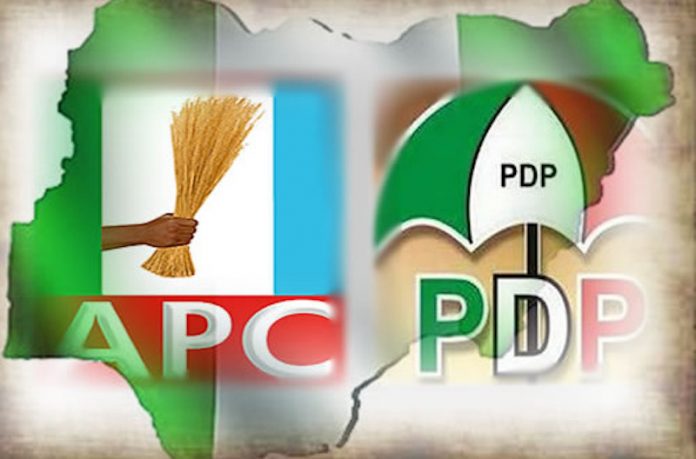 Raheem Akingbolu
Stakeholders in Nigerian marketing communications have expressed disappointment that the Peoples Democratic Party (PDP) has contracted the services of Brian Balland, a top US lobbyist for $90,000 (N31.5 million) per month, as communications consultants, ahead of the upcoming 2019 elections.
They have also raised concern that the ruling All Progressives Congress (APC) is said to be considering two options in that direction, re-engagement of AKPD Message and Media, a United States-based public relations and public affairs consultancy firm, or hire a fresh agency from South Africa.
AKPD, which is co-founded by Mr. David Axelrod, ex-President Barack Obama's campaign strategist and a former White House Advisor, handled the APC public relations brief during the build-up to the 2015 elections, to the displeasure of Nigerian firms.
With APC considering foreign firms, the Public Relations Consultants Association of Nigeria (PRCAN), the umbrella body of public relations consultancy firms in Nigeria, has kicked against the move.
The body urged the two political parties to lead by example by respecting the provisions of the laws guiding the Nigerian marketing communication practice, which prescribes the protection and patronage of Nigerian businesses.
The President of PRCAN, Mr. John Ehiguese, argued that Nigeria has enough capacity in the form of well-trained and experienced consultants, to handle the political campaigns of Nigeria's political parties.
He stressed that Nigerian PR consultants and agencies understand the terrain better and are, therefore, better positioned to craft and project the right strategies and messages.
Ehiguese said, "The best PR is local, and political communication is country-specific. Local issues will invariably drive the campaigns, and certified local professionals, who live and do business in the country, are in the best position to understand the issues, as well as the local nuances and peculiarities of our media."
He pointed out that the propensity of politicians to rush overseas to look for PR consultants smacks of inferiority complex and constitutes a stumbling block to the development of the Nigerian marketing communications industry.
In addition, he argued that it was also clearly against the spirit and letters of the government's much-touted local content policy.
"Even where the right level of competences and capacity may appear unavailable or insufficient locally, several Nigerian PR consultants have foreign partnerships and affiliations whose resources they can tap into, to successfully deliver," Ehiguese added.
On her part, the Assistant Publicity Secretary of the Association of Advertising Agencies of Nigeria (AAAN), Mr. Tope Jemerigbe, while urging top Nigerian political gladiators to look within, said if the leaders have genuine interest to develop the Nigerian economy, they will patronise local practitioners.
She said, "Who best to sell us than us? We understand the terrain and we understand its dynamics. If it is the truth well-told, then local practitioners fit in perfectly. The question now is, why must they go abroad for services that could be harnessed locally? If indeed such step has been taken by any of the parties, then they are not patriotic enough."
When approached on the issue, the Publicity Secretary of the APC, Mallam Lanre Isa-Onilu, could not confirm if the party plans to engage a foreign firm but said he was not aware that the Buhari Campaign Organisation had approached any foreign agency.
He, however, pointed out that the party was different from the campaign organisation of President Muhammadu Buhari.
Also speaking on the same issue, the National Secretary of the National Committee of Buhari Support Groups (NCBSG), Mr. Biodun Ajiboye, said the APC was yet to take such a step as the campaign council has not been set up.
"Though I'm not the appropriate person to speak on this but as far as I'm concerned, nobody is in-charge of the campaign organisation yet. Yes, Mr. Rotimi Amaechi, the Minister of Transportation, is the Director-General, but there hasn't been a well-structured presidential campaign council put in place. To this end, I don't think the DG and the Secretary alone could take such a decision. Until a full composition of the campaign council, a strategic move like that cannot be taken," Ajiboye said.
Efforts made to get the PDP to react to the issue did not yield result as at the time of filling in this story. The party's spokesperson, Mr. Kola Ologbondiyan, however, promised to send the party's reaction through electronic means.
An industry expert and Chief Executive Officer of Media Edge, a public relations firm, Mr. John Ajayi, said the only way local advertising and PR consultants can benefit from the forthcoming electioneering is to position themselves very well and ready to give proactive services and engagements for candidates aspiring for elections.
According to Ajayi, "Nigerian marketing communication experts have what it takes to develop good strategy for various parties and candidates to win election if only we respect our own. To me, a local agency that is sure of its onions will not be shy from providing relevant tools for positioning of local clients based on its understanding of the market and global trends. Having said this, I think it will only result to capital flight if at this age we still go to abroad to look for foreign communications experts.
"It is sad that Nigerians, especially the political elites are more fixated about hiring of foreign agencies without meeting the relevant statutory laws of the country."
Also speaking on the issue, a foremost advertising practitioner and Chairman Troyka Holdings, Biodun Shobanjo, condemned the practice by some politicians and their parties to go to abroad to hire communication experts, saying those promoting such adventure have given themselves away as a set of people who have zero confidence in the Nigerian system.
"It is sad if at this age and time, some individuals and their political parties still prefer a foreign agency to the ones we have in the country.
"It simply means they don't have confidence in the country and efficient professionals Nigeria has thrown up over the years.
"Come to think of it, why don't they bring in foreign lawyers for their election petitions and other legal matters, why not foreign doctors as private physicians?
"Let's go back to history, the great Zik of Africa didn't require foreign advertising or PR firms before he became a hero in the continent, Awolowo remained a political colossus till he breathed his last and there was no foreign publicist on his pay roll, the Sadauna of Sokoto, Sir Ahamdu Bello and his Northern Peoples Congress (NPC) were firmly politically in charged till the end of his political life and no record of his romance with any foreign advertising company.
"Now, let's us answer this question: can these foreigners hire Nigerians to handle their communication in their own countries?
"To me, our leaders are simply telling us with this practice that they have zero confidence in Nigeria and it is bad."
This is not the first time the issue will attract controversy. In 2015, when APC took the same approach, PRCAN, the umbrella body of certified Public Relations firms in Nigeria, faulted the move on the grounds of extant Nigerian laws, respect for Nigerian professionals and job creation.