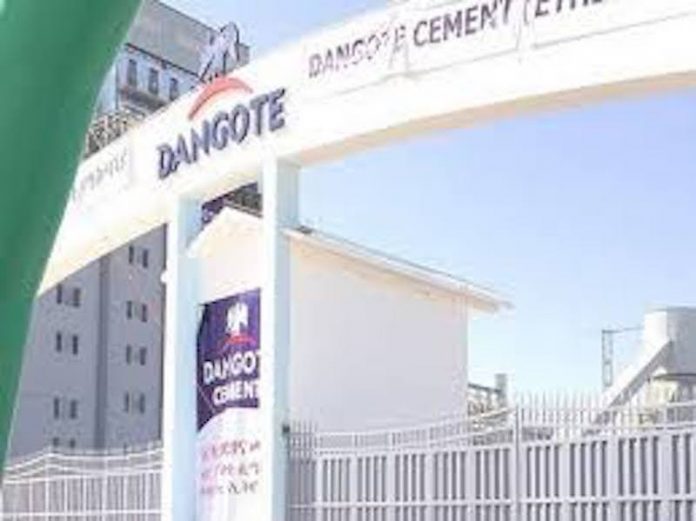 Jonathan Eze
Management of Dangote Cement, over the weekend, assured block- moulders and other stakeholders in the building construction business of the durability and the extra power its new product: "BlocMaster" possessed.
The new product is described as the best quality cement in the country for now. The company also said the new product is available everywhere and very affordable.
Managing Director and Chief executive of the company, Joe Makoju, who was represented by the company's National Sales Director, Adeyemi Fajobi, spoke to journalists after the product's unveiling in Benin and Asaba respectively said: "Our customers, and key distributors are happy because of the strength and quality of this product. It is also very affordable and it gives them far more yields than all other cements in the market… it is currently the highest grade of cement in Nigeria. It is by far the strongest cement, bagged in the Nigerian market…this cement is 50 per cent stronger after one day and up to 15 per cent stronger after 28 days when the cement finally sets, so that explains the excitement displayed by our retailers and key distributors across the country."
Noting that there are other brands of cement, even from the company, the Director, Route to the Market, Funmi Sanni, said the BlocMaster quality has been certified as the best by regulatory agencies in the country including the Standards Organisation of Nigeria (SON).
She said: "It is the king of cement because it is the best quality cement in Nigeria today, based on the laboratory research which shows it is of high quality in terms of value for money. Enjoining builders and block boulders to patronise the new product, Sanni said the product dries fast after moulding into bricks and also that: "When you mould blocks with BlocMaster and it is raining, you don't have anything to worry about," She further explained that the cement can be used to build houses without painting, as it comes out in good dark colour as well as being weather friendly.
Fajobi also said: "BlocMaster is a product of years of research, it is of high quality and it will give users value for money by eliminating loss, it is their response to growing demands by stakeholders, bringing the total products of Dangote Industries Limited to four.
He assured that the new product will not disappoint as it can withstand weather elements including rains, adding, "This BlocMaster cement, which is the best for all block and concrete works, is a product of years of research, as testimony abound of its high quality in parts of the country, where it has been in use"
Retailers and distributors who spoke at the event however commended Dangote for the innovation, but urged the company to maintain an efficient distribution system that will ensure that the product is readily available whenever consumers request for it.