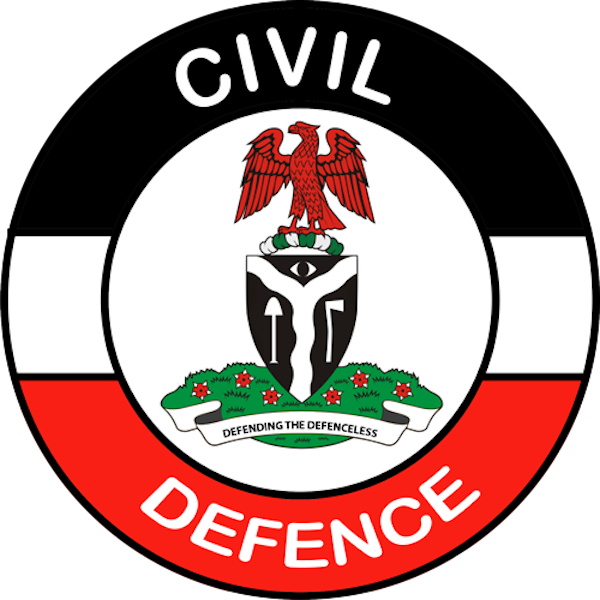 By Victor Ogunje in Ado Ekiti
The Nigeria Security and Civil Defence Corps (NSCDC) has appealed to private companies in Nigeria to refrain from acts that could sabotage the internal security of the country.
NSCDC urged the private companies to always play complementary roles that would help in reducing the threats of insurgency and other criminalities that are springing up in all the geo-political zones.
It said that training and re-training are vital for private security guards (PSG) to play their
expected roles in solving security challenges confronting the nation.
The NSCDC Commandant in Ekiti State, Mr. Solomon Iyamu, said the activities of trained
private guards would complement the efforts of the country's security agencies through grassroots and intelligence reports in taming crime and other social menace.
Iyamu, represented by the Deputy State Commandant, Isah Ahmadu Baba, spoke in Ado Ekiti, on Monday at the passing out parade of the Private Guard Companies (PGC) to mark the end of three weeks training of some private security guards undertaken by NSCDC in the state.
He said: "It is our belief that contribution of private security network goes a long way in solving security problems especially with the present security challenges in Nigeria.
"Training and retraining of guards, receiving grassroots and intelligence report of activities from PGCs and ensuring better treatment of guards are some roles that the NSCDC is saddled with in consonance with the act that established the corps."
He urged the private guards to be good ambassadors of their respective companies, saying: "Your uniform is not for intimidation and harassment of the public, but to save and protect lives and property. These will therefore bring credibility into the whole concept of security, thereby restoring the much needed confidence of the general public."
The NSCDC boss said that the corps would continue to ensure that PSGs were strictly monitored, licensed by government and have their licences renewed as at when due to ensure they do not derail from their responsibilities of protection and security of lives and property.
Iyamu said: "As you are all aware that registration, monitoring, supervision, training and re-training of PSGs remain our core mandate, I will also like to inform you that protection of critical infrastructures, anti-vandalism, maintenance of peace and order shall not be left
undone."
Guards from 11 private security companies in the state participated in the three-week training event.