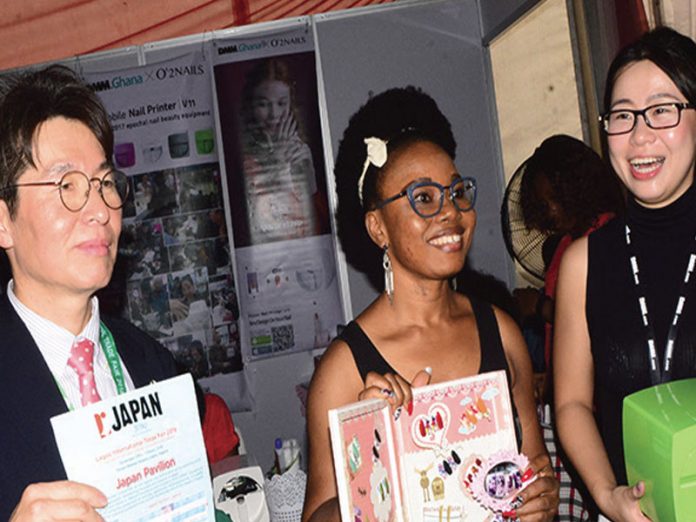 Mary Nnah
It was quite an exciting moment at the "Made in Japan, Made for Women" corner of the Japanese Pavilion erected by the Japan External Trade Organisation (JETRO), at the venue of the ongoing Lagos International Trade Fair holding at Tafawa Balewa Square (TBS), Lagos,m.
One of the exhibitors decided to buzz customers by offering free hair services to women who patronised exhibitors at the tent.
At the trade fair, free hair services ranging from free braid to free natural scalp refresher were offered to consumers. The free services will continue till Sunday, November 11 when the trade fair ends.
The company in question, Kaneka Corporation, makers of Kanekalon, a synthetic fibre made in Japan and used for making hair attachments and wigs had numerous hair stylists on ground to attend to as many women who had a few minutes to spare.
Numerous women were seen sitting while their hairs were being braided with various brands of hair extension made from Kanekalon.
Kanekalon Fibre is currently the most widely used in the manufacturing of hair extensions and wigs around the world.
This zone was purposely set up by JETRO as a special zone at the Japan Pavilion featuring a collection of products and services created by Japanese companies for women in Nigeria.
Indeed, looking good is a good business, as a result, brands like X-pression and Darling hair products are on ground to make quick sales too while the "Made in Japan, Made for Women" zone will continue to pile up Japanese products and services to enrich women's lives with more fashionable and convenient items as the trade fair lasts.
The General Manager of Kaneka Corporation Africa (Ghana), Mr. Hiroshi Seko, said his company was very excited to be part of the participants exhibiting at the Lagos International Trade Fair 2018.
He said: "There are varieties of fibres for making hair products, some of them are very dangerous as they are highly inflammable and women who cook with such hair are at risk of getting hurt because such hair catches fire easily and then drips on the victim's body, which may cause serious damage on the skin while some other get shambled easily.
"But the kanekalon fibre is non-flammable. Our philosophy is to contribute to the society by offering beauty and safety to women, to this end; we want to keep supplying trustable quality Kanekalon hair products to our numerous customers.
"Also, we are using this opportunity to educate the African women on how to differentiate between genuine kanekalon hair products and the fake ones, to prevent them from wasting their money on fake and dangerous products by getting our stylists to share their experiences with customers, educate them on trustable brands as they offered them free services."
Since 2014, JETRO has been organising Japan Pavilion at Lagos International Trade Fair. Within one of the biggest pavilions at the fair this year, Japanese firms and their local distributors have brought in more than 30 Japanese brands to fascinate Nigerians.