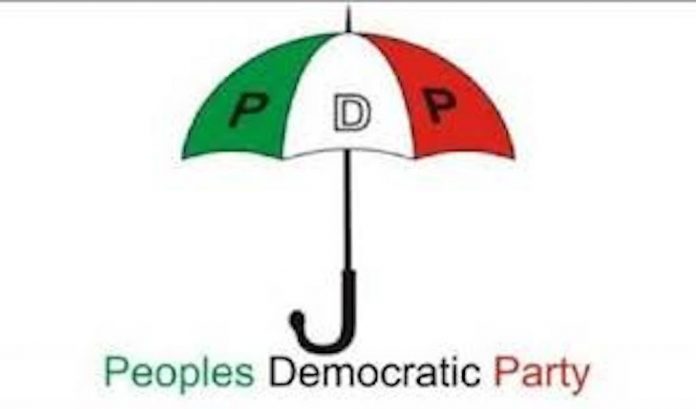 By Adedayo Akinwale and Mercy Apollos in Abuja
The Peoples Democratic Party (PDP) has called on the National Intelligence Agency (NIA) and INTERPOL to help track down the National Chairman of the All Progressives Congress (APC),Adams Oshiomhole,which it alleged to be on the run since his reported interrogation by the Department of State Services (DSS) over alleged corruption charges.
The main opposition party said it was ludicrous that the APC, in its lying proclivities, believes that by dismissing Oshiomhole's alleged arrest as a rumour and aiding him to momentarily flee the country, would succeed in getting him off the DSS hook as well as sweeping the matter out of public discourse with its famished broom.
PDP, in a statement by its National Publicity Secretary, Mr. Kola Ologbondiyan, noted that Oshiomhole's swift flight out of the country at the heat of the investigation goes to confirm allegations that President Muhammadu Buhari is shielding him from prosecution for fear that his investigation would implicate certain interests at the Presidency and the APC.
He stated: "No! Nigerians are already aware that Oshiomhole has not denied his investigation including his reported confession that the Presidency was in the loop of all his actions.
"The PDP had always cautioned Adams Oshiomhole of his unbridled arrogance, lust for power and alleged embezzlement of public funds for which he must surely have his day in the hands of the law."
The PDP therefore demanded that APC and the Buhari Presidency must immediately produce Oshiomhole to face investigation and prosecution in the court of law.
While addressing a press conference Thursday in Abuja, the PDP insisted that the trademoni programme by the government was nothing but vote buying, stressing that the party has consistently expressed its concern about that process.
Ologbondiyan said: "We have vehemently expressed our dissatisfaction with this manner of vote buying and we commend the National Assembly for taking it up as a responsibility to challenge the process and to investigate it."
Reacting to the removal of over 300,000 ineligible voters by the Independent National Electoral Commission (INEC) from the voters' register, Ologbondiyan said the electoral body should also deal with the issue of minor registrants.
"We have several cases of minors being registered particularly in certain states. INEC has not addressed that issue. We have mandated our participants across the federation to participate in this change and to revert back on their findings in respect of registration of minors, in respect of registration of those whom they don't know in their various wards or polling units who have been registered by INEC, so we are awaiting the outcome of their investigation."