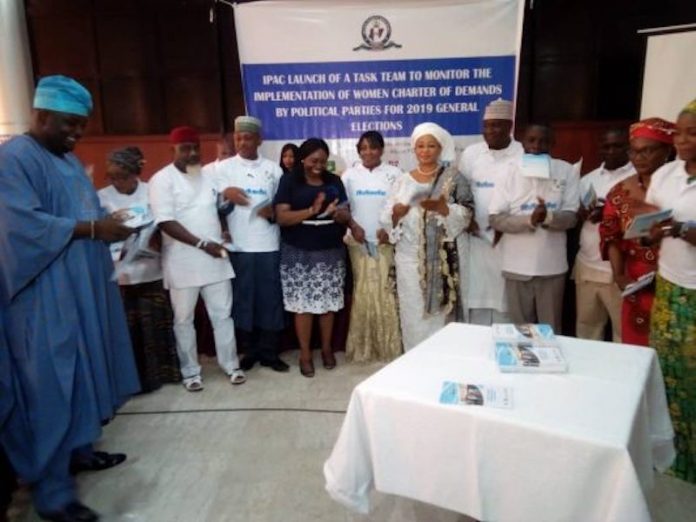 By Udora Orizu
In an effort to increase women participation in politics and step up gender equality, the Inter Party Advisory Council (IPAC) in collaboration with UN Women, Women in Politics Forum (WIPF), Nigerian Women Trust Fund (NWTF), Canada and Independent National Electoral Commission (INEC) have launched a women charter of demands task team, a committee saddled with the responsibility of implementing the charter of demands by Nigerian women for political parties in the 2019 general elections.
The women's demands which includes improvement of women's participation in politics and decision making, demonstration of political will, commitment to gender equality and principled transformational leadership were signed by all political parties in Nigeria (IPAC) and women in politics forum with INEC as a witness.
The Chairman of IPAC, Chief Peter Ameh who spoke during the launch in Abuja noted that everyone benefits when women can fully participate in economic and political decision making because women stand as a formidable unit of nation building.
He said, "It's no doubt that women are 50% of the population, 50% of every solution, 5% of every action, 50% of everything. Women have a lot to contribute to the prosperity of every community so to encourage growth and rapid development, it's necessary that we all support women's full participation in the economic, social and political life, as this is a key ingredient in reducing poverty, increasing the well-being of women and creating fair, safe and secure nation."
"The task team is to support IPAC to monitor and follow up gender considerations in political parties and other electoral spheres as electoral processes unfolds towards the 2019 general elections and beyond as regards to promoting women's political participation."
He urged the members of the committee to ensure that the confidence they all have in them will lead to better and greater women participation at all levels, review and evaluate implementation and give recommendations on addressing challenges and strategies to improve the performance of political parties, adding that Nigeria can't fly if we continue to undermine arguable the better half of our population.
Also the country representative of UN Women Nigeria, Comfort Lamptey said Nigeria has the smallest representations of women in Africa and globally which undermines our opportunities to advance in the country.
She noted that the task team will play a great role in terms of leadership.
"As we move into the 2019 election with the support of male champions, the dreams should not be one sided." Lanptey said
The President Women in Politics Forum (WIPF), Ebere Ifendu, stated that most of the challenges women face is finance and internal party democracy.
"Without internal party democracy in the political parties you will have issues of God fatherism, outright disqualification of women. This team will now be able to go to all political parties to ensure that the charter of demands has been signed and will be carried out by political parties.
She urged all women leaders not to assume a symbolic position as the women leader of their party, but rather a position that is very proactive and strong as the women wing of different political parties as they have outside the country.