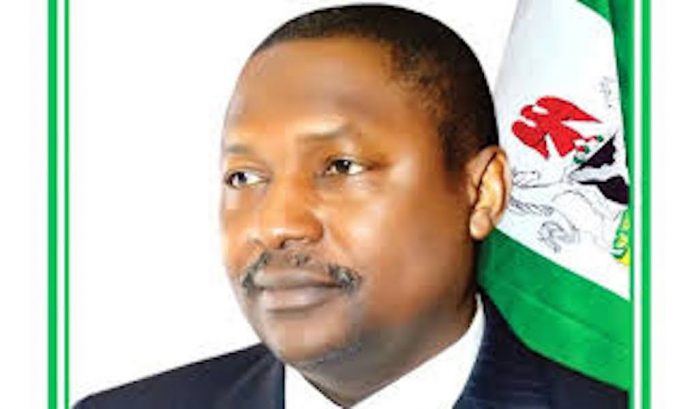 • Senate urges Buhari to present credible nominee for NFIU director
Adedayo Akinwale in Abuja
The Attorney General of the Federation, Abubakar Malami, has said that the federal government is currently in the process of recording further repatriations of looted funds from New Jersey in particular.
The AGF, who was represented by Head of Asset Recovery, Hajia Ladidi Muhammed, disclosed this yesterday in Abuja at an interactive session with the National Assembly as well as Civil Society Organisations (CSOs), as part of last minute push to ensure the passage of the Proceeds of Crimes Bill into law.
According to him, "The administration has seen successful repatriation of assets from Swaziland and the United Kingdom and is currently in the process of recording further repatriations from New Jersey in particular."
Malami said that despite these successes, he said that the current administration was cognizant of the fact that the repatriation and recovery of asset is just one part of the coin.
He noted that the federal government has also made the commitment to enact the Proceeds of Crime Act, which is currently before the National Assembly as a Bill.
Malami stated: "Nigerians need to understand that the passing of this bill will put to rest most of the questions and loopholes currently being experienced in the area of assert recovery."
"The law will provide a framework where all stolen assets recovered will be centrally managed in a transparent and accountable manner or the benefit of ball Nigerians. "
"The institutional processes that will establish by laws, like this will make the use of stop-gap measures like Executive Ordered unnecessary."
Also, the Executive Director, African Network for Environment and Economic Justice (ANEEJ), Rev. David Ugolor urged the Ministry of Justice to develop a policy on the utilisation of all recovered stolen assets in line with the Memorandum if Understanding signed south the UK and the Swiss governments.
He said, "We are in the process of launching the last ouch for the passage of Proceeds of Crime Bill and we would like to invite you and the ministry to join the coalition to support the passage of the bill."
Meanwhile, the Senate Committee Chairman on Anti-Corruption, Chukwuka Utasi said the National Assembly was committed to ensuring the passage of all the anti-graft bills.