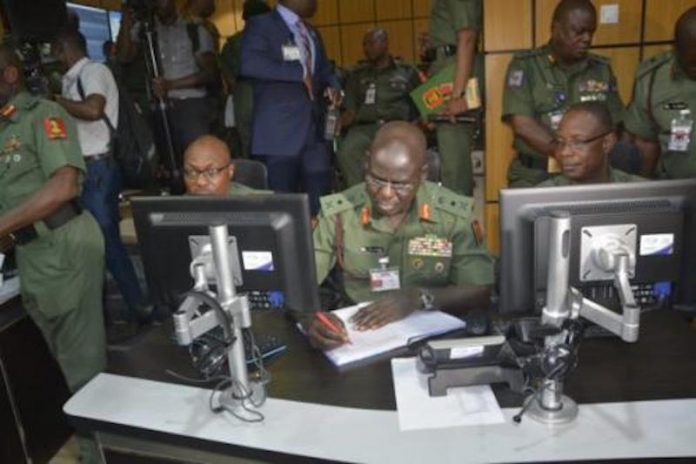 • Encourages local production
Emma Okonji
The Chief of Army Staff, Lt.-General Tukur Yusuf Buratai, has inaugurated the Nigerian Machine Tools (NMT) Protective Solutions Limited factory, the first Nigerian factory to manufacture NATO standard ballistic vests and helmets in the country.
Pleased with the standard of the factory, and the zeal for local production of ballistic facilities, Buratai encouraged the local production of such facilities to boost employment in the country.
He called for patronage from all security agencies nationwide to support Made-in-Nigeria ballistic facilities, and went ahead to order 10,000 ballistic vests and 10,000 helmets for the Nigerian Army. According to him, he would ensure that the ordered ballistic vests and helmets were deployed to areas of insurgency, and noted that this would further safeguard the lives of combatants in the military.
Buratai who arrived the factory with a retinue of top military brass to commission the ballistics facilities, was led through a factory tour of the facilities, including the heavy machine parts, small machine parts, the foundry, which is the second largest in Nigeria, and the training school.
The Chief of Army Staff expressed utter amazement during the facility tour, and wondered at the size and equipments available within the country.
He congratulated the management of NMT, and expressed his excitement about the level of ingenuity that was coming out from Nigeria.
The army chief further enthused that the NMT industrial complex was key to the security architecture of the nation, and was in line with President Muhammadu Buhari's administrations thrust on security and patronising Made-in-Nigeria products.
He further said it would give impetus to local industry in the production of military hardware through partnership.
He said the idea to partner with Nigerian Machine Tools was first conceptualisd in 2016 with a contract to supply 2000 ballistic vests.
The army boss in his speech, attested to the fact that NMT Protective Solution Vests have been tried and tested in battle and they were found to have met international standards.