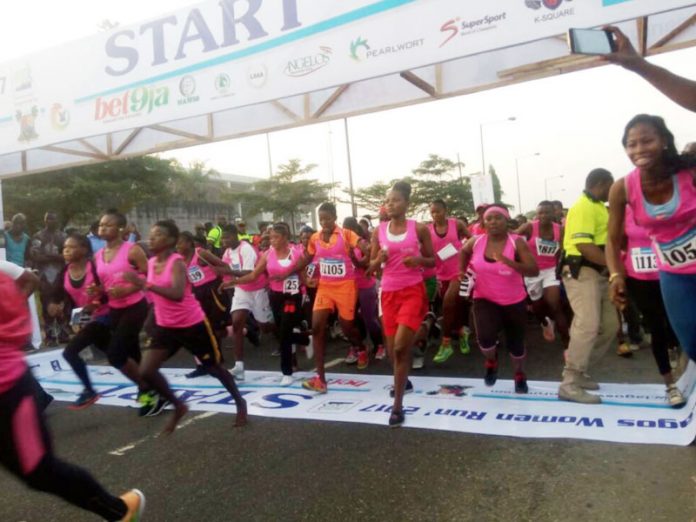 With just one week to the main event, a total of 10,000 runners from across Lagos State and its environs have registered for the 2018 edition of the Lagos Women Run 10 kilometre Marathon Race for all classes of women, with major sponsorship coming from Bet9ja.
This figure according to the the Coordinator of the Run, Tayo Popoola, the majority of the registered runners are from the Lagos Island, Lekki and the Aja axis of Lagos State, which was an improvement over last year's edition where majority of the runners were from Ikorodu.
She noted that, the largest registrations were done online through the Lagos Women Run official website, while the number of registration received physically at the secretariat of the LWR inside the Teslim Balogun Stadium, though not up to that received online were also quite substantial, which represents a vast improvement on what obtained in the 2017 edition.
"The good thing about this year's registration is that we have one week to go and more women are indicating interest to compete in both the Open and Veteran categories. To avoid an upsurge since it's just a 10 kilometres marathon race, we have decided to close registration tomorrow October 31, to enable us effectively manage the number we have."
She noted that, there will be a 'pep talk' to the runners on the essence of marathon race, healthy living and the importance of the run for young and middle aged women. The Expo will be unveiled on Thursday October 7.
The distribution of runners' kits for those who registered physically will be done at the Expo on October 8, while those who registered online will get their kits from October 8 to 9, 2018.
The Lagos Women Run is the first and only marathon race for women in Nigeria. The Run is for the emancipation of women folks across the country through sports and also protect them against any form of discrimination, dehumanisation and poor health.
The Run is for adult women from all walks of life, from ages 18 to 45 years for the Open category and Veteran category from ages 46 to 70 years.
The Open category champion will take home N500,000, while Veteran champion takes home N300,000. For the two categories there are cash prizes for second to tenth position
This year's race which is the third edition is scheduled to hold on November 10, from 7am. The start point is the Balewa Square, Lagos Island while the finish is at the Teslim Balogun Stadium, Surulere, a distance of 10 kilometres, running across 15 historical monuments in Lagos.