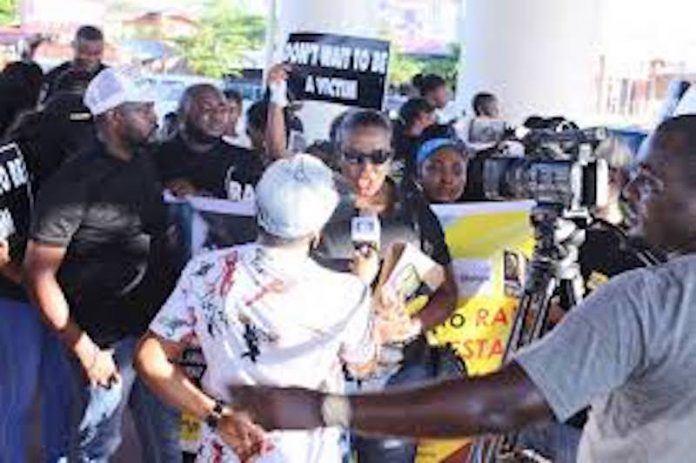 Omon-Julius Onabu in Asaba
A legal practitioner and former legal adviser, Delta State Post Primary Education Board, Dr. Irene Ofili, has said that victims of sexual molestation should not delay in seeking proper help.
Ofili asserted that victims of sexual violence would be endangering their lives if they cowered under any pressure like intimidation and fear of stigmatisation, instead of seeking help from the right sources.
Speaking during a walk against sexual violence and molestation at the weekend in Asaba, Delta State, Ofili said, "It is possible that 13-year- old Ochanya Elizabeth Ogbanje (who reportedly died in Benue State owing to sexual abuse) would be alive today if she confided in the right persons.''
She asserted said that there were many victims of sexual abuses like Ochanya Ogbanje even in Asaba but who are too afraid or shy to speak out about their plight and thus benefit from available free legal and psychological assistance.
The list of lawyers and activists that walked through the streets of Asaba to demand justice for late Ochanya, who died from complications from several years of continued sexual abuse as well as to educate residents on the urgent need to protect young persons, included Clerk of the Delta State House of Assembly, Mrs. Lyna Aliya Ocholor, the Director-General, Delta State Multidoor Courthouse, Mrs. Julia Utulu and retired judge of Delta State Customary Court, Hon Lady Tina Onianwa.
"No to rape!," the procession chanted as participants handed out leaflets condemning the death of Ochanya and waved placards with writings such as, "Rape is a crime"; "Don't wait to be a victim"; ''Rape equals murder"; "Stop rape now!" among others.
Addressing journalists in front of the Stephen Keshi Stadium, where the rally terminated, coordinator of the walk, and lawyer, Awele Ideal, said "The walk today aims to raise awareness of the plight of rape victims who are stampeded by society, Church and family members to keep quiet. The society keeps blaming the victim and not the perpetrators. We walk to say NO! A victim has right to justice and no amount of provocation gives you right to rape or sexually assault a child,"
She appealed to the Attorney-General of the Federation to hold a watching brief during the prosecution of those implicated in Ochanya's death.
Other participants urged teachers, female lawyers and the state Ministry of Justice to create awareness against rape, child abuse and deprivation in the state.
Ochanya was reported to have died from complications caused by years of severe sexual abuse by a 51-year old guardian and his son in Otukpo, Benue State. FIDA Benue State is spearheading the fight for justice for late Ochanya.