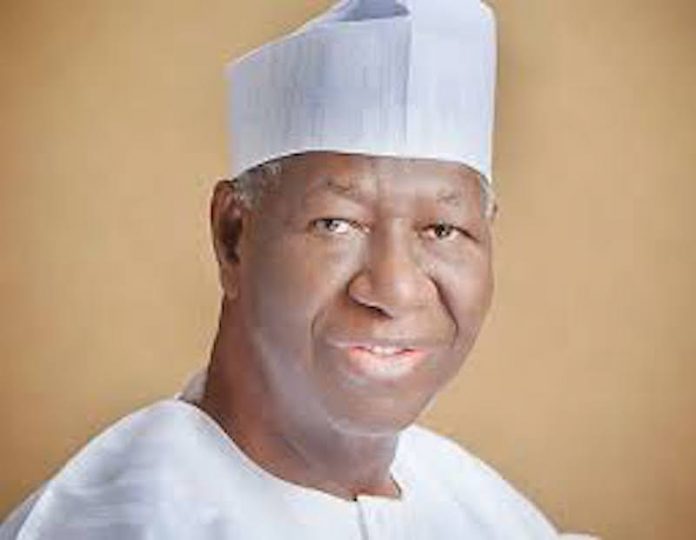 Buhari, Dogara, PDP, APC, others mourn
By Iyobosa Uwugiaren, Omololu Ogunmade and Shola Oyeyipo in Abuja
For the man popularly called 'Mr. Fix it' by his party men because of his political dexterity at resolving logjams, the beat stopped yesterday. Chief Tony Anenih, former Chairman, Board of Trustees of the Peoples Democratic Party (PDP), died in the early hours of yesterday, a statement by the family said.
"With a heavy heart and total submission to the will of the Almighty God, the family of Chief Anthony Akhakon Anenih, the Iyasele of Esanland, announces his passing on to glory today, Sunday, October 28, 2018 after a brief illness," said the statement by his son, Tony Anenih Jnr., adding, that he was 85 and survived by many children, grandchildren and great grandchildren.
He said burial arrangements would be announced soon.
A torrent of condolence messages and tributes poured in from across the country, with President Muhammadu Buhari; the Speaker of House of Representatives, Hon Yakubu Dogara; the PDP and the ruling All Progressives Congress (APC), leading the pack of sympathisers.
Buhari condoled with his family and the government and people of Edo State on the passage of their illustrious son.
In a statement, the president's media adviser, Mr. Femi Adesina, said the president also commiserated with the PDP on the demise of its former BOT chairman.
Adesina said Buhari remarked that Anenih as a frontline figure in the annals of Nigeria's political history, lived a life of service, as the defunct Bendel State Chairman of National Party of Nigeria (NPN), National Chairman of the Social Democratic Party (SDP), chieftain of the PDP, and a former Minister of Works.
The statement added, "President Buhari affirms that across the political spectrum of Nigeria, Chief Anenih was known for his strong views on issues pertaining to the unity and stability of the nation.
"The president prays Almighty God to grant Chief Anenih's soul eternal rest and comfort all who mourn the octogenarian."
Speaker Dogara also condoled with the government and people of Edo State over Anenih's death, saying it was a huge loss not only to Edo State but to the nation as a whole.
Dogara noted in a statement by his media adviser, Mr. Turaki Hassan, that Anenih was a fine gentleman, great mobiliser and a reputable nationalist who, all through his life, believed in, worked and prompted peace and unity of Nigeria.
He said, "We have lost a father, counsellor, leader par excellence and a patriot, who gave his all for the unity of this country."
The PDP in a statement by its National Publicity Secretary, Mr. Kola Ologbondiyan, described Anenih as "a great Nigerian, a light bearer, brilliant administrator, fine officer, quintessential nationalist and democratic icon", who made innumerable sacrifices for the unity, stability and development of the nation.
It said, "Indeed, Chief Anenih, who was known in the political circle as "Mr. Fix it," owing to his ability to find solutions to very knotty political and governance issues, remains a colossus with unparalleled array of legacies which will be celebrated for generations.
"His roles in ensuring the stability, not only of our great party but also for our nation at large, stood him out as a patriot who dedicated his life for the service of humanity."
The PDP said it was particularly pained that Anenih left the stage at the time the party and the nation needed his wealth of experience the more, especially in the nation's collective quest to restore good governance and democratic ideals in the country.
The APC National Chairman, Mr. Adams Oshiomhole, said he received news of the death of Anenih with heavy heart, saying the deceased was indeed a political colossus.
According to Oshiomhole, "Politics may have separated us, but nothing affected our personal relationship. Whatever public disagreement we might have had, I am consoled that we both reconciled at the church altar after he announced his retirement from partisan politics.
"It is a measure of his generosity of spirit that when I announced my interest in the chairmanship of APC earlier this year, he wrote a letter of endorsement, expressing absolute confidence in my ability to inspire APC to greater heights.
"His explicit support was not just in an objective appreciation of my ability but also in solidarity as fellow Edo man.
"We may have disagreed in terms of methodology, but there is no denying that deep in his heart was a commitment to see the progress of the nation at large and his native Edo in particular.
"Our thoughts and prayers are with his family and political associates at this sorrowing moment.
Mr. Fix-It Fixes Final Exit
Anenih died barely three months after he marked his 85 years birthday. One of his close political associates, who first confirmed the sad news to THISDAY last night, said he died at Cedarcrest Hospital, Abuja.
He was born on August 4, 1933, in Uzenema-Arue in Uromi.
He joined the Nigeria police force in Benin City in 1951, and working at home, he obtained his secondary school qualifications and attended the Nigerian Police College in Ikeja. In the course of advancing his career in the Nigerian Police Force, he was later selected for training in the Bramshill Police College, Basingstoke, England in 1966 and the International Police Academy, Washington DC in 1970.
Soft-spoken and man of few words, Anenih served as a police orderly to the first Governor-General of Nigeria, Dr. Nnamdi Azikiwe, and worked as an instructor in various police colleges, and in 1975 was assigned to the Administrative Staff College (ASCON), Lagos and later retired from the police as a deputy commissioner of police.
In his early political career, he was the Bendel State Chairman of the defunct National Party of Nigeria (NPN) between 1981 and 1983,  and under his chairmanship, late General Samuel Ogbemudia was elected as civilian Governor of old Bendel State – now Edo and Delta states.
However, the regime was cut short by the General Muhammadu Buhari-led military takeover of December 1983. When former military President, General Ibrahim Babangida indicated his interest to hand over to the civilian government,  Anenih was made the National Chairman of the Social Democratic Party — one of the political parties created by the military to midwife the transition — from 1992 and 1993, and later assisted in the election of Chief M. K. O. Abiola as President. He was a member of the Constitutional Conference in 1994.
A close political associate of late General Shehu Musa Yara' Adua, the Iyasele of Esanland was a member of the PDM until early April 2002, when it transformed to the People's Democratic Party (PDP). Anenih was said to have masterminded the 26 April 2002 declaration of former President Olusegun Obasanjo to contest for the presidency at the International Conference center Abuja. He was deputy national coordinator of Olusegun Obasanjo's Campaign Organisation in the 1999 and 2003 elections and was appointed Minister of Works and Housing in 1999 by former President Obasanjo.
He subsequently became Chairman of the Board of Trustees of the PDP. He also played a key role in both Musa Yar' Adua and former President Goodluck Jonathan's governments.
While launching his autobiography, ''My Life and Nigerian Politics,'' in November 2016, Anenih took the time to announce he was quitting politics.
In the book, he talked about many issues, including how he survived an eight-hour heart surgery in a London hospital.  "There is nothing God cannot do if you believe in him sincerely. I had a problem with my heart. So I was subjected to eight hours of surgery and seven doctors were carefully selected to do that because of their experience. Before the operation, the seven doctors told the people that accompanied me (to the hospital) that I wouldn't make it. I heard them."
On how he was jailed during the military regime of Buhari,  he said, "The military regime of General Buhari and Tunde Idiagbon threw me into detention for 18 months on the basis of an anonymous petition that as a prominent and wealthy politician and leader of the NPN in Bendel State, the military administrator would not find his footing unless I was removed from the scene.
"I must emphasize it again and again that I did nothing wrong to anyone, the government or the state to merit a detention. My crime was that I was a wealthy, influential and highly respected politician."
Those closed to Pa Anenih had at different times described him as an ''embodiment of the mercies of God and the gift of life.''
When he clocked 85 in August this year, Anenih refused to celebrate it principally because of the ''sad state of the nation that has witnessed so much losses, bloodshed and instability.''
But while also appreciating the efforts being made by the government and influential Nigerians in restoring peace and stabilising the nation, he had called on well-meaning Nigerians to join in prayer for God's intervention to restore peace in the nation.
Expectedly, many political analysts may see the role Anenih played in the Nigerian politics differently; but those very closed to him will not doubt about his commitment to the political growth and stability in Nigeria, even when he was struggling between life and death:
Wearing the badge of ''Mr. Fix-it'', apparently for his hard-headed disposition to political challenges, Pa Anenih would always be remembered as a man who never ran away from rough rides or paths dispersed with political crumples and bumpy surfaces.
One of his closed political associates, a former governor of Delta State, Chief James Onanefe Ibori last night described the death of Chief Anenih as the end of a remarkable era in Nigerian politics.  He said the late Anenih was in a class of his own as he was almost unsurpassed in political strategy for four decades.
"I was lucky to have been very close to Anenih as he took me under his wings. I learnt a lot from him.  Even in my darkest moments, he believed in me. His memory will ever remain green in my heart. May God grant him eternal rest and grant his family the fortitude to bear this massive loss'', Ibori stated.
As one of his political associates said last night, ''If the earth that will cover Chief Tony Anenih will be light, it is because he represented human kindness while he was alive.''