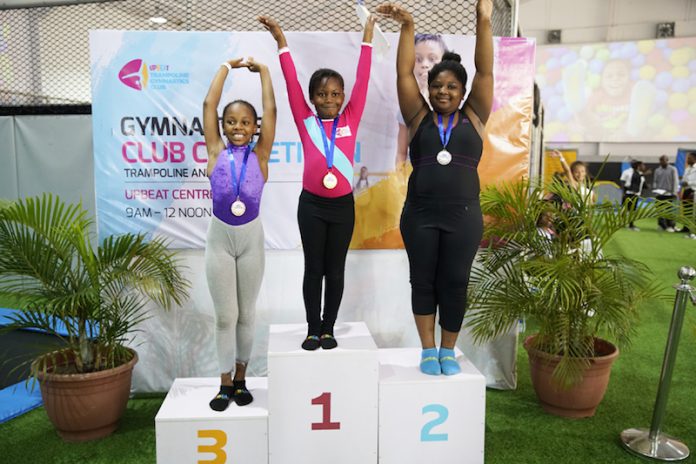 West Africa's first indoor trampoline park, the Upbeat Centre in Lekki, Lagos, yesterday held its first trampoline gymnastics competition for kids in the gymnastics club.
The gymnastics club was founded February earlier this year and has since grown to more than 40 members across different age groups.
Students were awarded medals according to their performances. Some medal winners from the day include; Imam Zayna, Talissa Hanson, Gia Chidiac and Grace James, all from gymnastics levels 1-5.
Talking about the gymnastics club so far, Upbeat gymnastics coach Owalter Magana said; ''Our aim is to nurture the blooming talents of our young gymnasts, so they can advance to represent Nigeria in National and International gymnastics competitions.''
The gymnastics competition at Upbeat was the first of its kind and is essentially an end of term assessment of the gymnasts to showcase the skills they have learnt throughout the term to their parents and judges who rated their performances.
The competition offered a lot more than rewards and winning prizes as it served to motivate the students to perform better, even as they master the skills they have learnt throughout the club term.
There was also participation from other gymnastics clubs including the Eagles gymnastics club, Samsport gymnastics academy and Dynamic gymnastics club.