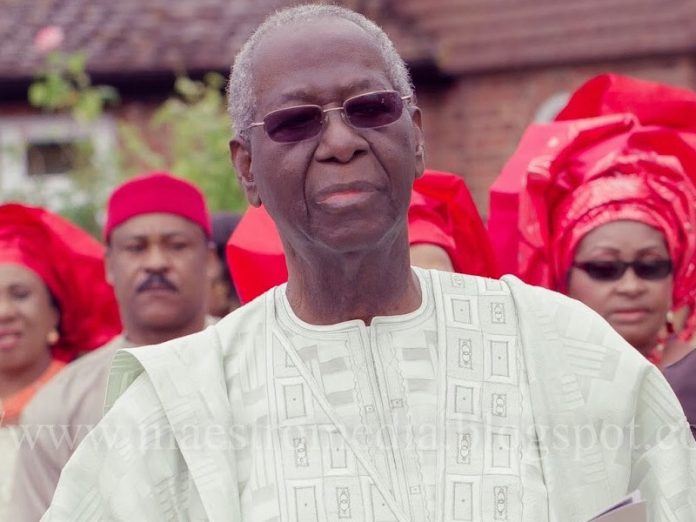 By Adedayo Akinwale in Abuja
The Peoples Democratic Party (PDP) has expressed shocked over the death of one of its founding fathers and a former Board of Trustees (BoT) chairman, Chief Tony Anenih.
The party in a statement by its National Publicity Secretary, Mr. Kola Ologbondiyan, described Anenih as a great Nigerian, a light bearer, brilliant administrator, fine officer, quintessential nationalist and democratic icon, who made innumerable sacrifices for the unity, stability and development of the nation.
The party said his roles in ensuring the stability, of not only the party but also the country at large, stood him out as a patriot who dedicated his life to the service of humanity.
Ologbondiyan said, "Indeed, Chief Anenih, who was known in the political circle as "Mr. Fix it", owing to his ability to find solutions to very knotty political and governance issues, remains a colossus with unparalleled array of legacies which will be celebrated for generations."
The PDP said it was particularly pained that Anenih left the stage at the time the party and the nation needed his wealth of experience, "especially in our collective quest to restore good governance and democratic ideals in our country."
The party therefore condoled with the Anenih family, the government and people of Edo state and prayed that God will grant the nation the fortitude to bear this monumental loss.
In his reaction, Benue State Governor, Samuel Ortom,  said  the death of Chief Anenih was a big loss to the country.
Governor Ortom described Anenih as a father to all, a versatile administrator and patriot who was very passionate about the country.
Ortom said his selfless role as an elder statesman was felt in many aspects of the country's development.
The governor stated that the wise counsel of the former Chairman, Board of Trustees of Peoples Democratic Party, PDP will be dearly missed, especially now that the country is approaching another election year.
Governor Ortom prayed God to grant Anenih's family, the government and people of Edo State in particular the fortitude to bear the loss.
Also, former Governor of Delta State, Chief James Onanefe Ibori, has described the death of Chief Anenih as the end of a remarkable era in Nigerian politics.
Ibori said Anenih was in a class of his own as he was almost unsurpassed in political strategy for four decades. 
In a statement signed by his Media Assistant, Tony Eluemunor, Chief Ibori said the late politician was a "depository of political wisdom, a library of contemporary Nigerian political history and the nation's foremost political tactician for decades." 
He advised that Anenih's life should be studied like a book by anyone who wants to go far not just in Nigerian politics, but in life generally, because he drew himself up  by his own boot straps and remained almost unequalled as a political leader and pathfinder since the 1970s till his retirement after the last general elections.
Commenting of the life of the late politician,  Ibori said: "Anenih was a self-made man who did not have the benefit of attending a secondary school but studied at home for his West African School Certificate while he was already in the Police Force. With that certificate in his pockets, the sky was his limit as he attended the Police College in Ikeja, and merited to be selected for further training in the Bramshill Police College, Basingstoke, England in 1966 and the International Police Academy, Washington DC in 1970. 
"Perhaps as a sign of what was to come, he served as a Police Orderly to the first Governor-General of Nigeria, Dr. Nnamdi Azikiwe. He retired as a Commissioner of Police in 1975."
Ibori said Anenih first served notice that he was a master political tactician while  serving as state chairman of the National Party of Nigeria (NPN) from 1981 to 1983, when he spearheaded the late Dr. Samuel Ogbemudia's election as civilian Governor of Bendel State. 
"When democracy returned, he was National Chairman of the Social Democratic Party (SDP) from 1992 and 1993, and masterminded the election of Chief M. K. O. Abiola as President. Yet, it was in the PDP that he was nationally recognised as "Mr. Fix It".
Ibori said: "I was lucky to have been very close to Chief Anenih as he took me under his wings. I learnt a lot from him.  Even in my darkest moments, he believed in me. His memory will ever remain green in my heart. May God grant him eternal rest and grant his family the fortitude to bear this massive loss.