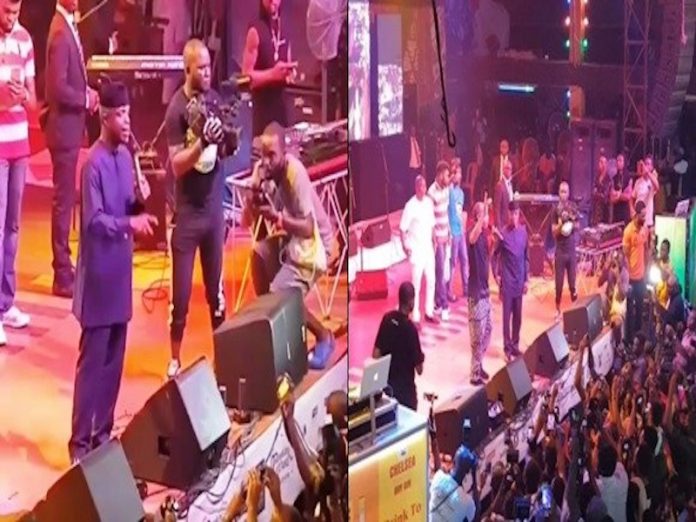 My first question on watching this footage was 'why? Who advised this? And why all this desperation?' As if Femi was listening to me, he dropped the bombshell and that because of his father, he cannot support Buhari. When Femi is not a bastard, why would he support this government? Abi, Osinbajo did not listen to the Fela classic song, 'Beast of No Nation' before he went to the shrine? In fact, leave that one sef.
Of what electoral value is going to the shrine? Where is the influence of the shrine in a presidential battle, are we looking at chairmanship of Alausa local government so why expose yourself to such a PR disaster when there is really nothing to gain? So because the French PM went there for his own reason, you sef must carry yourself go there? The dressing was so wrong, the language was so wrong, the posturing was so wrong.
So connection with the motley crowd at the Shrine was zero. If Osi baba had gone there in shorts and a T-shirt with Fela handling one big wrap and then he jumps on the stage and pranced up and down like Baba 70 would have done and be shouting 'basket mouth want start to leak agan ooooooo" then you have seen action.
The video would go viral and all hemp loving Nigerians who according to Sowore is in their millions would immediately queue behind APC. But when you go there and wear one dour traditional wear and black cap, carry microphone and be speaking like say you are addressing the supreme court and end it with one small everybody 'say yea yea', na wetin you go fine, Palavar you dey find… palaver he go get you ooooooooo. And that is why Femi seeing the disconnection and not wanting to lose his constituency immediately disowned the Veeepeee. But who dey advise these people sef.