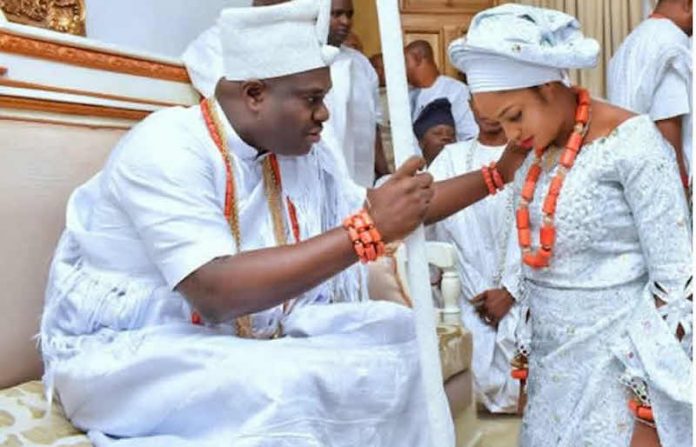 The first set of pictures I saw made me laugh small. Kabiyesi don't vex o or mind me o. I am just a crazy man. The picture in question was the one in which your very beautiful new bride kneeling in front of you and you raising a finger and were talking to her like you were warning her.
What was on my mind? Were you saying, 'see don't disgrace me o, you see the way that other one left, if you try it I will show you o'. kai, it's not easy with all these beautiful 'yellow' women.
We can't resist them and yet they come with their own particular challenges. I have had my own fair share of trouble with them. But what can we do, the demand for them is plenty o. You should see the billions generated by the cosmetic industry on skin lightening cream. Anyways that is not the issue today, Kabiyesi has found a new wife and we all must be very happy and excited for him.
This one , I hear is a prophetess and as such would be calm and obedient. I have watched some of her videos on the pulpit and it is very clear that the anointing is really on her. Kabiyesi, this is a perfect choice, I would not have done any better under the same circumstances.
I have two VVIP tickets for you and your exquisite wife for my new play, OBA ESUGBAYI coming up this December as my own wedding gift. Kindly ask her to send her younger sister to come pick the tickets in Shomolu. Abi what is good for Kabiyesi is also good for the Duke. Congratulations my lord.