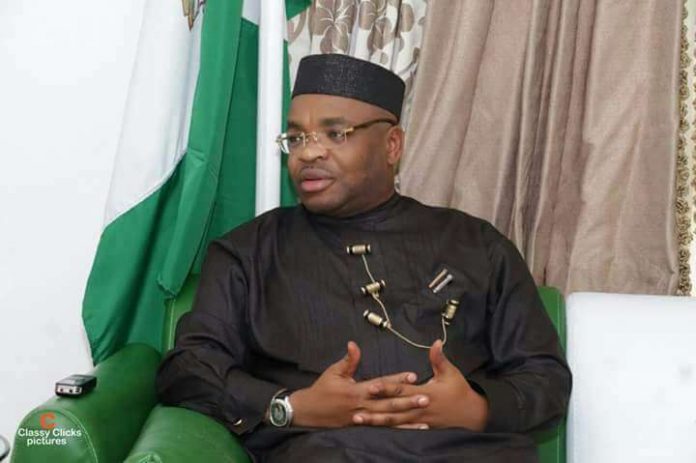 Okon Bassey in Uyo
The Akwa Ibom State Government yesterday promised to continuously partner with security agencies in the state in ensuring the protection of lives and property of the citizens.
He said his administration is impressed with the commitment shown by security operatives in the state and was ready to appreciate them by intervening in their well-being and welfare.
The state governor, Mr. Udom Emmanuel stated this when he was conducted around facilities at the Wellington Bassey Barracks, Ibagwa, Abak Local Government Area by the 2nd Brigade Commander, Brig.-Gen. Abdu Hassan.
He said his mission "to the barracks was to fulfill the promise he made earlier to commit N200 million to upgrade the residential quarters at the barracks.
"Despite the responsibility of security being under the exclusive jurisdiction of the federal government, he felt obliged to collaborate and bring out the best for the people of the state.
"We have only one country and also judging from what the security agencies are doing, we should also show appreciation, no tier of the Government can handle it all, so we must also collaborate and see how we can help one another."
He said he was unimpressed by the condition of the barracks, hence his promise to begin intervention work on the buildings during his last visit.
"I made this promise during the New Year TOMBOLA that they had here and we are seeing how we can redeem that pledge."
Emmanuel wondered why an intervention agency, on hearing his decision to embark on the intervention last week, decided to publish tenders for bid in the newspapers.
"Immediately we spoke with the GOC 6 Division, Major Jamil Sarham last week that we were about commencing the renovation of some of the residential quarters here, I learnt some agencies of the Federal Government that had been there over the years, they never thought about this, they rushed to publish a political tender yesterday in the Newspapers that, inviting a tender, and trust.
"That tender will be there till thy kingdom come, nothing will be done because how many have they done so far," the governor said.
He also promised to look into the improvement on the quality of lives of pupils who make use of the school within the premises, as well as wives and officers that risk their lives to defend the country; stressing that the project has been budgeted and work will begin very soon.
He thanked the commanding officer of the barracks for his support, noting that he "can only foster development if there is collaboration and I think he has been able to collaborate and partner with us in the area of security and welfare of the people here."
"I just discussed with the Commander that if it is possible, every year, the state Government can come to be intervening, I mean bit by bit, gradually."