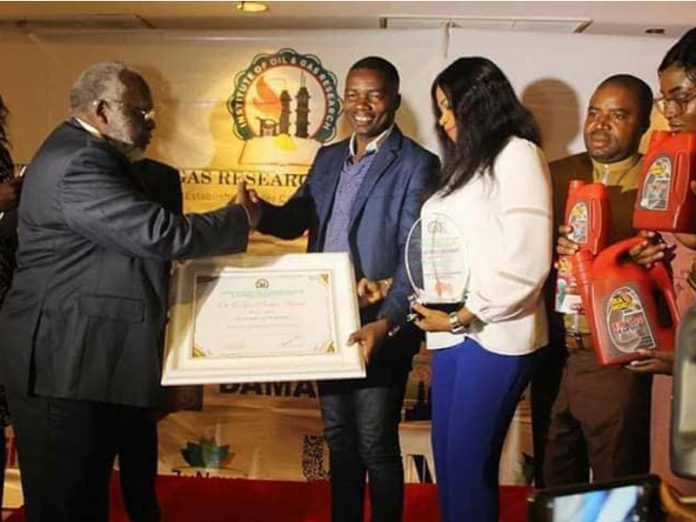 For his sterling accomplishments in the lubricants and allied industries, the Institute of Oil and Gas Research and Hydrocarbon Studies (IOGRHS), has conferred the prestigious Institute's award on the Chairman of Sea Horse Industries Limited Ebuka Onunkwo.
According to the organisers, Onunkwo was awarded for spearheading the production of car lubricants with high quality locally.
He was commended for serving as a role model to young people in business in Africa, taking an effective and vigorous leadership role in the community, making significant contributions in their specific fields of endeavor and displaying exceptional character in the Oil and Gas sector.
This is one among dozens of professional accolade coming to the industrial magnate, Onunkwo.
While commending the organisers, Onunkwo said it was a fulfilling experience for him and his company with the honour, which he noted cements his over two decades in the lubricants and allied business.
He said: "Sea Lubricant Industries Ltd., manufacturers of lubricating oil for internal combustion engines and mechanical systems, is situated in Ozubulu, Anambra State. With the approval of the Department of Petroleum Resources, we started operation in 2017.
"Our top management has enormous wealth of experience in lubricant business, having successfully managed many Lubricant Marketing Companies spanning over 20 years in West African countries and strong international business relationships with some of the world's noted names in the petroleum industry.
"With this wealth of experience, this ultra-modern Lube Industry was set up in South-East, Nigeria to produce products/services that will consistently satisfy customer/applicable legal requirements and to create the needed job opportunities.
"Our product brands include Sea Horse, Megarich and Megacrown Energy lubricants. Our lubricant Industries Ltd is certified by the Standards Organisation of Nigeria (SON) as part of the national mandatory assessment scheme (MANCAP).
"We have a state-of-the-art laboratory for quality control. The lubricant business is facilitated by a sister Plastic Industry under the same management that supplies our packaging requirements."
Dedicating the award to members of his staff, Onunkwo said their target was to be the best in Africa, adding that they currently produce 24 million litres per year.
He said: "We have our mega plant in Nigeria and it is not just that we produce the best quality. We have also provided jobs for youths and have ensured that our quality surpasses those that are being imported.
"That was why the Standard Organisation of Nigeria (SON) publicly endorsed our product and commended us.
"This award for us is inspiration to do more. We have the mega plant in Nigeria; we have experts working for us. If everyone can respect the standard set by SON, Nigeria will be free of recycled old oil. SON is doing a marvelous job in sanitising the industry."
Chairman, IOGRHS Council Prof. Akin Akindoyeni who presented the award commended Onunkwo for his sterling contribution to the oil and gas sector of Nigeria.