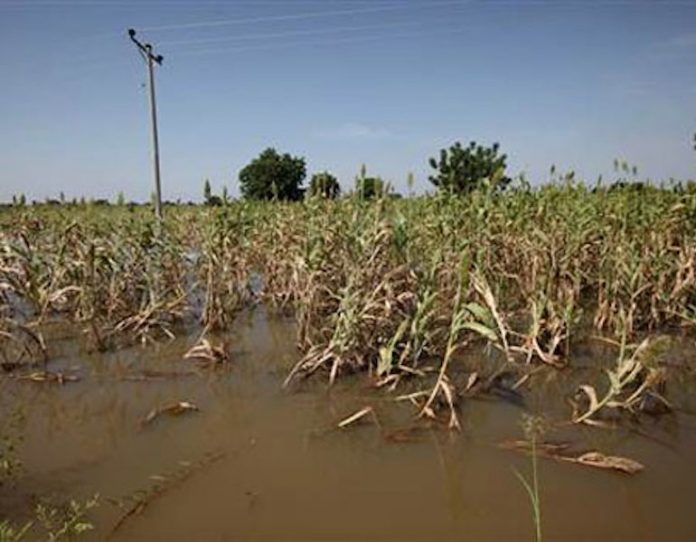 Ibrahim Shuaibu in Dutse
Jigawa State Government yesterday stated that flood ravaged 120,000 hectares of farmlands in the state this year, while a number of villages were also submerged by water.
The State Commissioner for Agriculture and Natural Resources, Alhaji Kabiru Ali, told journalists in his office that 140, 000 farmers in the state were affected.
The commissioner disclosed this when he received the Sasakawa Global (SG) 2000 Country Director, Professor Sani Miko, who visited the state in continuation of SG 2000 media field day tour.
According to him, "A lot of villages were submerged, schools were closed and in some areas, you see classrooms filled with water.
"Most of the crops along the river banks, including rice, sourgham, cowpea, groundnut and millet were destroyed by the flood," he added.
The commissioner also explained that the state government had already procured improved seeds worth N500 million for immediate distribution to farmers to enable them plant them during the dry season farming.
He called on the Sasakawa Global 2000 to come to the aid of farmers in the state especially in the area of granting credit facility to farmers as well as capacity building for extension workers to enhance their performance.
According to him, most of the local farmers are poor and they needed support to enable them remain in the farming business.
In his remarks, Miko expressed the readiness of the organisation to expand the area of collaboration between it and Jigawa goverment to boost agricultural production in the state.
Miko said Sasakawa Global 2000 would introduce 'Climate Smart Agriculture' to overcome some of the challenges being faced by the state in view of the fact that the state is prone to desertification.
"We will intervene through the introduction of early maturing crops to cushion the effect of the flood disaster suffered by the farmers in the state".