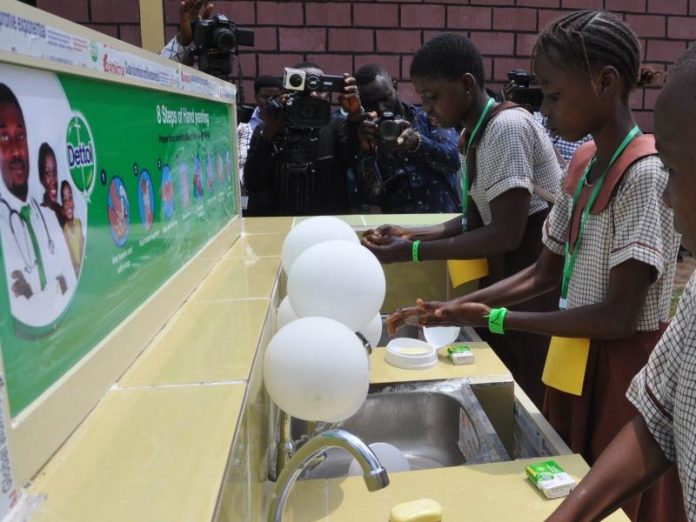 Kuni Tyessi, Abuja
Pupils within the federal capital territory (FCT) joined their peers worldwide to commemorate the 2018 Global Hand Washing Day with the theme "Clean hands, healthy future".
Minister of Women Affairs, Ms. Aisha Abubakar, who addressed the pupils at Model Primary School, Maitama, Abuja, said handwashing should be seen as a ritual which must be performed daily without inhibition, hence the need to catch them young.
The minister who was represented by a staff of the ministry, Ms. Jummai Muhammad, told the pupils that the most effective means of disease prevention is through the washing of hands at almost all intervals, and reiterated that government alone cannot shoulder the onerous task.
She said:" All of you must inculcate the washing of hands in your life. It should be one of you daily major activity. Wash your hands with soap and clean water, particularly running water as it is one of the most effective means of preventing diseases."
In the same vein, maker of anti- bacterial Dettol soap, Reckitt Benckiser targetted 3,000 children and organised a record relay by building a wash point to promote hand washing with anti- bacterial soap.
The General Manager, Mr. Dayanand Sriram, in his speech, said hand washing with anti- bacterial soap gets rid of bacteria children pick in the course of the day, adding that the children will need to wash up to five times a day.
He said: "There is something we need for a healthy future in Nigeria. We have made tremendous progress to be made knowing the incidence rate of diarrhea. We will stay on the forefront of promoting hygiene habit. And today, 3000 is small but we are working; we need every Nigerian to adopt a hygienic habit."
Minister of Health, Prof. Isaac Adewole, said handwashing with soap or with other alternatives are essential to prevent the transmission of germs and diseases.
The minister who was represented by the national coordinator for food safety and quality programme, Fubara Chukwu, said there is a need to institutionalise handwashing in primary school curriculum 'so that children will get to practise it early in life'.