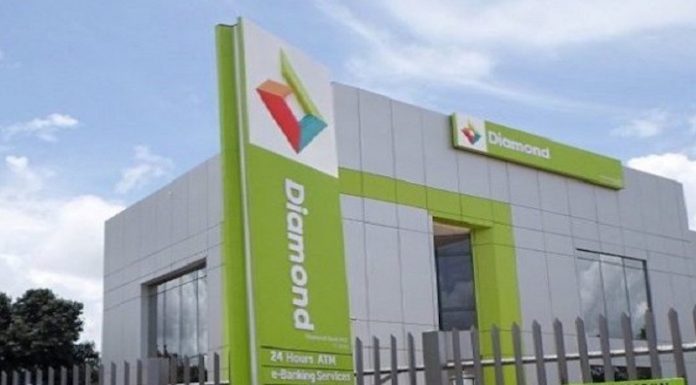 Ebere Nwoji
Ahead of fresh investment coming into Diamond Bank Plc, four of its directors have resigned paving way for the new investors to nominate their representatives to serve on the bank's board.
THISDAY has obtained copies of letters of resignation of the directors, including the bank's Chairman, Mr. Seyi Bickersteth, who said, "It has been an honour to serve on the board of the bank as chairman, and I will continue to support the bank in every way possible."
Other directors who resigned are, Ms. Aisha Oyebode, Mr. Rotimi Oyekanmi and Ms. Juliet Anammah.
Diamond Bank, one of Nigeria's retail banking champions, had recently faced headwinds with profitability as it faced challenges with its lending to indigenous oil sector, following the collapse of oil prices.
But with the oil price rebound, things are beginning to look better.
However, the bank, according to analysts, is in dire need of new capital to fuel growth and profitability. It is thought that the new investors are in global financial services and are said to be ready to wake up the sleeping giant.
According to sources, talks may have reached an advanced stage with the resignation of the four directors.
The Group Managing Director, Mr. Uzoma Dozie, bank sources told THISDAY, is expected to steer the transition period preparatory to his own resignation sometime next year.
Bickersteth has a B.Sc. in Economics from the University of Ibadan and a M.Sc. in Economics from the York University in Canada. He is a Fellow of the Institute of Chartered Accountants of Nigeria (ICAN) and Chartered Institute of Taxation of Nigeria (CITN).
Prior to being the Chairman of KPMG Africa Practice and National Senior Partner of the Nigerian Practice, Bickersteth was the Head of Tax and Regulatory practice and served as Engagement Partner on major tax advisory and compliance projects.
He played an oversight and coordinating role in KPMG's delivery of professional services to companies in the countries comprising the Gulf of Guinea including Nigeria, Cameroun, Angola, Equatorial Guinea & Gabon. He also heads the Oversight Committee for KPMG Africa.
Oyebode, a legal practitioner and business consultant, was a non-executive director, who holds a Master of Laws degree in Public International Law from Kings College, University of London. She also holds an MBA in Finance from Imperial College, University of London and is a member of the Chartered Institute of Arbitrators.
She is the founder and Group Chief Executive Officer of Asset Management Group Limited, a company established in 1991 that specializes in real estate development and management.
She founded and serves as the Chief Executive Officer of the Murtala Muhammed Foundation and is a director of Cambridge Growth Partners.
Oyekanmi, was an independent non-executive director. He is a Chartered Accountant and a Fellow of the Institute of Chartered Accountants of Nigeria. He holds a B.Sc. (Hons) in Economics from the University of Ibadan and a M.Sc. from the London School of Economics and Political Science, London.
His career spans over 33 years in the Banking and investment sectors. He joined Arthur Andersen & Co (now KPMG Professional Services) in 1983 from where he moved to the International Institute of Tropical Agriculture as Chief Internal Auditor in 1988. He started his banking career with Prime Merchant Bank Limited in 1991 as a Senior Manager. Between 2001 and 2009, he was Chairman, Venture Capital Association of Nigeria, a Director at African Venture Association and Chairman, African Venture Capital Association.
He was Group Head, Investment Banking at Ecobank Capital Nigeria from 2012 to 2013. He is currently the Chairman of Rendeavour Group and RenMoney MFB Limited and a Partner in Apis Partners LLP, a private equity asset manager Firm that supports growth stage financial services businesses in Africa and South Asia by providing them catalytic growth equity capital.
Anammah, was also a non-executive director, who holds a degree in B. Pharm from the University of Nigeria, Nsukka, and an MBA in Finance from ESUT Business School. In 2008, she attended the University of Pennsylvania's Wharton College Advanced Management Program. She is a fellow of the Yale University Nigeria Leaders Initiative and also a member of the Institute of Directors of Nigeria.
Anammah has over 25 years of professional experience in Consumer Goods, Sales and Marketing Management Consulting and eCommerce (Retail and Marketplace). She commenced her career with Sanofi Aventis in 1991 and worked in key sales /marketing capacities till 1999.
In 1999 she joined Accenture's Strategy service line as a senior consultant and worked on various engagements largely related to corporate strategy, business planning, marketing strategy, business architecture design and mergers and acquisition.
Anammah joined the Board of Diamond Bank Plc on July 17th 2017. She is also a member of the Industrial and Competitiveness Council of the Federal Government where she serves as the Chair of Skills and Acquisition sub-team.
Diamond Bank began as a private limited liability company on March 21, 1991, having been incorporated on December 20, 1990. Ten years later, in February 2001, it became a universal bank.
In January 2005, following a highly successful Private Placement share offer, which substantially raised the Bank's equity base, Diamond Bank became a public limited company.
Since the Bank was incorporated in December 1990, it challenged the market environment by introducing new products, innovative technology and setting new benchmarks through international standards.
The bank's officials believe that given its several innovations, it is best placed to respond to changing lifestyles and is leading the digital transformation in response to these societal shifts. For example, they said, its Diamond Mobile is Africa's leading banking app and the first with touch ID.
"Delivering an enhanced customer experience is fundamental to the Diamond Bank proposition," an official told THISDAY last night, adding, "We aim to support our customers via our tailored services, such as Diamond Woman, so that they can manage their lives seamlessly whether on-the-go or in branch & in other words, we want to go Beyond Banking."
He added, "Overall, our people remain the key differentiating factor in providing this unique customer experience across all markets where we operate and we are fully committed to consistently attracting only the best people to maintain our competitive edge."
Diamond Bank has a retail-led strategy, meaning it is well placed to benefit from Nigeria's attractive fundamental macroeconomic trends, particularly in the retail market.
The Bank also has a strong Corporate Banking offering that is helping to fuel growth across Nigeria through supporting businesses, redefining the country's 21st-century economy.
The Bank serves over 150,000 businesses of varying size across diverse sectors including Corporate clients as well as MSME (Micro Small and Medium-Scale Enterprises), for which it provides value-adding banking solutions.
With a primary listing on the Nigerian Stock Exchange and GDRs on the London Stock Exchange, Diamond Bank's footprints extend beyond Nigeria.
It launched its first non-African subsidiary, Diamond Bank, UK, in 2013. As of January 2016, the bank operated over 271 branches of the group.
Diamond Bank has frequently been the partner of choice for leading international organisations such as the International Finance Corporation (IFC) and the UK's Department for International Development (DfID), in order to deliver programmes targeting MSMEs and to promote financial inclusion.
The Carlyle Group, the global alternative asset manager, became a significant shareholder in November 2014 following its $147m investment in the Bank. This was a major milestone for Diamond Bank and a sign of confidence in the Bank's strategy and market opportunity.