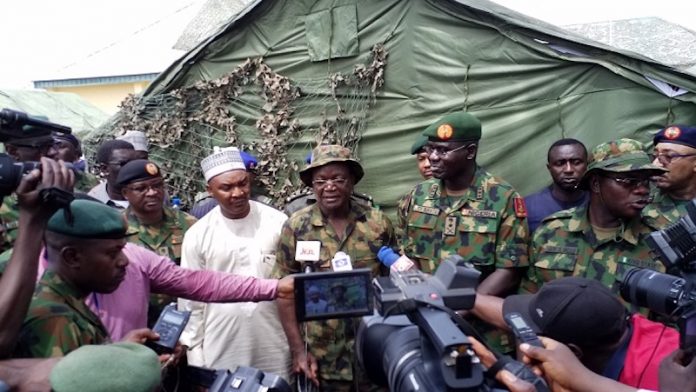 From George Okoh in Makurdi
Residents of Logo, Guma and Gwer Local Government Areas of Benue State, have commended the joint Nigeria military operation, code named; Operation Whirl Stroke, for the return of peace and resettlement of thousands of displace victims of suspected herdsmen attack in the state.
This is as the OPWS Commander Major General Adeyemi Yekini revealed that 145,000 displaced persons across Benue, Taraba and Nasarawa states have returned to their ancestral homes.
Chairman of Gwer West Local government, Mr. Francis Ayaga and his Guma counterpart, Anthony Shawon, who spoke with reporters yesterday, said there is peace in their areas and many who were displaced by the Fulani invasion in their councils have returned home.
Ayaga said 33,000 of the 34,900 IDPs in his local government have returned to their ancestral home but Shawon who could not give the exact number of returnees however said that no part of the council area is occupied by herdsmen but pointed out that the herdsmen terrorising the council area come from Nasarawa State.
Ayaga said, "In Gwer West 34,951 persons were displaced from their home, most of them were in Naka but with the help of the troops, 33,000 have returned homes. Unfortunately, it's not easy for them because most of the homeless guys are staying in ashes. But because the major occupation in the local government is farming, they have no option but to go back to their homes," Ayaga said.
A number of residents, who spoke to our correspondent, expressed joy at the effort of the military in bringing about peace in the areas.
According to a resident in Logo Mr. Terver Suswam, almost all the residents of Jooter have returned to their different homes "As you can see we are back to our farms and we thank the military for the protection"