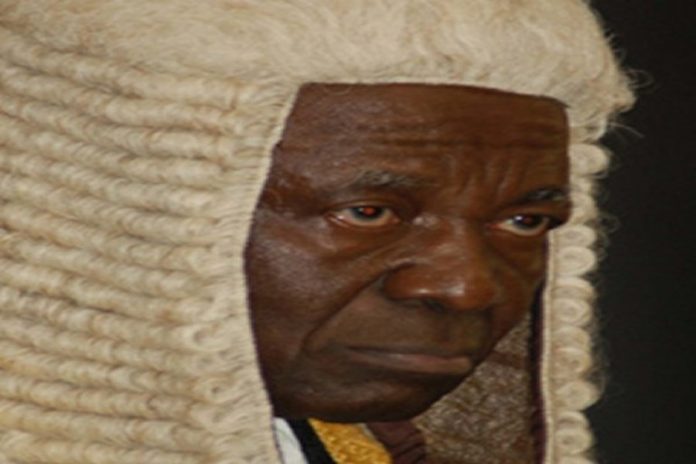 By Alex Enumah in Abuja
Though unwritten, there are key qualities an individual must possess to be qualified as a judge. A candidate for the office of a judge must be bold, fearless and courageous.
Indeed all three qualities were so obvious in the decisions of late Idris Legbo Kutigi, a former Chief Justice of Nigeria who died on Saturday in a London hospital.
The eminent jurist and the 11th CJN would forever be held in high esteem for taking a bold action to avert a constitutional crisis at the end of his tenure as CJN.
According to tradition, the President of Nigeria has the responsibility to swear into office, the chief justice of Nigeria. However, at the time of Kutigi's retirement in 2009, the then President, late Umaru Yar'Adua, was ill and had been flown out of the country without handing over to his deputy, Goodluck Jonathan.
Thus, a constitutional crisis was looming as there were divergent views on what would happen at the expiration of Kutigi's tenure. There were fears that Nigeria would be without a CJN. But Kutigi rose to the occasion and took the bold initiative to swear in his own successor, late Justice Aloysius Katsina-Alu as CJN on December 30, 2009. He was the first and only CJN who swore in his successor.
The late Kutigi, who would be remembered for his contributions to the development of Nigeria's jurisprudence, was born on 31 December 1939 in Kutigi, Lavun local government area of Niger State.
He started his elementary education in Kutigi before proceeding to Bida town, Niger State for his middle and secondary school, and later moved to Government College, now Barewa College in Zaria.
He graduated from Ahmadu Bello University, Zaria, after which he left for England, where he studied at the School of Oriental and African Studies, University of London and Gibson and Weldon, before returning to attend the Nigerian Law School in Lagos.
Justice Kutigi served as the Attorney General and Commissioner for Justice in Niger State until 1976, when he was appointed high court judge.
Before his appointment as a justice of the supreme court in 1992, Kutigi served as a Justice of the Court of Appeal between 1980 – 1992.
Following the retirement of his predecessor, Justice Alfa Belgore in 2007 and based on the recommendation of the National Judicial Council, he was appointed Chief Justice of Nigeria, by then President, Chief Olusegun Obasanjo.
The last major national assignment he took after leaving office as CJN was his appointment in 2014 as chairman of the Constitutional Conference set up by the Jonathan administration to fashion a new constitution for the country.