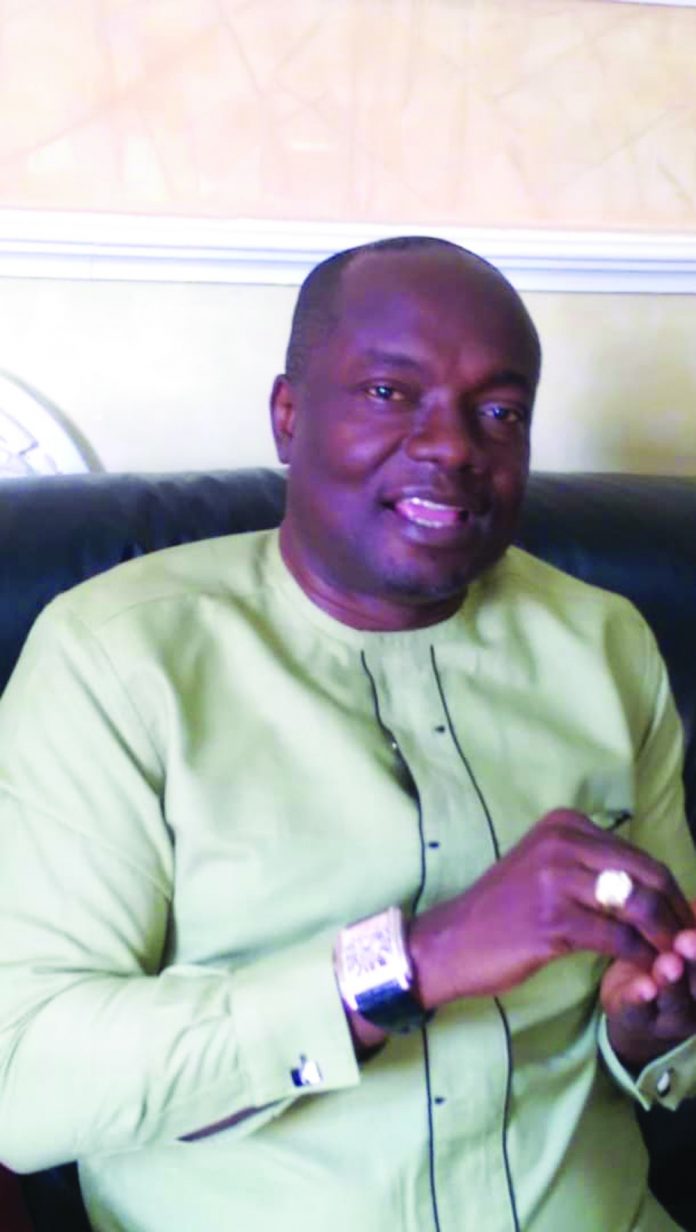 Mayor Eze was once the Local Council Chairman for Orlu in Imo State. At the lower chamber of the National Assembly 2007 – 2011, he distinguished himself with 22 Bills. Eze wants to return to the House of Representatives. He tells Stanley Nkwazema why restructuring is the best way forward for Nigeria and why Owerre zone should produce the next governor of Imo state
Can the PDP really wrestle power from the APC government at the centre?
PDP continues to live by example of free and fair election. No matter what you say about the last regime of President Goodluck Jonathan, he gave Nigerians and the International community an idea that a black man can get it right; that is exactly what the International community and Nigerians are expecting from this government; let there be free and transparent elections. The PDP National convention where its Presidential ilcandidates emerged was free and fair. One advantage of free and fair election is that losers and winners always come together to support the winner which is the strength of a party
In the PDP, we sat and decided that it is best to take the battle to the base of APC. Nigerians wants to continue to live peacefully, together and there is no doubt about that. I have friends all over the country and strategically it is good for us. We don't want the President to have a territorial political haven where he will mop up all the votes. We have no doubt that PDP is going to form the next government of this country especially the nostalgic feeling of the good old days of PDP which was by far better than what Nigerians have now, hence we are hampering on free and fair elections.
Why do you want to return to the House of Representatives?
For two major reasons, I want to return to the National Assembly. Initially, I wanted to contest for Governorship but we are all reasonable. The Owerri axis should produce the next Governor of Imo State. What we complain of at the national level, we cannot do otherwise when it comes to our state. If you look at the history of Imo State, in this dispensation since 1999, Orlu has governed the state for 16 years. Chief Achike Udenwa my boss was there for eight years and the incumbent governor Rochas Okorocha is also from Orlu zone and would be there for eight years by May 2019. It is unthinkable and unreasonable for another Orlu man to aspire for the governorship seat of Imo State at this time. It is very insensitive and we don't want to be part of that attitude. Now the five major aspirants in PDP are from Owerri Zone. PDP is a parry with conscience at all levels. That is why we are saying that if it is true that APC government in Imo State led by Chief Rochas Okorocha is trying to produce another Orlu son for the Governorship, it is insensitive and bad. And if it is true that his son in-law Uche Nwosu is being targeted for that position again and the APC is keeping quiet, I don't think it is a welcome idea.
I had a meritorious four years at the lower chamber of the National Assembly and people know quality representation when they see one. I am happy that I had a first term and had the highest number of bills (22) and it is on record that I am the only first termer that has that record. Many of them passed the first and second reading and even the debate stages. My people are desirous that I should have another shot..
What is your position on the clamour for restructuring of Nigeria?
I want to see this thing differently. Restructuring favours everybody. The questions people need to understand and very well too are: what is restructuring? Does restructuring mean 'to your tents o Israel?' The answer is definitely no. I live in Abuja, my children have friends in Abuja, and they speak Hausa fluently. The last two speak Hausa better than they speak Igbo and most of their friends are Northerners. There is nothing wrong in having a large country but we must make it functional. Restructuring to me means functionality. If you go to the exclusive list of the constitution, there are many things there that should go to residual or concurrent list. It beats my imagination that a road that passes through my village in Orlu will be called a federal road and it is neglected and abandoned. That money should go to the state. When you look at the revenue formula, we unbundle the federal government and give powers to other agencies that can do it better. We all travel abroad and we see how things are done and we feel comfortable. We answer Federal Republic of Nigeria and we should ask ourselves; Are we really a federal government in practice? The answer is no. We must answer what we preach. Even as it is now, is the average northerner happy? Is that Southerner happy?, the answer is no. Nigerians are being marginalised by the political class. If the political class wants Nigeria to function, how do we achieve these aspirations from both sides? It is only through restructuring. Many see restructuring as picking a knife and dividing Nigeria. It is not so .Let us unbundle the federal government.
Take a look at the Police; why should an Igbo Policeman be posted to Jigawa where he does not understand the terrain? Policing means knowledge. It you take time before you get used to Jigawa and understand the terrain. Before you know it, you are posted to Kebbi and from Kebbi they will take you to South West. This is not functional. In business it is common sense, it is a function of rationality. We should look at all these things and fashion out how best we can sort it out. Come to think of it, some vigilantes are doing better policing than uniformed Policemen. Do we need any body to tell us that things are not working as they should? That is my idea of restructuring
The best definition of democracy remains government of the people by the people and for the people. When you elect somebody as a representative, governor, President, you are part of that governance. In developed countries public opinion drives government policies. Like the 22 Bills I presented while I was in the National assembly, if they are not implemented, they are just paper works. The Press is the fourth estate of the realm, the way and manner you write about restructuring from all the nooks and crannies of Nigeria, we know that all hands must be on deck. The worst thing is that no matter the mood of whoever is the next President, restructuring is the way to go. It is just like when you have a vehicle that is not moving, you take it to the mechanic and make it move. Nigeria as a vehicle is grounded, so let us make it work. That is restructuring to me. If you tell me now that you  have a property in Igbo land and that the property does not belong to me again because I am Hausa, that is not restructuring. If you tell me that I must pack out from where I am staying and go to a particular place to stay because I am from a certain part, that is not restructuring. The North stands to benefit more in restructuring. What I learnt in Political economics is that access to water is wealth, whether dams for agriculture, rivers and oceans for international businesses. We have it all in abundance but my idea of restructuring is, let's look inwards, let us put square pegs in square holes. There are revenue streams lying fallow because we are all dependent on oil. But while we are depending on oil, let us look at other revenue sources or revenue. Let us diversify and think outside the box. It is no longer fashionable for people or government to go and share money in the name of FAAC. Even if you are sharing that money, let us begin to look inwards and generate other funds via exports, solid minerals etc.
If you have a child and every month you give him money and even when he is married you are giving him money to feed his children, he will never be productive. Let us be productive and make Nigeria work and that is my idea of restructuring because it is not a mere geographical thing but a process.
Are you getting support in your quest to return to the National Assembly?
As you know very well, politics is competition and there must be struggle for power. Of course some people are saying no to my aspirations while some in the majority wants me to go back. But again, those saying no want to aspire; they are not saying no that I am not qualified or that I will not distinguish myself. The voters know who will give them a better representation and that is why I want the political parties to imbibe the spirit of internal democracy; let INEC and the federal government assure Nigerians of a transparent process of producing our leaders. That is the essence of elections and nobody aspires to go unopposed. Let there be competitions and let the winners accommodate the losers and let the losers congratulate the winners in a transparent process. I am optimistic that If things are done the right way people won't have time to complain.