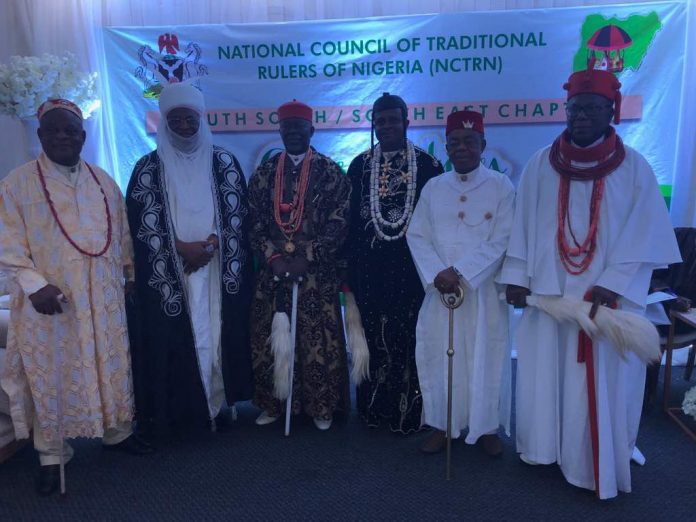 By Mary Nnah
The traditional institution's role in maintaining peace and security, as well as governance, were issues that dominated discussions at the consultative meeting of the National Council of the Traditional Rulers of Nigeria (NCTRN), South-south and South-east Chapter held at the prestigious Nicon Luxury Hotel, Abuja, recently.
Top on the agenda was peace and security of the nation, but the custodians of the traditional norms and values chose to discuss behind closed doors.
Three hours later, the doors were opened and their collective decision was a resolve to work more as dependable allies in the promotion of peaceful coexistence.
Chairman, South East Council of Traditional Rulers, Eze Eberechi Dick, said, "Sometime ago, we seem to be weak but today we have revived ourselves. We have consulted the people that matter from South-south and South-east.
"At this meeting, we have strengthened ourselves. Any moment from now, there would be a larger meeting of traditional rulers from the South-south and South-east to deliberate more on the need for Nigerians, irrespective of their tribes, to see one another as one."
Chairman, South-south Council of Traditional Rulers, King Edmund Daukoru said the meeting was an attempt to resuscitate the council as one that is in a position to deal with issues affecting the zonal bodies of the National Council.
The event convener, the King of Okori-Eleme Community in Rivers State, HRH Appolus Chu, said networking among traditional leaders is paramount to peaceful and harmonious nation.
The Egbere-Emere Okori Eleme, said, "Crimes are committed in communities which are being headed by traditional rulers. So if we don't come together and try to look at how we can be of help to government, we would continue to have situations that are nearly out of control.
"So, in order not for things to get out of control, we as traditional rulers can police what is going wrong in the communities, and then handle it quickly before they get out of hand. That is the essence of today's meeting."
He noted further that the meeting has rekindled the traditional institution's hope of building bridges to link every part of the country and promote national cohesion Known for being on the forefront of a peace crusade, his message remains the same – networking among traditional rulers, peaceful coexistence, religious tolerance and national cohesion.