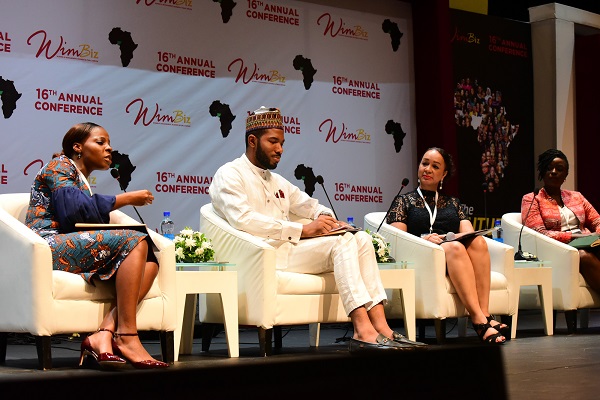 By Bennett Oghifo 
A non-profit organisation, Women in Management, Business, and Public Service (WIMBIZ), has designed its 2018 conference to give omni-directional perspectives on health, nutrition, family, professional development, finance, leadership, enterprise and workplace survival that can significantly influence the 21st century African woman positively.
A statement by WIMBIZ said this year's conference tagged "Unstoppable You: Reinvent and Reinvigorate", is designed to have a robust array of sessions carefully segmented into debates, plenaries and deep dives.
"To ensure a highly beneficial engagement for participants, the organising committee has designated 50 notable personalities to facilitate, moderate and speak on various issues such as health, nutrition, family, professional development, finance, leadership, enterprise and workplace survival," the statement said.
Moderating various sessions at the conference are: Bunmi George, Founder Shredder Gang; Chiadi Ndu, Founder BTH Integrated Service; Didi Akinyelure, Journalist, Reuters Business; Enahoro Okhae, Principal Strategist, Simeon's Pivot; Ihuoma Onyearugha, Director, Medical and Human Resources at Chevron Nigeria Ltd; Laure Beaufils, Deputy High Commissioner, British Deputy High Commission Lagos; Owen Omogiafo, Executive Director, Transcorp Hilton; Oyiza Salu, Head of HR, GTB; Rasheed Jaiyeola, Founder, Bukka Hut; Simon Kolawole, Founder, The Cable Newspaper; Nkem Begho, Managing Director, Futuresoft; Steve Babaeko, Founder, X3M Ideas; Taba Peterside, Chief Executive Officer, Waveline Growth Partners; Toyin Sanni, Chief Executive Officer, Emerging Africa Group; and Toyosi Olatunji, Managing Director, Arcane Insights Ltd.
Speakers at this year's edition include: Betty Irabor, Founder and Publisher, Genevieve Magazine; Abiola Adekoya, Chief Executive Officer, RMB Stockbrokers Nigeria Limited; Adenike Oyetunde, On-Air Personality, Nigeria Info FM; Adesua Dozie General Counsel, GE Gas Systems and Services; Chike Onyia, Chief Executive Officer, Zolts; Chinyere Anokwuru,  Founder, Self-Worth Organization; Dr. Dayo Joseph, Founder, The Dorcas Cancer Foundation; Dr. Ifeyinwa Nwakwesi, Founder, Healthy Living Services; Dr. Kamar Adeleke, Chief Executive Officer, Tri-State Cardiovascular Institute; Dr. Maymunah Kadiri, Psychiatrist and Psychotherapist, Pinnacle Medical Services; Dr. Ola Brown Founder, Flying Doctors; Dr. Omobola Johnson Partner, TLCOM Capital; Dr. Patrick Ijewere, Medical Director, Carib Health Ltd;  Esiri Agbeyi, Partner, PwC Nigeria; Fareed Arogundade, Founder, Workstation; Folake Soetan, Chief Commercial Officer, Ikeja Electric a subsidiary of Sahara Group; Funmi Roberts, Principal Partner, Funmi Roberts & Co; Hamisha Daryani-Ahuja, Motivational Speaker/Coach; Ibidun Ighodalo, Founder and Managing Director, Elizabeth R; Ifeoma Dozie, Regional Marketing, The Heineken Company; Ifeoma Idigbe, Founder and Executive Vice Chairman, boys to MEN Foundation; Iyinoluwa Aboyeji, Chief Executive Officer, Flutterwave; Japeth Omojuwa, Nigerian Blogger; Kola Oyeneyin, Founder and Chief Executive Officer, Venia Group; Laila Johnson-Salami, Co-Founder of Artillery Lagos and the We Rise Initiative; Nichole Yembra, Chief Financial Officer, Venture Garden Group; Odein Ajumogobia SAN, Minister of the Federal Republic of Nigeria (2007 – 2011); Oke Maduewusi, Founder, Zaron Cosmetics; Omokehinde Adebanjo, Vice President and Area Business Head, West Africa, Mastercard; Prof. Konyin Ajayi SAN, Managing Partner, Olaniwun Ajayi LP; Sonye Allanah, DGM, Government Relations and Public Affairs, Total E & P Nigeria Ltd; St Petersbell Jigo, Global Group Executive Director, Procurement & Corporate Services, Aiteo; Stephanie Obi, MD/CEO, ST Hub Ltd; Tolu Adelowo, CEO, Cousant and Victoria Samson, Managing Director, Bovas and Company Ltd.
With the increasing inclusion of male counterparts in the event, the conference will also go a long way in encouraging gender parity in both the workplace and society at large.
To register for the conference, please visit www.wimbiz.org Women in Management, Business and Public Service is a non-profit organisation formed in 2001 to be an advocate for women's career and business enhancement. Over the last 16 years, WIMBIZ has implemented programmes that seek to inspire, empower and advocate for greater representation of women in leadership positions both in the public and private sector.