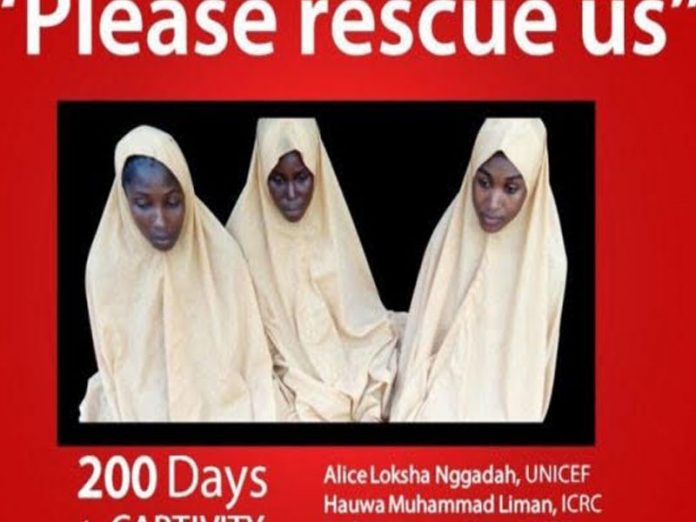 Chiemelie Ezeobi writes that the recent death of humanitarian aid worker, Hauwa Liman in the hands of Islamic State's West African Province, has heightened fears over the safety of Dapchi school girl, Leah Sharibu and Alice Loksha, another health worker, who are still in captivity 
Despite the heightened tensions in the North-east over the resurgence of Boko Haram terrorists and other terror splinter groups, humanitarian aid workers keep braving the storm in their passion to save lives and care for the down trodden victims of war.
The trio of Hauwa Mohammed Liman, Alice Loksha and Saifura Hussaini Ahmed Khorsa,
all women, were one of such persons, until terror struck and saw the abduction, then death of Khorsa and Liman.  While Liman and Khorsa worked in a hospital supported by the International Committee of the Red Cross (ICRC), Loksha, was a nurse who worked in a centre supported by UNICEF.
They were going about their daily activities when the splinter terror forces known as the Islamic State West African Province (ISWAP) struck on March 1, this year. While the trio of Liman, Loksha and Khorsa were captured,
four other aid workers were killed alongside eight security personnel.
The Rann Attack
On the said day, no fewer than four aid workers were killed on that Thursday night attack by insurgents in Rann community in Kala Balge Local Government of Borno. According to Samantha Newport, Head of Communications, UNICEF Office for Coordination of Humanitarian Affairs (OCHA), who confirmed the incident to the  on Friday in Maiduguri, two of the deceased were personnel of UN client organisation, International Organisation of Migration (IOM), deployed to Rann as camp managers. She added that others killed were a medical doctor working as a consultant with UNICEF and an aid worker with the ICRC affiliate organisation.
The insurgents had attacked the town at about 7 p.m. using in their trucks and motorcycles. They first infiltrated the town before attacking a military base and an internally displaced persons' (IDP) camp, where over 55,000 persons sought shelter, alongside humanitarian workers. At end of the attack, Liman, Loksha and Khorsa were missing.
Suspension of Humanitarian Services
Following the attack, the United Nations (UN) and the Medicine Sans Frontiers (MSF), pulled out its aid workers. According to
Stéphane Dujarric, spokesperson for UN Secretary-General António Guterres, who announced the suspension of humanitarian services had reiterated calls by the secretary general that the perpetrators be apprehended and punished for their action in the statement.
At the time of the attack, over 40 humanitarian workers were in Rann before they were evacuated and all humanitarian deliveries in the area temporarily suspended. He further stressed that such attacks targeting civilians and civilian infrastructure violate international humanitarian law.
Similarly, the Field Communication Officer of the Doctors Without Borders, otherwise known as Medicines Sans Frontiers (MSF), Maro Verli, also decided to suspend its medical activities in the town. This was a huge blow for humanitarian services given that the MSF team has been providing medical care to the 40,000 people in Rann, since January 2017.
The First Blow
After seven months in captivity, the first blow came when one of the healthcare workers and staff of  ICRC, Saifura Hussaini Ahmed Khorsa, was killed in cold blood by her abductors on September 16.
Condemning the act, the ICRC
 had at the same time appealed for the release of the other two. The 25-year-old midwife w
as shot from behind by ISWAP three weeks after an audio and picture of the three health workers surfaced begging President Muhammadu Buhari to rescue them from captivity. In the audio, they said the terror group had given them the final warning. Failure by the the government to rescue them led to the death of the mother of two; five-year-old daughter and two-year-old son.
The head of ICRC delegation in Abuja had said: "We are devastated by the murder of our colleague Saifura. She  moved to Rann to selflessly help those in need. She was a devoted mother and midwife. Those who knew her said she adored her two children, a two-year-old boy and a five-year-old girl. The children have not been able to comprehend their mother's absence, as they frequently asked their grandmother if a passing plane was bringing their mother home. That grandmother must now find the words to tell two children their mother will never return."
According to The Cable, the insurgents claimed that they had contacted government over the captives but did not get any response. "We contacted the government through writing and also sent audio messages but the government have ignored us. So, here is a message of blood. The other nurse and midwife will be executed in similar manner in one month, including Leah Sharibu", said a spokesman of the group who did not give his name.
Subsequent Ultimatum 
On October 14, almost a month after Khorsa was killed, a statement from the ICRC said the terrorists were now threatening to kill Liman in the next 24 hours if their release was not negotiated. The Mamadou Sow, Head of ICRC's Operations in the Lake Chad Basin, had said: "Speed and urgency are critical. A deadline that could result in the killing of another health-care worker is less than 24 hours away."
The Passionate Appeal
Barely 24 hours to the deadline given by the terrorists, the ICRC had made a final passionate appeal for the release of the two remaining aid workers. They went further to issue a statement in English and then Hausa language. The appeal by Patricia Danzi, Director of ICRC Operations in Africa, read: "The International Committee of the Red Cross (ICRC) is making an urgent public appeal to the Nigerian Government and to communities and individuals with influence to work toward the release of two committed medical workers abducted in north-eastern Nigeria earlier this year. Speed and urgency are critical. A deadline that could result in the killing of another health-care worker is less than 24 hours away.
"To the holder of these kidnapped women, ISWAP (Islamic State West African Province group): We urge you for mercy. We urge you to not kill another innocent healthcare worker who was doing nothing but helping the community in north-east Nigeria. Hauwa Mohammed Liman worked in a hospital supported by the International Committee of the Red Cross (ICRC) when she was abducted on 01 March with Alice Loksha, a nurse who worked in a centre supported by UNICEF.
"Hauwa and Alice are medical workers who chose to work and help vulnerable communities in Rann, an area heavily affected by violence", said Mamadou Sow, the head of ICRC's Operations in the Lake Chad Basin. "The town's population has more than doubled because of the conflict, while most local health-care staff have fled. These women were providing essential and life-saving services to thousands of people, displaced and resident alike. All they sought to do was to help.
"A third healthcare worker abducted alongside Hauwa and Alice – ICRC colleague Saifura Hussaini Ahmed Khorsa — was killed by her abductors in September. The ICRC asks those involved with this case to do everything they can to avoid a repeat of that devastating outcome. Leah Sharibu, a 15-year-old school student, was taken from her school in Dapchi in a separate abduction incident in February. She is also being held by the same armed group and everything must be done to ensure she too is released promptly and unharmed.
"We urge you: spare and release these women. They are a midwife, a nurse, and a student. Like all those abducted, they are not part of any fight. They are daughters and sisters, one is a mother — women with their futures ahead of them, children to raise, and families to return to."
Also lending voice to the appeal, Toafic Toure, ICRC operational communication delegate, Maiduguri sub-delegation,  pleaded with the federal government to avert the proposed killing as the deadline approached.
 Devastating News 
Despite the appeal from several quarters, the sad news filtered in on October 15 that the terrorists finally made good their threat. In a report by The Cable that polarised the social media space, Liman was said to have been killed on Monday. According to a video obtained by TheCable, she was forced to kneel down, with her hands tied inside a white hijab which has a crest symbol, and then shot at close range.
Reacting to the claims, the ICRC had initially expressed hope that it was false. In a terse text on their Twitter page they said: "We are hearing devastating reports Hauwa has been executed. At this stage, we don't have confirmation this is true. We desperately hope not. We will provide an update when we have accurate information. This situation is heartbreaking, and our thoughts remain with her family."
When it became clear the news was true, the ICRC again on their Twitter page said Liman's death has broken their hearts. They said: "A second health worker held hostage in Nigeria has been murdered. Hauwa was a friend and daughter. She was a midwife, helping women in their most painful and vulnerable moments, bringing life into the world. Hauwa was not yet 25. We will never know what her life would go on to hold."
 Speaking on behalf of the organisation, Danzi said: "It's utterly devastating that we have to write that sentence. The International Committee of the Red Cross (ICRC) received information indicating that Hauwa Mohammed Liman has been killed by her captors in a despicable act of cruelty.
"Hauwa is the second abducted health worker in Nigeria to be murdered in the last month. We appealed for mercy and an end to such senseless murders. How can it be that two female healthcare workers were killed back-to-back? Nothing can justify this. Hauwa, 24, was full of life, becoming a midwife at an early age. People who knew her described her as a sociable, dynamic and enthusiastic woman who was much loved by family and friends. She was truly dedicated to her work helping vulnerable women in her family's home area.
"The ICRC made sustained and committed efforts to secure the release of the three health-care workers, including a last-minute plea for mercy on Sunday to the Islamic State West Africa Province group, to no avail. Hauwa and Saifura's deaths are not only a tragedy for their families, but they will also be felt by thousands of people in Rann and other conflict-affected areas of north-east Nigeria where accessing health care remains a challenge. We urge the group holding Alice and Leah to release them safely."
As expected, reactions trailed the brutal death. Chief amongst them was the Senate President, Bukola Saraki who said: "I join Nigerians and the international community in condemning the murder of Hauwa Liman- an aid worker with @ICRC, by Boko Haram." His wife, Toyin also joined suit. In a tweet on her Twitter handle @ToyinSaraki she said said: "Awful news that @ICRC #healthworker Hauwa Leman has been murdered despite urgent appeals to leave no stone unturned for her rescue and return. #NotATarget."
FG's Burden 
Expectedly, the blame was squarely placed on the doorsteps of the federal government for Liman's death. In reaction, the federal government condemned the execution. The Minister of Information, Lai Mohammed, said the government did "everything any responsible government should do" to save the duo. Reacting via a statement, Mohammed said the government was  deeply pained by the incident, adding that the government kept negotiations open, trying to rescue the women, and had acted in the best interest of the women and the country.
The statement read: "It is very unfortunate that it has come to this. Before and after the deadline issued by her abductors, the federal government did everything any responsible government should do to save the aid worker. As we have been doing since these young women were abducted, we kept the line of negotiations open all through. In all the negotiations, we acted in the best interest of the women and the country as a whole.
"We are deeply pained by this killing, just like we were by the recent killing of the first aid worker. However, we will keep the negotiations open and continue to work to free the innocent women who remain in the custody of their abductors."
Heightened Fears for Sharibu, Loksha
Given the cold blooded manner the insurgents have been carrying out their threats, it has heightened fears over the safety of Loksha and Sharibu, who are still in captivity. Although the insurgents threatened to only enslave Sharibu, still fears abound.
Sharibu, is the only Christian among the 110 girls abducted at the Government Girls' Science and Technical College, Dapchi, Yobe State, on February 19, 2018, who is still in captivity. The federal government had in February succeeded in securing the release of 105. Out of the 110 abducted girls, four died, while one is still in captivity. 

Since her abduction in February, there has been continuous clamour for her release from her parents, Nigerians and the world in general. In August, after a video of Sharibu surfaced where she appealed to the president to rescue her, a global campaign was again relaunched for her release.
Although the federal government had said it was making efforts to secure her release, her parents who were fed up of the promises recently sued the government for reneging on protecting their child whilst in school.
Although it is not clear if Sharibu and Loksha are kept in the same camp, Liman's death has already increased the pressure on the government and security agencies to do the needful to secure their release.