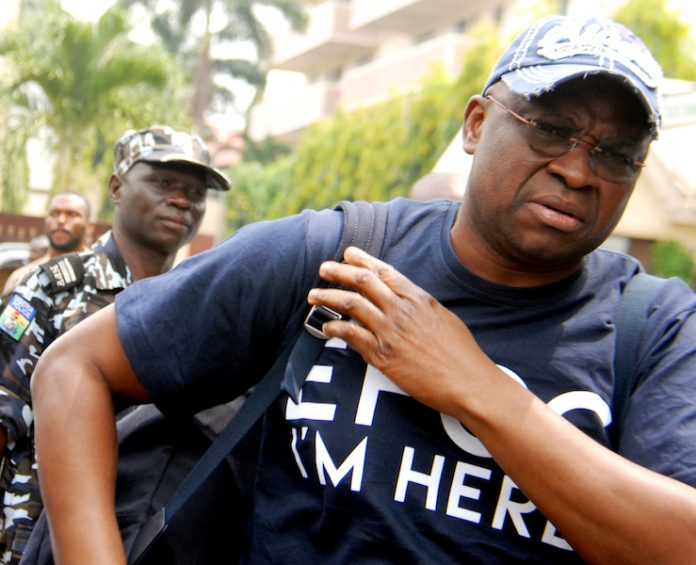 Alex Enumah in Abuja
The immediate past Governor of Ekiti State, Ayo Fayose, yesterday arrived at the old Head Office of the Economic and Financial Crimes commission (EFCC) to answer alleged corruption allegations against him by the federal government.
Fayose, who arrived at the commission's office in Wuse 2 area of Abuja at exactly 12.59p.m., was accompanied by Rivers State Governor, Nyesome Wike, into the waiting hands of former Aviation Minister, Femi Fani-Kayode; Senior Advocate of Nigeria, Mike Ozekhome, human rights activist and member of Bring Back Our Girls campaign group, Deji Adeyanju, and a crowd of teaming supporters
The former governor, who wore a jean trouser and a blue T-shirt with the inscription 'EFCC I am Here', told journalists that he was at the commission in line with his promise to honour the EFCC's invitation on October 16, 2018.
He also carried a small bag believed to contain some of his personal effects.
"I'm here in line with my promise, that I would be here on October 16, and like I said to EFCC, they should await my arrival. This morning, they have been to my house, they condoned off my street. I feel personally it is unnecessary, it's unwarranted. When a man says he is coming, Nigerians should be given the benefit of the doubt," he said.
Fayose, however, assured EFCC that he was prepared to answer any question the anti-graft agency would be ready to ask him, adding that he would respond appropriately.
Also speaking, Rivers State Governor, Wike, who decried EFCC's harassment of the former governor, warned that the commission should ensure that Fayose came out healthy just as he was going in.
Similarly, Ozekhome, who joined Wike to appeal to the EFCC to ensure that nothing happens to Fayose while in their custody, noted that what the federal government is doing is to instill fear in the people.
However, an operative of the EFCC, who simply identified himself as Katugo, while welcoming Fayose to the commission, assured his supporters and lawyers that the commission would treat Fayose with due respect.
He was then led into the Idiagbon House of the EFCC to answer to charges of corruption, accompanied by Wike, Fani-Kayode and three of his lawyers, including Ozekhome, at exactly 1.04p.m.
Barely few minutes later, the governor of Rivers State came out and drove off, leaving Fayose, Fani-Kayode and the erstwhile governor's lawyers inside the EFCC building. certained if Fayose would be allowed to go home today. Recall that his party has alleged plans by the EFCC to keep him in its custody indefinitely.
The EFCC had in a letter dated September 13, 2018, asked the then governor to appear before it on September 20, 2018 for investigation over some corrupt allegations.
Fayose, however, in his reply informed the commission that he would be only predisposed after he left office as governor of Ekiti State come October 16.
The letter read: "Several and serial actions of your commission for some time now, including but not limited to freezing of my accounts and attempts to secure temporary forfeiture of my properties, are indicative of the commission's desire to have me clarify some issues or answer some questions but for the immunity that I enjoy under Section 308 of the 1999 Constitution as sitting governor of Ekiti State.
"I wish to inform you that my term of office pursuant to which I enjoy immunity against investigation and prosecution under the above provision shall lapse by effusion of time on October 15, 2018.
"As a responsible citizen of our great country, who believes in the rule of law, I wish to inform you of my decision to make myself available in your office on October 16, 2018, at 1p.m. to clarify issues or answer questions on issues within my knowledge.
"Kindly confirm the suitability of the above date or indicate by return, the commission's convenient date."