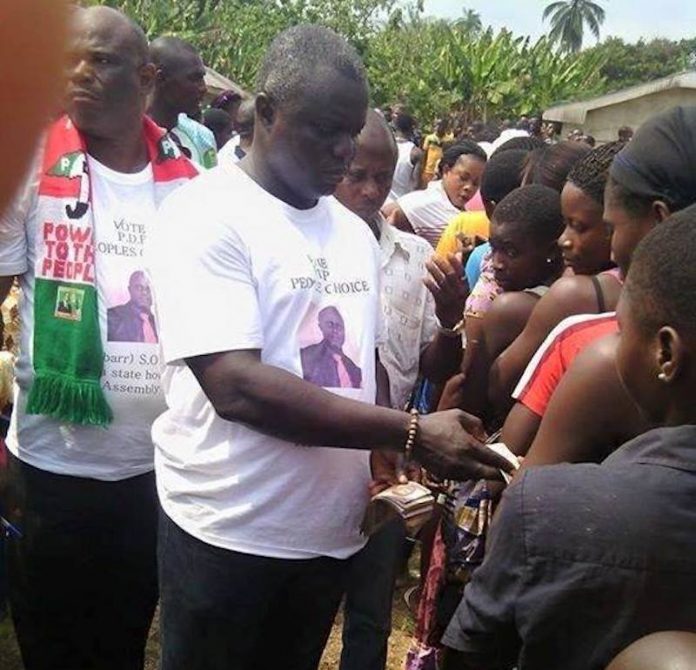 • Express dismay over failed campaign promises Insist "We'll no longer sell our votes, future for N10,000
James Emejo in Abuja
Nigerian traders and farmers yesterday sent a stern message to politicians, warning that the era of buying their votes was "closing up".
"Our eyes are now open, we no longer sell our votes and future for N10,000 for politicians to enjoy our collective wealth for four years while we lavish in penury and poverty," they said.
The traders and farmers, who are under the umbrella of the National Association of Nigerian Traders (NANTS) have had to voice out against the backdrop of the upcoming 2019 general elections and the certainty that politicians will come to solicit members' votes.
However, speaking in Abuja at the unveiling of the Farmers Manifesto and Traders Charter of Demands, NANTS President, Mr. Ken Ukaoha, said there had been too many promises and disappointments from politicians "who promise to build heaven on earth just to attract our votes and quickly change their phone numbers as soon as they are voted into office."
Yet, he said traders and farmers formed over 75 per cent of real electorate a development which makes the constituencies the largest voting population in the country.
Ukaoha said several promises by politicians of a 24-hour power supply to help the optimal performance of businesses; free education at all level; good roads for harvested products to be conveyed from farms to markets; good health and better transportation system have all gone unfulfilled.
He said: "We are gradually coming back to our senses to ask, why have promises not been fulfilled. Promises, promises and promises from politicians without a clear ideology and manifesto; politicians whose stock in trade is to decamp and move from one party to another all in the selfish bid to service their own stomach and leave us unattended and to continuously wallow in the cold."
As a result, and to put an end to such failed promises, the NANTS president said members have come up with "the Farmers Manifesto and Traders Charter of Demands"- two strong negotiating instruments to extract politicians' strong signatures of commitments to campaign promises in order to move the country forward.
According to the instruments launched, the traders, on the one hand are demanding among other things, for immediate design and provision of a coherent, predictable and inward looking trade policy to help in smooth running of the economy; investigation of all illegal seizure of traders goods by agencies of government in line with commitment to fight against corruption; harmonisation of taxes and charges meted on traders to curb multiple taxation and economic distortions as well as policy space for inclusion of traders and their needs/interests at all levels and tiers of government.
On the other hand, the farmers are asking politicians to commit to an increase in budgetary allocation to agriculture; dedication of at least 60 per cent of agriculture funding to small scale farmers (SSFs) and revitalise agriculture extension service as well as provide a roadmap for the resolution of herdsmen/farmers crisis.
However, Dean, Faculty of Veterinary Medicine, University of Abuja, Prof. Clemet Alawa, told THISDAY during the unveiling that the new instruments of negotiation by traders and farmers, "Will if adopted by political office holders both in executive and the legislature lead to improved food production, livelihood and sustainable development."
Nonetheless, Ukaoha said: "We are tired of bags of rice, salt and wrapper in exchange for our future and the future of our children.
"With our PVCs on one hand, and our instruments on the other hand, it is now time for politicians to make commitments and sign for us on what they will deliver within their four-year tenure and we shall vote and hold them accountable to their signature. No more bogus promises. Commit and sign, and be voted. Redeem your promises and be voted for another term. This is the name of the game."
He said the manifesto and charter of demands presented campaign opportunity for political flag bearers and candidates to meet with grassroot farmers' leaders and traders to commit their signature to guarantee securing their votes.
According to him,:"You'll agree with me that we've not asked for anything extra-ordinary. Our demands are very selfless, cheap and do-able. Moreover, these demands look towards the overall best interest of our collective desire to pull our country out of the doldrums of poverty and unemployment."