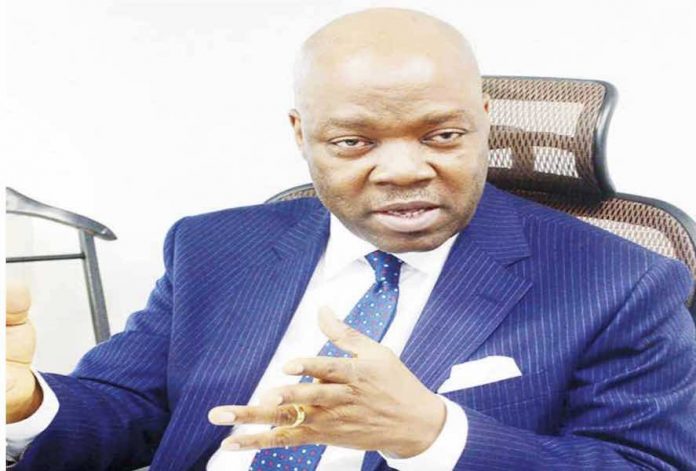 The recently appointed Managing Director of Ecobank Nigeria, Mr. Patrick Akinwuntan, in this interview urges policymakers in Nigeria to focus on initiatives that would see that the country remains an attractive investment destination. Akinwuntan, who prior to the appointment was the Group Executive, Consumer Banking for the Ecobank Group, also spoke about his plan for the financial institution in the medium-term. Obinna Chima and Nume Ekeghe present the excerpts:
What will be the likely impact of interest rate normalisation in the United States and some advanced countries on Ecobank, which is a pan-African bank, corporates in Nigeria and the federal government?
As you know, every country takes steps to have policies that will create a favourable economic environment primarily for their citizens. And that is what America is doing and I think what we should focus on in Nigeria is our fundamentals. Nigeria remains a very attractive market and the search for yields would always look at a country like Nigeria. And given a population of 180 million people, and the vast natural resources we have, for sure, people would still look at Nigeria. The question now is how are the fundamentals playing out and is it easy to do business in Nigeria and how have we made progress in making it easy to come to do business and to realise the opportunities the market provides? Also, exchange rate stability or understanding the rules around how forex is handled and I think the government has been doing a great job on that, from the central bank. Also, by looking at trends of inflation in our economy, employment, infrastructure, rule of law. Those are the areas we should focus on as Nigeria and then make sure it is favourable to attract the relevant investments that we seek which other countries like America, are also trying to attract to their country.
Talking about fundamentals, the Monetary Policy Committee (MPC) at its last meeting raised concerns about the possibility of the economy reversing into recession. What in your opinion should we be doing to avert this?
The fundamentals like i said remain very important and the productive sector needs to receive full attention in spite of the various developments during this season. And i think the point the MPC was raising was that with a slight nudge in inflation and the pressure for the preservation of value of money would begin to mount. And that could begin to have an impact on the basis for the MPC decisions. And the point being made rightly by the MPC is to highlight that the fiscal policies need to be stronger to support growth such that when the taper down effect of current activities comes, we are not in a shock. We really should not. We know what the impact of the last recession was and really I think the MPC did the right thing to highlight that we need to take active steps to assure investors to support the productive sector, the focus on agriculture, the focus on non-oil exports as a diversification of our earnings capacity as a country and addressing unemployment through the various initiatives, and the fact that we should keep our eyes on the ball, not withstanding any of the seasonal developments whether around democratic process or around happenings in the international arena.
What is key is that with a market of over 180 million people and with the resources available as well as the fact that over 50 per cent of our citizens are under the age of 30, all quite active and intelligent and seeking opportunity, we should continue things around the rail infrastructure, power, ease of doing business, supporting exports and continue to retain the favourable environment knowing the forex situation. Those are things we should really focus on and for the medium term, ensure that the early gains are sustained.
We all saw that when oil prices were down, we saw quite a lot of focus on non-oil earnings which we should continue to sustain. We saw a lot of focus in supporting intellectual capacity as means of earning revenue, be it in the information technology (IT) world, digital sphere, arts and culture and all these activities, need to be sustained because it takes a lot to fire up the engine if it gets into a recession. We see what has happened in South Africa and what is happening in other countries in Africa, so we should learn and not let it happen before we react. So the MPC was looking at being proactive and I think that was the right call to make and a lot of people are listening so we should act on it.
What is your bank doing to support investment in agriculture and the real sector?
For us at Ecobank, we play actively in all customer segments and all critical economic segments. So from a customer segment standpoint, at the corporate bank level or corporate client level, at the SME level and at the individual household level, which we call corporate bank, consumer bank and commercial banking in Ecobank. We also play in all the segments be it the manufacturing sector, sector, agriculture sector, knowledge economy, IT, retail, fast moving consumer goods (FMCGs), services, health and education, we play in all these sectors.
Now, to do with agriculture, agriculture has a whole set from land preparation, cultivation, storage, production, manufacturing, export and to retailing. So, what we are doing in Ecobank is first we participate and support the sector, working together with the Nigeria Incentive-based Risk Sharing System for Agricultural Lending (NIRSAL), which is an agency of the Central Bank of Nigeria (CBN), that is providing funds and credit guarantees for us to actively lend to the agricultural sector and in our recent meeting during my first visit to Abuja a week after I resumed as CEO, NIRSAL was one of the entities I went to because of the priority we place on participating actively in the agricultural sector. We have set up joint working committee. We will be announcing formally, a full scale collaboration between Ecobank and NIRSAL. I would like us to complete the process before I go into full details.
But essentially, we would be working with NIRSAL to bring access to finance, access to markets and support to the whole value chain of the agricultural economy in Nigeria. If you look at the small scale farmer who supplies to aggregators and keep the storage of farm produce, they currently do not have access to save their little funds or access their small unit basis because most of those locations do not have physical bank branches. So we agreed with NIRSAL that we would bring our Ecobank agency on the mobile phone to every rural area where we support agriculture. So we are very committed to supporting the agric sector because it provides the largest employment base for Nigerians. It is the closest to families in Nigeria in terms of early childhood and how you get to participate in the productive economy.
And so we would work with every agency that is involved in agricultural development in order to ensure that we are a major player at the household level, at the small scale farmer or agricultural entity, at the medium scale and at the large scale. And of course, given the fact that we are Ecobank, we are present and have banking operations in 33 countries and three other countries were we have representative offices, making it 36 countries in Africa. We have our presence in France, United Kingdom, United Arab Emirates and presence in China. We would also leverage our network to facilitate intra-Africa regional trade which is also significant in the agriculture sector. And of course, support our customers as they go global in terms of export of agricultural produce.
Under your leadership when you were the Executive Director, Consumer Banking for the Group, we saw a lot of initiatives around digital banking in the group. As the CEO of Ecobank Nigeria, what should customers expect from you?
For us at Ecobank, from the Pan-African standpoint, yes, I led the consumer business for over two years for the group and in those first two years as part of our five-year strategy, we stated that we were going to focus on building the foundations, which meant that we needed to build the rails on which we would leverage the digital platforms to distribute to every household. So the first thing we did was to reorganise how we engage the market. Because we are present in 33 countries, we decided that it is best to adopt global strategy of central manufacture. So in terms of our products – payments, savings, account, loans products- we designed that centrally and approached each of the markets for approvals from the regulators. We also built a centralised technology platform.
As as you know, if you have a WhatsApp account or Google account, you have a global domain. On WhatsApp I'm not aware that there is a WhatsApp Nigeria technology platform, so the world is connected on a common platform, but then, you execute locally. So we built a pan-African switch as a backbone for being able to facilitate payments in-country and across border. Of course, that is subject to the regulations of each country. After doing that, we now looked at how we distribute effectively in-country. In the distribution in-country, we used the mobile phone which is the most pervasive way of reaching households. So we took a deliberate step to say that we will be present on the mobile phone in a convenient, reliable, accessible and cost effective ways.
So, we built an Ecobank mobile app, and our mobile app is unique and it is one app for the entire Ecobank group. So when you download from the Playstore or AppStore, the Ecobank mobile, you are able to switch from one country to the other. If you have an account in any of the countries, within the same app, you are able to transact subject to the rules of each country, across broader payments and across broader transfers and have access to your information. We also have what we call the Ecobank Pay, which is a digital QR code that enables payments using the mobile phone, without the need for a plastic card. So it is really very convenient. It is a one stop platform across 33 countries in Africa. The uniqueness of our EcobankPay is that it has MasterPass, MVisa and Mcash. The uniqueness of the Mcash is that you have one merchant identity for each customer to transact across the three platforms.
So, when you are a merchant and we on-board you on EcobankPay, you would have a QR code that accepts all the three. So, if the person that wishes to buy goods from you is coming from a bank that has MVisa and wishes to pay, the same QRcode would accept an MVisa payment and vice versa. That creates interoperability and convenience for the merchants and as you know, the QRcode is much cheaper than having a point of sale (PoS). A PoS would cost in the range of $300 to $400, if you have a PoS, you need power to keep it running, you need paper to print on it and you need to keep it secure. But for the QRcode, you can just print the code on a paper and you can stick it anywhere and you do not run any risks. It is convenient and the mobile app allows you the ubiquity, it allows you 24/7 access, it is affordable and for Nigeria where the CBN has been preaching financial inclusion, we have also included the ability for you to open an account instantly with your phone, we call it the Ecobank XPress account.
You can download it from the Playstore, download the app and then you can have the option of opening an Ecobank XPress account. Of course, you would complete the instructions and then you complete your on-boarding before you start receiving money. The Xpress account has a limit to the amount because it is a quick access account for you to get into the financial system. When you want to start transacting in millions and billions, then you go and provide additional know-your-customer information to get a full current or savings account. We also have the Ecobank internet banking platform that enables you make payments on the internet using the Ecobank internet platform. And for corporates, we also have Ecobank Omni which enables you do bulk payments. And for corporates that operate across countries, you are able to see your balances across various countries on the Ecobank Omni platform.
So we play to our strength as a Pan- African entity and we execute effectively in-country. So in summary, my real focus and my mandate is to deliver that brand promise. So that the ability to use the digital platform to bring banking in affordable manner, in a sustainable manner, in a reliable manner to every household. So leveraging the mobile app, leveraging EcobankPay, leveraging our agency network, our PoS', ATMs and leveraging on our cards, we are able to get to every household and deliver the promise of financial empowerment to participate effectively in the economy.
With your agency, can you speak more on how your bank has been able to support financial inclusion through this strategy?
The first point I would like to make is that our agency platform leverages the mobile phone. So, on distinct feature is that to register you as an agent, as long as you have a phone, you do not need an additional investment in some agency gadgets so that it is affordable and it is part of your way of life. So, we leveraged the mobile platform and we leveraged the functionality of our mobile app and layered on it an agency platform. So, we come to you and within three hours we go through your KYC and collect whatever information we require, we take your BVN and we on-board you as an agent. Once we on-board you as an agent, we create a profile for you on the phone. And from that moment, you would be able to do two basic services to start with- cash in and cash out.
We started rolling out our agency platform in February this year and across the group, we currently have about 10,000 agents and in Nigeria we currently have about 1,200 agents and we intend to grow that aggressively. But we wanted to first of all ensure that the model and the platform is proven to be stable, secure, convenient and scalable. Now we have arrived at that. I was at Ikorodu, Lagos, recently, to flag-off the customer service week. On that day, I was a guest teller in one of our branches. And one of the statements I made which was a reflection of what we have committed to was that over the next two months, we would have at least 500 agency locations in Ikorodu.
And so we have mapped out various parts of the country not just the hubs and business districts like Lagos and Abuja, but towns and locations that are away from the city centre but have lots of activities and there is the opportunity to take banking services closer to them. So be it around Abia, Jigawa,Sokoto, Niger, Delta, and other states in the country, you would begin to see EcobankXpress locations rolled out across the country. And we would publish on a monthly basis the number of agents we have. And this is also in line with the focus of the central bank where financial inclusion is a top burner item and we are a key participant being a systematically important bank and as a deep pan-African bank, we will take a lead position in actualising that dream of bringing banking to every household.
What is the idea behind the Ecobank Fintech Challenge?
The whole idea simply is that when you look at developments globally, there has been a massive interest in financial technology (fintech) companies and how they collaborate or compete with traditional banking systems in various countries. And our view in Ecobank is that we should rather collaborate rather than see fintechs as a competitor of banks. Banks have banking licence, fintechs don't have banking licence, but have the nimbleness of bringing efficiency and enabling banks operate and scale. Therefore, we are approaching it from a partnership and collaboration standpoint.
It also provides the opportunity for Africans to leapfrog into the knowledge economy. As you know, the likes of AliPay, Google, Facebook, PayPal, SamsungPay and when you come closer home, you would find entities like Flutterwave and other budding entities. And we said, for us as Ecobank, that we should create a playing field that enables access to whoever has talent and the opportunity to become a global player. So, at the group level, we decided that we would invite start-ups across the 33 countries we are in Africa to come showcase their innovation, initiatives and talent and we would give access and a platform to showcase what they have in order to attract investments in their innovation. If you seat somewhere in Potiskum or in Kabba, Kogi State, if you have a mobile phone, you will have a global access to develop products that could qualify as a world bidder in fintech.
The next question would be how do you bring that to consciousness to everybody? Ecobank is a platform for Africans and it is an entity formed by Africans with a vision to build a world class pan-African bank, but more importantly, to contribute to the financial development and integration of Africa. So, we see it as part of our role to provide a platform where these talents in whichever part of Africa they are to come forward and showcase their talent in a competitive environment. We create a conducive environment, we provide an enabling environment, we place it on our platforms in order to showcase those talents to the world and it also creates competition. So, you improve your learning and skills and we do that annually. And at the end of the program, we identify those we call fintech fellows. So we adopt 20 top fintech fellows.
In the first edition, there were about 800 finalists and we enrolled 20 top players as fintech fellows. As a fintech fellow, we provide mentorship support, access to markets and the top three won prizes in monetary terms and of course we take them to global events and expose them and then give them the opportunity to realise their potential. But also included in all that, because we are a Pan-African bank, we also have needs where we leverage on fintech in order to become more efficient and bring our services closer to our customers in a more effective manner. So we also from that process, identify fintechs we would like to work with on pure arm's length commercial terms. We also give them the opportunity to begin to collaborate with the bank to bring solutions to the market place. And as you would imagine, for a young start-up to say he or she provides services to a Pan-African bank, is a credible reference when they try to take on global players and also expand their market opportunity.
So it is a win-win for Africa, for Ecobank, our customers and it is sustainable because we do it annually and year-on-year we are seeing more interest. And those who need to collaborate outside of Ecobank with other banks, other business entities also look at that platform to identify future partners and investors naturally, look at that platform to make investment decisions. In Nigeria, we also partner the Fintech Association of Nigeria and we are the first bank in Nigeria to be a member of the association. And in the first national fintech association conference, we were the key sponsor. We also participated in the second edition and we would continue to do that and perhaps to add, we also now wish to make it an African Fintech association, so that we would begin to look at the regions of Africa to find points to leverage the learning in key markets to foster the opportunities for fintechs to participate effectively in a collaborative manner with regulated entities like Ecobank and other financial institutions.
But a major concern about fintechs and digital banking is security, can you tell us the measures your bank is putting in place to secure customers' funds?
Security is what every keeps every banker alert at night. And when you now talk of security on digital platforms and technology platforms it is actually a top priority for the board, the executives and everyone in Ecobank. And increasingly, it is a minimum requirement in our engagement with our vendors and with our customers. For security protocols, we often advise customers not to expose themselves. We go into advocacy, education and information so that our customers are able to be alert. That is because when the subject matter of security is discussed, there is often an immediate attention on the infrastructure that the bank puts in place to deter access to its systems so the systems are not cloned, infiltrated or hacked.
But security also includes the conduct of our customers because every point of access can be a vulnerability. Vulnerability for the customer is as important for us as vulnerability to the bank. It may not expose the bank, but if it exposes our customers, we have a duty to keep on providing enough tips to our customers to keep them abreast of activities that may expose them unduly. In terms of security standards, firstly, there are global standards and secondly there are regulatory standards and we comply with all those. And then we have our own in-house standards that we add on top of regulatory or global standards. So for example, in the cards environment, we have Payment Card Industry Data Security Standard (PCI DSS). For instance, we were the first banking group in Africa to change all the cards within our network at once in 2013 to chip and pin. We did not do it country by country, we changed all our cards, about 4.5 million cards at a go across 33 countries because we run an interconnected platform. So saying chip and pin for cards is available to customers in Nigeria, but we are using mark strip in Burkina Faso. We do it end-to-end for the entire portfolio of our network.
The same thing with when you talk of first level authentication and two factor authentication and all the various ways, whether it is OTP or master card secure or online verification. Each of those steps would take a more stringent view than the minimum requirement by the regulators. And nobody would say you can't be at risk 100 per cent, but we put in every effort not to be at risk and not to expose our customers or put our customers at risk. So, we continue to invest in security at various layers. Every staff of the bank for instance does a security awareness course every quarter and it is compulsory.
It is deployed on digital platform online to every staff and for you to be on the network within the bank, you must pass that course and if you do not, you are taken off system. So, in terms of compliance at every level and in terms of security, it starts with awareness. It then gets to discipline, it then gets to enforcements and then it gets to sanctions. And we also have sanctions for security breaches. That is because at the end of the day, the customer confidence is tied to the level of security the institution is able to provide on its platforms and we take that very seriously.
One of the issues that was discussed at the last bankers' committee meeting was the sustainability principles. To what extent is Ecobank implementing those principles?
For us at Ecobank, we take the sustainability principles very seriously right from the board level. From the group, we have a sustainability governance committee; we have sustainability departments in every affiliate and in Nigeria. We have sustainability practices not just as policies, but they are enforced in execution, in industries that we support and in our conduct. When we said we operate a digital strategy, we said we would engage with customers, we would also digitise ourselves and so we committed to reducing the amount of paper that is in use across the group. So today, if you want to do expense approval, travel approvals, leave approvals, training approvals and training approvals, they are all online digitally.
You are not allowed to print paper to do that. And we of course reduced all the access to do paper printing to support the environment. Last year, as we do every year, we have what we call Ecobank day and every year we pick a theme that supports sustainability and the sustainability principles. And every affiliate in the group, participates in that Ecobank day. Last year, it was planting trees and we did that across the group. I was in Togo and we did our tree planting. Two years ago, it was building classrooms for the society and the classrooms we built in Lagos that year was at the outskirt of Ikorodu and it has to be where we can have a lot of social impact.
We publish our sustainability standards and we subscribe to all the various boards, we do training and we hold ourselves accountably. We also do training for our customers and we also have a sustainability award prize annually in which all our affiliates compete and I'm hoping that Ecobank Nigeria would win this year across the group. It is of primary importance for us and because we are a Pan-African bank. We understand that those principles guarantee the sustained development of our continent and enables us retain some of the things we have as continent both in people and practices, in conduct, operations and preservations, we subscribe fully to that. And am happy that some of the banks have signed to reaffirm their support for the sustainability principles. I was happy to sign on behalf of Ecobank at that Bankers' Committee meeting.