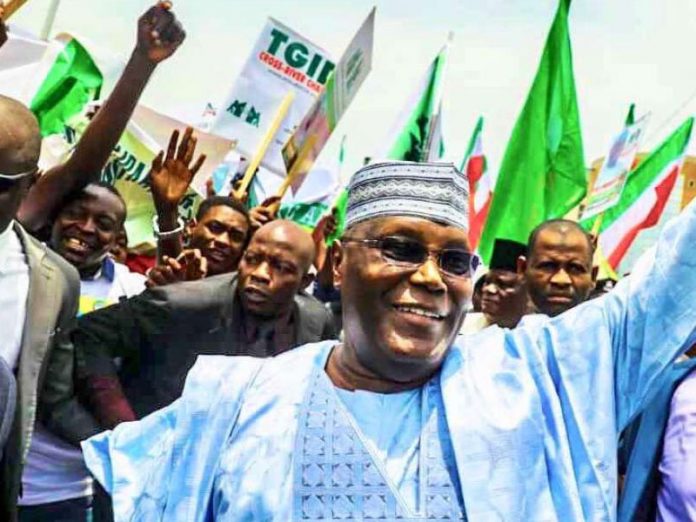 Suddenly, and to the awe of the public, the name Atiku Abubakar appears to be causing panic in the presidency, writes Olawale Olaleye
The successful outcome of the Peoples Democratic Party (PDP) presidential primary of October 6 is definitely changing certain permutations ahead of the 2019 general election and at the same time, compelling bookmakers exercise restraint in their many projections.
Perhaps, it was not in the calculations of the ruling All Progressives Congress (APC) that the Turaki Adamawa, former Vice-President Atiu Abubakar would fight harder than he did in 2014 when he struggled for the party's ticket with the incumbent, President Muhammadu Buhari at their Lagos convention.
The APC, which clearly has lost every ground of sympathy and support in its three and a half years of assuming power, was rather hoping a different candidate would emerge, a development that they thought would have eased the election of Buhari to the office a second term. Although it would have been a miscalculation on their part, because the preponderance of views shows that any of the PDP candidates were better than Buhari, ultimately.
THISDAY had reported in a few times in some of its analyses many months back that the APC was working on some prominent members of the PDP with an
understanding that the party would field a weak candidate that would make Buhari's re-election a walkover. But the question is: who is weak in the PDP? Perhaps none!
Whilst THISDAY did not mention names in some of those analyses, inner caucus members of the ruling party had confided in the newspaper that the APC was actually in talks with the Rivers State Governor, Nyesom Wike, being the architect of the new PDP and some of his close allies.
The essence of the understanding, THISDAY learnt then was to field such a candidate that would enhance Buhari's chances in 2019, while in turn, the APC would steer clear of such states by not doing anything that would stand in the way of the PDP governors from returning.
Unfortunately, whether or not the story of the understanding was true, Atiku, a foremost presidential frontrunner emerged and naturally, APC and its entire band of supporters immediately hit the panic button.
It was also not surprising that the outgoing Ekiti State Governor, Ayodele Fayose, who would have benefited from the understanding by way of yielding some soft-landing to him especially in the area of his pending corruption cases at the Economic and Financial Crimes Commission (EFCC) recently threatened to quit the party, because "their chosen candidate and Sokoto State Governor, Aminu Tambuwal" did not emerge.
As it is, there is no undoing the Atiku candidacy. Not only did he emerge through a decent primary conducted by the Delta State Governor, Ifeanyi Okowa, he is about the most experienced and prepared for the job, having been vice-president for eight years under former President Olusegun Obasanjo, who finally recently supported his aspiration, when he referred to him as the 'president-to-be'.
Given that Atiku's popularity cuts across the length and breadth of the country, with a disposition that depicts a liberal Muslim, non-sectional leader, economically savvy, futuristic, progressive, open-minded and hands-on, there is no debating the fact that there had never been any time in history that his chances at the presidency are as reassuring as they are now.
It was no wonder, therefore, that the APC and their supporters had since gone on the overdrive to de-market Atiku and further hang on his neck, the corruption cloak they always wear for him each time he seeks the nation's plum job.
This, of course, is the second time that Atiku would be on the ballot as a presidential candidate, the first being when he ran under Action Congress (AC) in 2007, having been endorsed by a forum of Northern elite then led by Adamu Ciroma, he had always aspired to be Nigeria's president without really coming any close.
Besides, one of the elements standing in his way has always been Obasanjo, his former principal who dread to see him become president. Whilst Obasanjo had always hinged his reasons on Atiku's alleged corrupt tendencies, analysts feel otherwise.
What a majority of the close observers of the polity feel is that Obasanjo has continually opposed Atiku's presidential bid, because of the humiliation he made him go through in 2003 when he dared to challenge him before eventually letting go for him to return to the office for a second term in office.
But Obasanjo would have been in an even bigger fix as to who to support for the president in 2019. In 2014, he was caught between Buhari and former President Goodluck Jonathan, whom he helped to power. Whilst he had reservations about Buhari's capacity, he could no longer stand Jonathan.
Thus, in next year's election, he had openly disparaged Buhari and told him off as incapable of continuing in office. This, he even put on record through a letter he wrote to the president, advising him to dismount from his high horse. But there were initial doubts on whether or not he would support Atiku whom he had disparaged time and time again or if he would go outside of the two men and go for another in a different party?
Those permutations would have been entirely Obasanjo's personal concerns had he not endorse him last Thursday at the Abeokuta home. What is however evident in all of this is that the emergence of Atiku is already a huge concern for the occupants of Aso Rock and their fears are not a façade.
Atiku has been long in coming and this time, he appears even more determined to go the whole hog. What also appears to be enhancing his chances is the growing discontent against the incumbent, whose mystique has literally vanished in three years of assuming office.
As bookmakers are currently saying, the election of next year might just be Atiku's to lose and the indications are not difficult to spot. With an APC leadership that has gone totally nuts; a presidency that has lost palpable control of state; a largely disappointed membership and a support base that is nursing the shame of being letdown and gradually depleting, 2019 seeks to provide yet another shocker as did the 2015 general election in the annals of the nation's body polity.